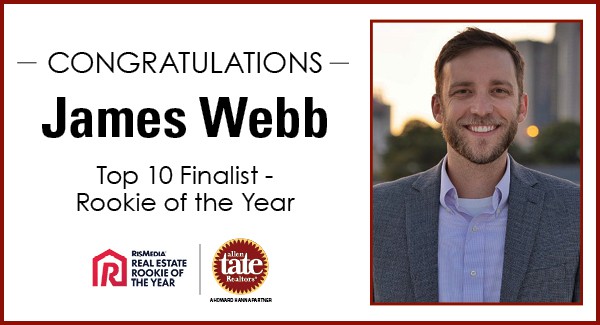 Last Updated on September 23, 2022
James Webb, an Allen Tate Realtor® with the company's Charlotte-Southpark office, has been named as one of the top 10 finalists for RISMedia's 2022 Real Estate Rookie of the Year Award. The program honors real estate agents from across the country who are new to the business and have achieved extraordinary results.
Nominees were considered based on their 2021 sales volume and transaction data, investment in professional education, technology prowess and community involvement.
Webb joined Allen Tate in September 2020 after a five-year career in marketing and advertising account management, where he oversaw advertising and rebranding campaigns for several national and regional brands. He has also worked in national politics and at Yosemite National Park.
In 2021, Webb closed 29.5 transaction sides with a sales volume of $16.2 million.
"Rapport is important in this business, but the ability to listen, understand and guide a client is paramount," Webb said. "Taking the time to educate buyers and sellers and doing so in a constructive, positive, and honest way really helped me differentiate myself in the marketplace. I'm lucky to count many of my clients as friends."
"James immediately makes people feel comfortable with his knowledge of real estate and assurance that he has their best interest in mind. He has excellent systems along with a top-notch marketing presentation," said Michele Early, branch leader, Allen Tate Realtors Charlotte-Southpark.
Webb had an interest in real estate from an early age, inspired by his father Lucius, a Realtor in Rehoboth Beach, Del. He knew that choosing the right company to begin his career was important to success.
"I chose to partner with Allen Tate because of the company's integrity, support and professional development programs including Winner's Edge, for new-to-the-business agents," Webb said.
" My leaders Michele and David (Deal) have been instrumental in helping me achieve my real estate goals. Their years of experience, professionalism, and encouragement are invaluable to new and seasoned agents alike," Webb said.
A North Carolina native, Webb earned a Bachelor of Arts degree in communications and history from Flagler College in St. Augustine, Fla. He makes his home in Charlotte with his wife Katie and their newborn daughter. He has traveled to all 50 states and enjoys hiking, outdoor activities and exploring Charlotte's rich food and culture scene.
The Real Estate Rookie of the Year Award winner will be named at the RISMedia Power Broker Reception and Dinner on November 11 in Orlando, Fla.
About Allen Tate Companies
Allen Tate Companies is the Carolinas' leading real estate company, based on closed transactions sides, with 70 offices and more than 2,100 Realtors® in the Charlotte, Triad, Triangle, High Country, Highlands/Cashiers and Asheville/Mountain regions of North Carolina and the Upstate region of South Carolina. Allen Tate provides real estate, mortgage, insurance, and relocation services throughout the entire homeownership life cycle. We are committed to providing and protecting quality of life for the communities we serve. For more information, visit allentate.com.
About Howard Hanna
Howard Hanna Real Estate Services is the #1 family-owned and operated independent broker in the country. The full-service real estate company has more than 500 real estate, mortgage, insurance, title, and escrow service offices across 13 states, including Allen Tate Realtors in the Carolinas and The F.C. Tucker Company in Indiana, with more than 14,000 sales associates and staff, including many of the industry's top-producing real estate agents. For more information, visit howardhanna.com.
Visited 330 times, 1 visit(s) today