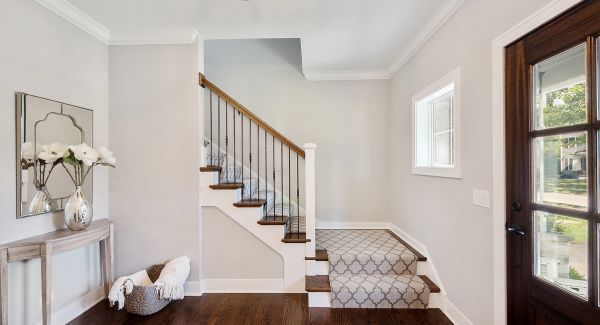 Last Updated on August 18, 2023
Even though paint is likely the most inexpensive way to update your home, research shows the right paint colors have the ability to earn you more for your home.
Putting your home on the market soon? Find out what hues are hot right now.
Fresh neutrals
Pale greige paint colors can quickly bring outdated homes into the present. Before you spend money removing the 1990s and early 2000's brown or bronze granite or hard finishes, choose a soft taupe gray to update the space. We recommend sampling Benjamin Moore Fossil or Pale Oak. To distract from outdated granite, consider painting cabinets a navy or charcoal color.
Dark neutrals
Most people know that neutral tones are the way to go, but beyond whites, creams, and grays, interior designers recommend using dark neutral colors where it makes sense.
A recent study analyzing front door colors and corresponding sale prices found that a black painted door helped homes sell for an average of $6,271 more than projected.
If you're ready to go bold, try Black Magic for a true black or Wrought Iron for more of a charcoal black.
Just like with all paint colors, black paint colors have undertones that will be more apparent depending on what they're paired with. Make sure to test your favorite black hues against your home's exterior colors before you commit.
If a black door won't complement your color scheme, here are other colors you might consider:
Bright yellow–try Benjamin Moore Stuart Gold
Eggshell blue–try Benjamin Moore Van Courtland Blue
Vibrant green–Benjamin Moore Cat's Eye
Blue/green–Benjamin Moore Stratton Blue
Blue hues
Want to accentuate something in a room? Research shows blue is a highly favored accent color. Whether you're painting built ins, an accent wall, shutters, a fireplace, or even furniture, blue is a great option. Try Waterloo for a deep blue-green tone or the ever-popular navy blue hue, Naval or Hale Navy. Navy blue hues are also a very popular choice for front door colors.
Warm whites
White is a very popular wall color these days, but don't make the grave mistake of thinking any white tone will work.
Steer clear of cool white tones that have blue undertones in them and instead gravitate towards soft whites. You want white tones that have gray or creamy yellow undertones to give your walls some warmth.
We love Aesthetic White, White Dove, Alabaster, and White Flour for a soft white appearance.
Soft grays
Gray paint colors have been in style for years and aren't going to be phased out anytime soon. Choosing the right gray tone means choosing a gray color that has an undertone that best relates to your home's fixed elements and furnishings. Gray paint colors have undertones that are either blue, purple, or green, and sometimes a combination of two or more.
Top gray paint colors with green undertones are Sherwin Williams' Accessible Beige and Heron Plume. Top grays with purple undertones are Benjamin Moore's Collingwood and Balboa Mist. Top gray colors with blue undertones are Sherwin Williams Repose Gray and Benjamin Moore Gray Owl. Don't forget to try grays that have blue/green undertones, as they work very easily with a wide variety of decor styles. We like Benjamin Moore Wickham Gray and Sherwin Williams Fleur de Sel the best.
Visited 2,777 times, 1 visit(s) today