Last Updated on May 15, 2023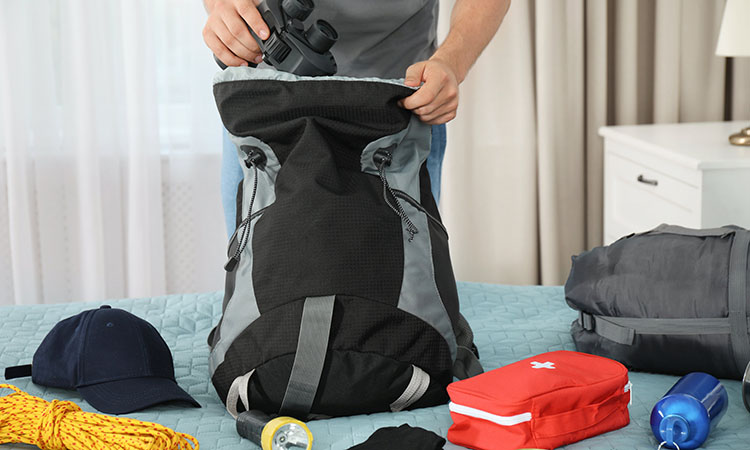 Let's face it. The outdoors aren't for everyone. Some people prefer stilettos to wool socks, yoga pants to flannel, and bottled spring water to the real deal. And some people just hate things that crawl—which the forest is full of.
But here in Western North Carolina, we believe enjoying a day on the trail is one of the best ways to Live Abundantly in WNC. There's nothing like experiencing the beauty of our mountains from amid blooming thickets and alongside cool-running streams.
If this is your first time getting out in the woods (or your first time in a long time), there's no shame! What's important is to be prepared, and to enjoy yourself. Here are nine key things you need to know if you've never been mountain hiking before.
Good footwear is key
All of the tips on this list are important. But there's a reason why this one is at the top. Having the right footwear for your outdoor adventure is what will make or break your experience. Choose hiking boots or trail runners that fit properly and can grip the trail. (Over-the-ankle boots are better for rugged trails with rocks, roots, and streams; lightweight shoes are great on well-maintained trails without many obstacles.) Just as crucially, wear the right socks. Wool-blend socks are the best for cushioning your piggies and preventing blisters. Prep your feet by trimming your toenails and pre-taping areas that are prone to blisters.
Know what to wear
The good thing about hiking is that you don't need any specialty clothes or gear for a day in the woods. But some items are certainly better than others. Moisture-wicking and quick-drying clothing is best. Choose activewear in polyester, nylon, or merino wool over cotton and denim, which will get heavy and start to chafe when wet or sweaty. Dress in layers. The mountains fluctuate in temperature throughout the day, and you will too once you get moving. And be prepared for the weather and elevation. It never hurts to pack an extra jacket for a chilly mountaintop or a raincoat for a summer storm.
Pack the essentials
Whether going on a day hike or an extended camping trip, there's an art to packing everything you need without bringing too much extra weight. (Remember, you'll be carrying everything you bring.) We recommend starting with a comfortable, well-fitting, and lightweight backpack. Include the safety essentials, and as little extra stuff as possible. The essentials include:
A map or other navigation aid.
Food (especially snacks with carbohydrates and salt).
A reusable water bottle (with a filter or water treatment tablets if necessary).
Warm clothing.
Sun protection (sunglasses, sunscreen, hat).
Bug spray.
A garbage bag.
A first-aid kit.
A knife.
A headlamp.
Fire starter.
Emergency shelter.
A communication device.
If your communication device is your cell phone, be sure to bring a battery backup. A GPS or GPS app is also a good idea.
How much food should you pack for a hike? On a hike, food and water are less a matter of "hunger" and more important to hydration, energy, and electrolytes. What you'll need will depend on several factors, including your body, the weather, and the intensity of the hike. But a good rule of thumb is to pack 250 calories of food and a half liter of water per hour of hiking. Stop often for food and water breaks, even if you don't "need" to, and especially if you're hiking with dogs or children. Also, never start a hike on an empty stomach, and leave a few extra snacks and drinks in the car for your ride home. (Trust us.)
Depending on the length of your hike, there's another essential that must be discussed: bathroom supplies. Are there toilets along your trail? If not, pack toilet paper and hand sanitizer for when nature calls. (Honestly, these are probably good to have, anyway.) And hiking experts recommend bringing a small trowel to bury your business, as well. Here are some additional tips, which include considerations for hiking on your period.
Check your gear
It's easy to come home from a hike, toss your pack into the coat closet, and not open it again until you're out on your next trail. But if you need something, that's too little, too late. Before you leave the house, check your gear to make sure everything is stocked and ready to go. Check your first-aid kit for needed supplies, like band-aids and blister tape. And check every battery in every device: cell phone, GPS, headlamp, camera, etc.
If you have any new items in your pack, make sure you understand it before you need to use it. This is especially true for your GPS—you don't want to get a half mile down the trail before you realize you need an instruction manual.
Bring a friend, tell a friend
If you're nervous about hiking a particular trail for the first time, bring a friend with some experience. Better yet, bring a whole group! Hiking in numbers is safer if someone gets injured, and you'll be less likely to have a contentious animal encounter. A group size of four is ideal, and land management agencies recommend maximum group sizes of 10–12.
But let's say you'd rather do some soul searching on your own. In that case, choose a trail or route that's easily accessible and well marked (in case of injury or emergencies). And be sure that someone knows where you'll be and when you plan to get home.
Plan your day
Even on well-planned hikes, there's still plenty of room for adventure. Start by choosing a route or trail. These days, it's easy to find a well-marked trail that suits your fitness level. Be sure to check the elevation gain of the trail, as well. If you're new to the area, here are a few of our favorite lists:
After you have a trail picked out, there are a few more things to confirm. First of all, have you blocked off enough time for the hike? Is your trail one-way, or does it loop back? Have you factored in how long it takes to drive there? Do you know what time the sun sets? Remember, hiking times are averages or suggestions. Don't forget to pad that time so that you get back to your car well before sundown.
Also, don't forget to check trail amenities and conditions. Know whether there will be water available along the trail, and mark those spots on your map. After hard rains or storms, parts of trails could be blocked or washed out completely. It's always disappointing to get most of the way to a gorgeous waterfall and have to turn back because of bad conditions.
Understand local safety and regulations
Many trails in Western North Carolina are open to anyone. But it's always a good idea to confirm whether you need a reservation, permit, or park pass. If you plan to camp, make sure camping is allowed, and check to see whether campfires are permitted.
You may be focused on hiking, but there are many other sportsmen who could be utilizing mountain trails in WNC. It's common to come across mountain bikers, equestrians, and even hunters while you're hiking. Understand the rules of basic hiking etiquette (see below), and take safety precautions to be seen and be safe. Safety is also paramount when encountering waterfalls. Follow our waterfall safety tips and watch your footing to avoid injury or death.
When hiking with man's best friend, follow trail regulations. Some trails do not allow dogs, while others have rules for when dogs should be on/off leash. We always recommend that dogs wear safety vests so that they're not mistaken for game during hunting season.
Learn hiking etiquette
It takes twice as long to hike uphill as down. For that reason, when you meet other hikers along the trail, uphill hikers always have the right of way. Let them pass first, or wait for their signal if they prefer that you pass. Mountain bikers should yield to you, but that's assuming they see you first. Many bikers are moving at speed, so don't be afraid to give them a wave or jump out of the way if you need to. On the other hand, hikers should always yield to horses. Because they can scare easily, experts recommend hikers step off the trail to the downhill side and give horses a wide berth as they pass.
Otherwise, show consideration of other people enjoying the outdoors. It's polite to say hello as you pass people. If you're enjoying the trail with a group, try not to drown out the sounds of nature for people following 100 yards behind you. And if you choose to listen to music, bring headphones.
Leave no trace
Among the essentials you pack for your hike should be a garbage bag. Do not litter. Do not leave trash. Stay on marked trails. Do not break through undergrowth. Respect wildlife. Pick up after your dog, and carry it with you. (Circling back to pick up your doggy doo bag on the way back is bad form.) Be considerate of other visitors. Deposit all trash properly into bins at the beginning or end of the trail.
It's as simple as that.
Ready to hit the trail? Tell us how your hike goes in the comments below!
Visited 31 times, 1 visit(s) today