Last Updated on April 10, 2023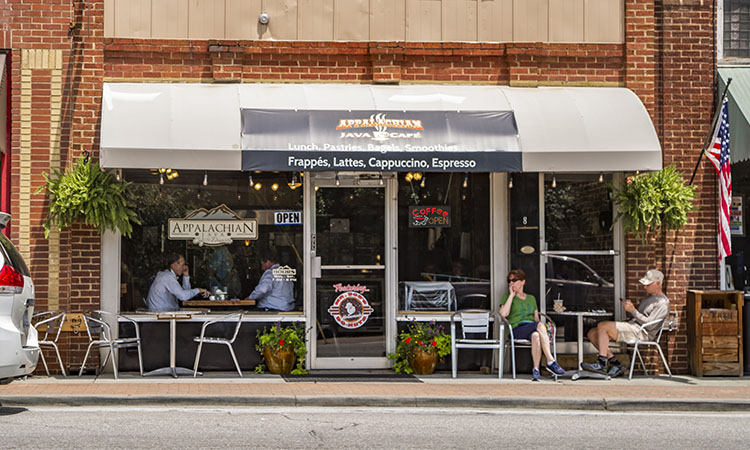 One of the ways we Live Abundantly in WNC is by having access to a year-round bounty of produce, dairy, and other farm products. And when fresh local produce makes it to local restaurants, something magical takes place.
Whether you consider yourself a foodie or you just enjoy food (who doesn't?), delicious meal options are available at every peak and hollow around. If you're planning a day trip to Burnsville, there are several locations you won't want to miss.
Here's how to live like a foodie for a day in Burnsville, NC.
Breakfast at Appalachian Java
Don't be fooled by the name—Appalachian Java offers much more than your standard coffee shop. In addition to the finest organic, fresh-brewed coffee, Appalachian Java serves amazing beverages; specialty breakfast, lunch, and dinner; and fresh-baked pastries. Our favorites—any time of the day—are their chocolate-covered strawberries and homemade chocolate cupcakes. We also recommend the "build your own breakfast sandwich" options. Enjoy the beautiful WNC weather and scenery at their sidewalk dining tables, located across from Burnsville Town Hall.
8 W Main Street, Burnsville | (828) 682-0120 | appalachianjavaburnsville.com
Lunch at a food truck
You can't confine the great food in Burnsville by walls! While you're enjoying the sights and sounds of downtown, stop for lunch at one of our favorite food trucks. Check out Carolina Empanada Company. They usually park on Main Street beside the Rescue Dog Cafe or at Little Switzerland Winery. In addition to Cuban coffee, the food truck offers delicious, traditional Colombian empanadas in a variety of options (pork, chicken, beef, and veggie).
Find the Hog Hollow Wood-Fired Pizza Truck outside of Homeplace Brewery (our next recommended stop). It serves the best wood-fired pizzas around, as well as sandwiches, salads, and even wood-fired apps! Don't miss the fire-charred chicken wings and wood-fired nachos. Yum!
Drinks at Homeplace Beer Co.
One of our favorite spots for an outdoor beverage is Homeplace Beer Company. This brewery serves sessionable farm-to-pint beers using lots of local ingredients from Yancey County and nearby. We also think their mixed culture fermentations are well worth the drive if you're on a brewery tour in a neighboring county. The green space has plenty of outdoor seating, a dog-friendly area, and a large fire pit with a chimney preserved from the Historic Hensley House that used to be on the property. As our agents say, "Homeplace is a truly fitting name for this brewery, as everyone is treated like family."
321 W Main Street, Burnsville | (828) 536-9068 | homeplacebeer.com
Dinner at Garden Deli & Snap Dragon
Established in 1987, Garden Deli Restaurant is open year round with a variety of sandwiches, soups, and salads made from only the freshest, highest quality ingredients. Dinner also includes hearty baskets like the Smoked Baby Back Ribs or Crispy Fried Shrimp. Looking for something new and different? Snap Dragon Bar & Kitchen is a great place to meet friends for drinks and food after work or a late night out. The bar was named after the ship that Otway Burns, naval commander and namesake of Burnsville, commandeered in the War of 1812. Both spots offer great indoor or outdoor seating.
107 Town Square, Burnsville | (828) 682-3946 | garden-deli.com
Dessert at Cool Catz Candy & Cream
It may be tempting to circle back to Appalachian Java for dessert. But we urge you to try one more location on your foodie day in Burnsville. Cool Catz Candy & Cream is an old fashioned ice cream parlor with everything you want: lots of candy, delicious ice cream, great prices, and a friendly staff. And their fresh-made waffle cone is a must with any order. Whether you're with kids, or just a kid at heart, you're sure to love it!
110 W Main St, Burnsville | facebook.com/CoolCatzCandyandCream
Live like a foodie every day in Burnsville, NC!
Burnsville is located among some of the highest mountains to be found in the eastern U.S. The town offers living situations and outdoor experiences that go above and beyond the norm, presenting you with many opportunities to Live Abundantly. In addition to being a great town for foodies, Burnsville is also known for its extraordinarily rich artistic output. Yancey County is home to more than 400 full-time and 200 part-time working artists, including basket makers, glassblowers, metalsmiths, and more.
Does that sound like the perfect lifestyle for you? Find your dream home in Burnsville now!
Visited 15 times, 1 visit(s) today