Last Updated on May 4, 2023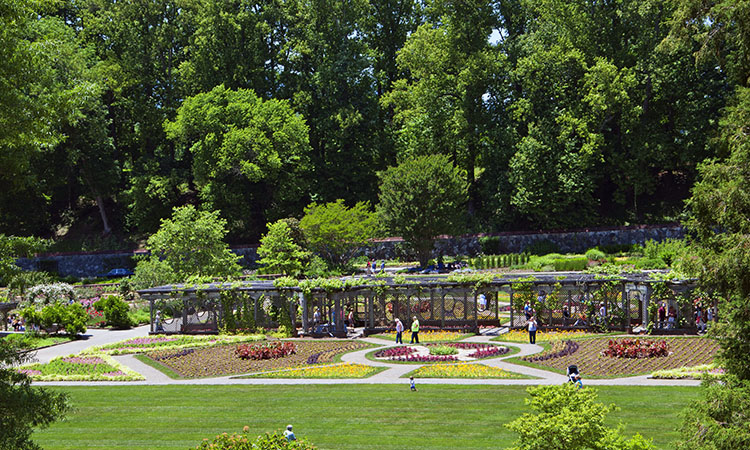 In 1888, George Vanderbilt, grandson of the famous railroad magnate Cornelius Vanderbilt, visited the small mountain town of Asheville, North Carolina. Within a year, George decided to build a cozy winter estate in the area—and carved out 30,000 acres as his own.

Today, much of the original acreage has been reallocated to the Pisgah National Forest. But the estate still consists of 8,000 acres of rolling lands, woods, and waterways. If you are a Biltmore Estate passholder, that land is yours to enjoy throughout the year. Here are 12 ways to enjoy the Biltmore Estate grounds every month of the year.

January at Biltmore: Escape the cold
There are many ways to explore Biltmore's estate, as we'll see below. But in the dead of winter, the best place to see fresh blooms is the greenhouse. Officially called the Conservatory, this glass-roofed building keeps exotic orchids, ferns, and palms at the perfect conditions throughout the year. The building was designed by architect Richard Morris Hunt and has provided flowers and plants for Biltmore House for well over 100 years.

February at Biltmore: Create a romantic moment
As you walk through the Biltmore gardens and around the estate, you'll find plenty of cozy benches and scenic backdrops. Our agents have created many intimate or romantic moments in these delicate enclaves. If you're creating a Valentine's experience for your special someone, don't forget to include Biltmore in your planning and scout out a romantic spot of your own.

March at Biltmore: Test your skills
Ever wanted to learn more about sporting clays? At Biltmore, you can take a lesson with an expert instructor and learn proper gun mount, stance, target engagement, and other fundamental skills. Then test your shotgun skills! Clay targets are thrown from strategically placed traps in various combinations while you shoot from a 5-Stand range or Sporting Clays course.

April at Biltmore: Welcome spring in style
Spring is the perfect time to stroll the home's historic walled gardens and take in the stunning array of more than 130,000 blooms! At Biltmore Blooms, the estate's annual festival of flowers, tens of thousands of spring bulbs, vines, and blooms are on full display, beginning with daffodils and forsythia. Next come 96,000 tulips, which transform the space into a floral paradise. Myriad other vibrant annuals and perennials follow behind in May.

May at Biltmore: Grab the binoculars
Annual passes are a must for avid bird watchers. The thousands of acres of farmland, meadow, woods, and parkland surrounding the estate are perfect for attracting warblers and waterfowl. If you don't want to move too far from the road, try the gardens, bass pond, and Deer Park Trail. You're sure to see dozens of species, including Double-crested Cormorant, Osprey, Yellow-billed Cuckoo, Wood Duck, Wild Turkey, Red-tailed Hawk, and more.

June at Biltmore: Float downstream
Nothing cools you off in the summer like a dip in fresh mountain springwater! Enjoy floating down the French Broad with the whole family as it winds through the estate. Sit back and relax during the guided raft trip as a knowledgeable professional paddles your raft. Or adventure out on your own in a single or tandem kayak for a self-guided experience.

July at Biltmore: Let it fly!
Did you know that Biltmore is an Orvis-Endorsed Fly-Fishing School? Learn the intricacies of fly fishing with expert guidance from their professional instructors. (They even offer a session just for kids!) After you've polished your skills, book a wading or drift boat trip. Wade through a local river stocked with trout. Or get out on one of Biltmore's picturesque lakes.

August at Biltmore: Saddle up
You'll love the horseback riding options at the Biltmore Estate, whether you're a first-time or experienced rider. Enjoy an unforgettable guided expedition through the beautiful woodlands of the estate on a horse chosen to match your skill level. For a more intimate experience, book a private ride through the estate's extensive network of outstanding trails.

September at Biltmore: Hit the trails
It's no secret. Hiking and biking are popular activities for residents and visitors of WNC alike. The Biltmore Estate alone features 22 miles of hiking trails and 20 miles of biking trails. Come out for a leisurely afternoon, or push yourself for a more challenging experience. Bikers are welcome to bring their own bikes or rent one on site. The estate also offers two guided hikes: a relaxed river stroll or the more active trail blazers hike.

October at Biltmore: Soar into fall
Biltmore offers truly memorable experiences everywhere you look. Among them, visitors have the chance to discover the ancient art of falconry! The estate's resident professional falconer will introduce you to these awe-inspiring birds of prey. Then you'll learn how to handle a trained hawk or falcon and experience the thrill of a raptor flying to and landing upon your gloved hand.

November at Biltmore: Go off road
When the ground is soggy from fall rains and slippery from shed leaves, there's only one adventure on our minds. Navigate incredible off-road obstacles through Biltmore's Land Rover® Experience. Regardless of your skill level, this is an activity to remember. From half-hour ride alongs to a full day of instruction, there's an adventure waiting for you.

December at Biltmore: Take in the views
Kick off your holiday season with a classic carriage ride. Relax in an elegant carriage as Belgian draft horses take you to picturesque views of Biltmore House and its 8,000-acre backyard. Private carriage rides are also available for up to four guests. Tour George Vanderbilt's magnificent luxury estate just as his guests did more than a century ago!

Enjoy the Biltmore lifestyle year round in Biltmore Forest
The grandeur of the Biltmore Estate made Asheville appealing to the wealthy, drawing the rich and famous to the area. In the late 1920s, Mrs. Vanderbilt sold 1,600 acres to establish a luxurious suburb with spacious lots and modern amenities. This area became known as the Town of Biltmore Forest, a low-density, master-planned community that captures the characteristics of Biltmore Estate's first architect and planner, Frederick Law Olmsted. 

Does that sound like the perfect lifestyle for you? Find your dream home in Biltmore Forest now!

Visited 36 times, 1 visit(s) today