Last Updated on April 24, 2023
Touted as the "First Peak of the Blue Ridge," Polk County has long welcomed flatlanders to a higher altitude. Since the turn of the 20th century, Polk County's towns of Columbus, Saluda, and Tryon have been favorite mountain destinations to escape the sweltering summer heat of more urban and southern locales. Today, the area is an internationally renowned stopping point for outdoor enthusiasts and equestrian professionals.

The elevation of Polk County ranges from just under 800 feet near the confluence of the Green River and Broad River to over 3,200 feet on Tryon Peak and Wildcat Spur. Numerous city parks, walking tours, hiking, road biking, swimming, fishing, camping, zip-lining, and whitewater adventures are within easy reach. That gives locals plenty of opportunities to engage with the vast natural areas around them.

If you're ready for a thrill, this is the destination you seek. Here are five ways to enjoy the outdoors in Polk County.

Saddle up in horse country
Tryon has been one of the South's top equestrian destinations for more than 100 years. Today, the town offers world-class equine veterinary, boarding, and training facilities, as well as more than 100 miles of private trail systems. The town is known for its Foothills Equestrian Nature Center (FENCE), a 390-acre educational and recreational center that provides programs in nature study, outdoor recreation, and equestrian competition.

Tryon has also quickly hit the international scene because of the $100 million, 1,450-acre Tryon International Equestrian Center. Opened in 2014, TIEC takes a love for horses to the next level. The facility features 10 riding arenas, over 1,000 permanent stalls, elevated and shaded viewing decks, restaurants, family activities, boutiques, and more. It's no wonder the location was chosen as the host of the 2018 World Equine Games.

Hit the trails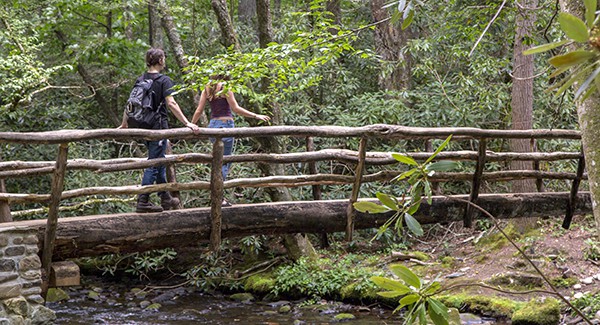 Every day in the Blue Ridge Mountains is an adventure, especially if you know where to look. And luckily, in Polk County, you can look in nearly any direction outdoors and find great trails for hiking, biking, camping, and exploring with friends and family—even with your dog!

One short but exquisitely beautiful trailhead adventure leads you to Pearson's Falls. You'll see plants of remarkable diversity on the quarter-mile trail, including over 300 varieties of ferns, flowering plants, algae, and mosses. Pearson's Falls and Glen is also a wildlife and bird sanctuary maintained by The Tryon Garden Club. Bradley Nature Preserve, Saluda Nature Park, and Pulliam Creek Trail are also great places to discover the beauty of nature, as well as great views.

Have a whitewater adventure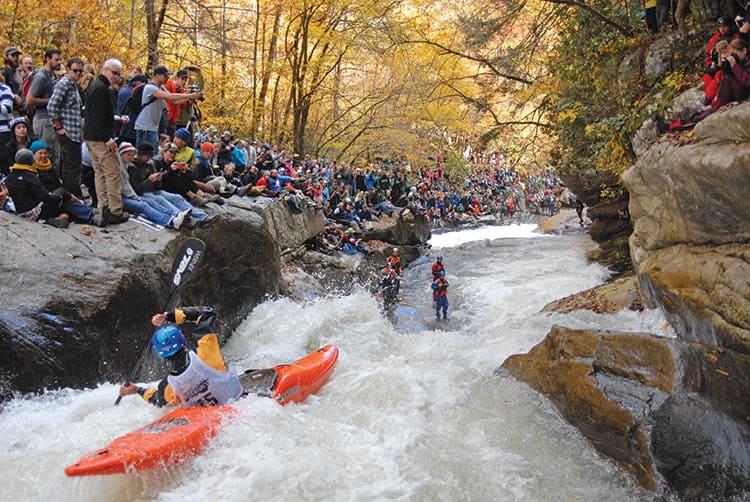 Polk County's range of elevations make it the perfect place to explore Western North Carolina's river systems. People of all ages enjoy fishing, paddle sports, and just quietly admiring life along the banks. Throughout the summer, it's common to see streams of tubers floating lazily down the gentle rapids of the Lower Green River.

But if you're looking for a thrill, one water sport tops them all: whitewater rafting. Sections of the Green River offer some of the finest and most challenging kayaking in the Southeast and beyond. Founded in 1997, the Green River Narrows Race has been called the "rowdiest kayak race in America." Competitors face Class V rapids and a narrow 18-foot drop (called the Gorilla) along the ¾-mile-long course. In addition to the main event, the competition is used to promote river conservation. In 2017, the event raised $5,000 for American Whitewater and the Green Riverkeeper program at MountainTrue.

Zip across the treetops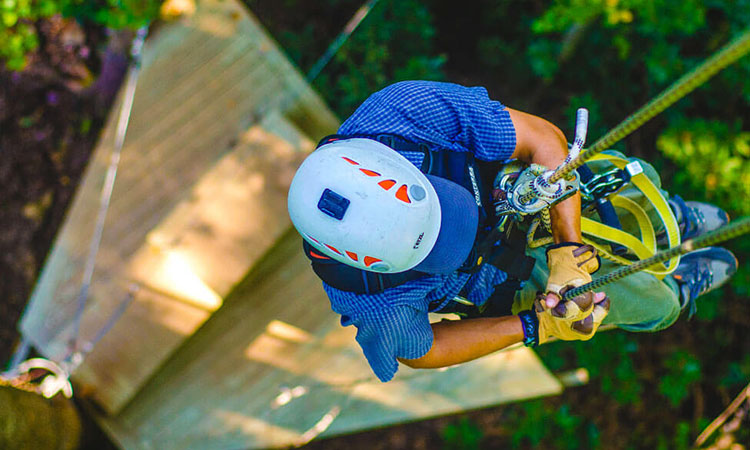 Western North Carolina offers countless ways to explore the great outdoors. One of the most awe inspiring and adrenaline inducing is zip-lining, traveling down a cable wire over an open span as fast as gravity can propel you. Aerialists as young as four years old can travel from treetop to treetop, exploring protected forests from above.

The Gorge is America's steepest and fastest zip line canopy tour. You begin your experience perched on the rim of the Green River Gorge, and then plunge into untouched wilderness. The ride descends an unprecedented 1,100 feet in elevation, zipping from treetop to treetop on 11 zip lines. Meanwhile, you also get to traverse a sky bridge and descend three huge rappels, all taking you through stunning old-growth forest overlooking 18,000 acres of protected gamelands.

Take a stroll around town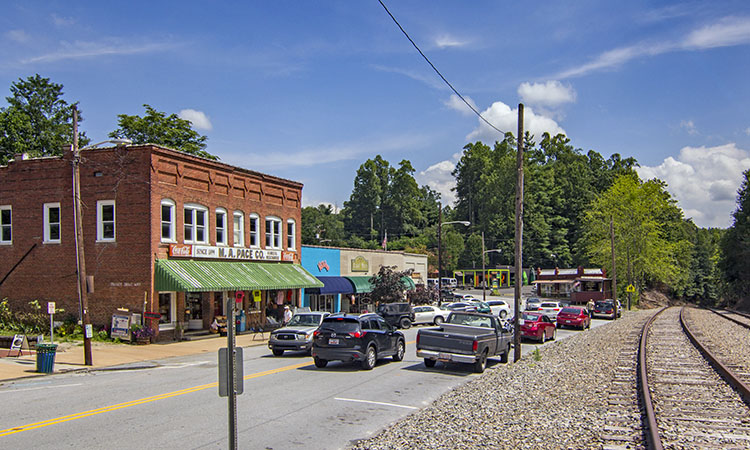 Trips into Polk County must include a leisurely stroll among the tree-lined streets of historic Saluda. There are numerous easily accessible city parks around town. But the main attractions are the many distinctive shops, art and craft galleries, and delicious restaurants along Main Street. Don't miss the two century-old general stores. While you're there, get a whiff of glossy oil-stained, heart pine floors stirring up memories of times gone by.

Saluda also hosts a variety of annual events and festivals. The Saluda Arts Festival, held in May, attracts fine artists from across WNC and South Carolina to showcase their art and offer live demos. The Coon Dog Day Festival, held the first Saturday after July 4th, is a celebratory event with food, live music, a parade, and a street dance.

Enjoy Polk County every day from your home!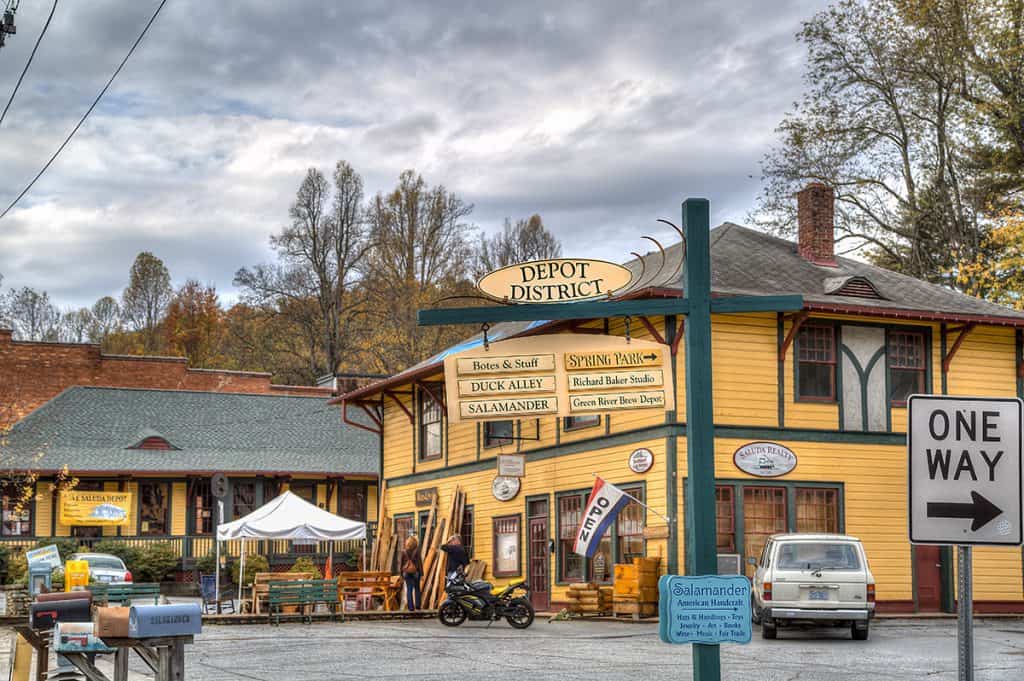 Polk County is quickly growing! People are moving to the area to enjoy all the wonderful cultural and natural amenities the area has to offer. 

If you love exploring the outdoors, why not enjoy Polk County every day? Homes for sale in the area include hobby farms, planned equestrian communities, and urban living near quirky and historic downtowns.

Does that sound like the perfect lifestyle for you? Find your dream home in Polk County now!

Visited 47 times, 1 visit(s) today