Last Updated on June 5, 2023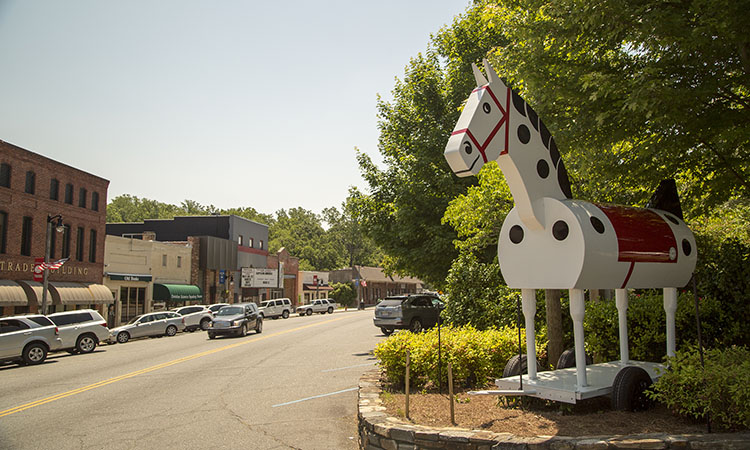 Tryon, North Carolina is a small town located at the base of the Saluda Grade, the steepest standard-gauge railway grade in the country. This railroad town is conveniently located a short drive from many of the Southeast's top cities and destinations. But if you're looking for a fun evening, you don't have to go far. Tryon offers a variety of entertainment options of its own—without breaking the bank!

Here's how to have a fantastic date night in Tryon, NC for $40.

Walk Trade Street: $FREE
Tryon's main thoroughfare, Trade Street, is a destination in itself. Within a few very walkable blocks, you'll find a number of restaurants, antique and vintage shops, independent bookstores, and eclectic art galleries. Cross the street to explore Nina Simone Plaza, dedicated to the great musician and activist. Nina Simone was born in Tryon in 1933 before becoming known for her "Black Classical Music," a blend of gospel, classical, jazz, folk, and traditional ballads that would inform the Civil Rights Movement of the 1960s.

Have dinner at Huckleberry's: $20+
Take a break from exploring town and stop at 62 N Trade Street for dinner. Huckleberry's Restaurant was founded in 2011 by high school sophomore Michaila Cowles. Since then, the restaurant has become a community staple for lunch, brunch, and dinner. They offer a full menu of sandwiches, hot dogs, burgers, and delicious Southern-inspired entrees. For an affordable meal, we recommend the fried green tomato BLT and the peach, brie, and basil grilled cheese, each $10.

Huckleberry's is currently open for full service dining, inside and out, as well as to go orders.

Catch a show: $FREE+
Any other time, we'd strongly recommend you take in a show in downtown Tryon. Tryon Theatre is an independent cinema with comfortable seating and "the best popcorn around," according to their patrons. Tryon Fine Arts Center has been a focal point for entertainment and the arts since 1969. In-person shows at each location are verboten right now. But TFAC is currently posting a series of artist interviews on YouTube. Their next exhibit, filmed and narrated at TFAC, examines the role of the African diaspora in the creation of Bedouin and Appalachian stringed instruments.

Tryon Theatre and Tryon Fine Arts Center are currently closed to patrons. Show your support by pre-purchasing gift cards and event tickets.

Visit a vineyard: $20+
If the date is going well, extend it to one more stop. Three wineries exist just a short drive east of town: Mountain Brook Vineyards, Overmountain Vineyards, and Russian Chapel Hills Winery. From classic French styles to unique Appalachian blends, these independently-owned wineries offer award-winning creations from mountain-grown grapes. Overmountain also offers a you-pick blueberry patch, open seasonally in June and July. And each location offers their own mix of live music and events. It's the perfect ending to your date night!

Each vineyard is currently open with social distancing measures in place. Overmountain Vineyards currently requires a reservation. Check for changes to open hours.

Make it a full day!
The area surrounding Tryon is an internationally renowned stopping point for outdoor enthusiasts and equestrian professionals. If you're looking for more ways to create a unique date night in Tryon, consider saddling up and hitting the trail.

There are a number of great parks and hiking trails in and around Tryon. One short but exquisitely beautiful hike is Pearson's Falls. The quarter-mile Glen Trail takes hikers past the 90-foot Pearson's Falls and through a native wildflower garden. You'll see plants of remarkable diversity, including over 300 varieties of ferns, flowering plants, algae, and mosses.

You can also find the Tryon International Equestrian Center a few miles east of town. This world-class facility was the home of the 2018 FEI World Equestrian Games. Locals and visitors alike enjoy attending equine events regularly throughout the year.

Commit to Tryon, NC
Calling itself "The Friendliest Town in the South," Tryon is currently home to about 1,600 residents. However, that number is expected to change dramatically over the next few years. Tryon has been rediscovered by people flocking to the area for its equestrian events and facilities. In fact, Tryon has been one of the South's top equestrian destinations for more than 100 years.

Does that sound like the perfect lifestyle to you? Don't just flirt with the idea of living in Tryon. Find your dream home in Tryon now!
Where do you like to go for date night in Tryon? Let us know in the comments!
Visited 78 times, 1 visit(s) today