Last Updated on May 16, 2023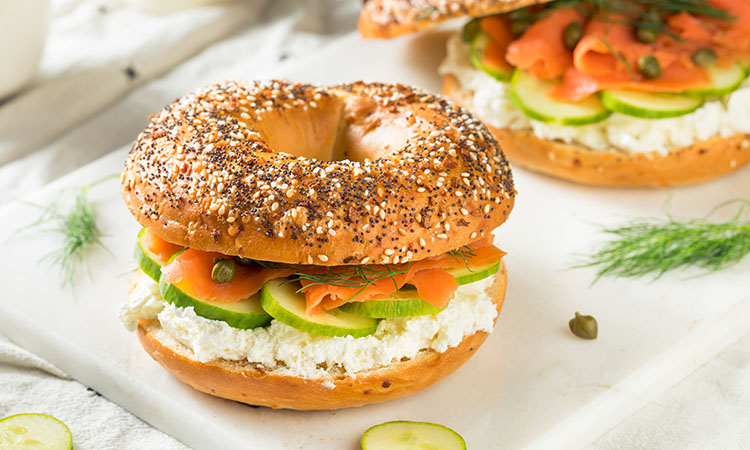 We all know the saying: Breakfast is the most important meal of the day. If that's true, then why is it not given more prominence in your schedule? Maybe the problem is that you don't know how easy it is to find a delicious, healthy morning meal near you.
Put that cup of yogurt back in the fridge, and drive by the drive-through. We have you covered! Here are our picks for the seven best breakfast choices in Polk County —one for every day of the week!
Huckleberry's Tryon
For nearly 10 years, Huckleberry's has been a popular stopping point along Tryon's main drag. Currently open Friday through Monday, it's a local favorite for a quality weekend brunch. And while their menu isn't heavy on traditional breakfast fare, what you will find is sure to please the palate. Try the lemon ricotta pancakes, French toast croissant sandwich, or Huckleberry's twist on the classic shrimp and grits. Best of all, the restaurant is both dog and equine friendly!
62 N Trade Street, Tryon | (828) 436 0025 | huckleberrysnc.com
KatieD's NY Bagels and Deli
On the hunt for genuine New York bagels in the heart of the South? The hunt is over! At KatieD's, the bagel dough is flown in from New York and baked on site daily for a genuine New York breakfast experience. Their menu also features BoarsHead deli meats and cheeses, as well as fresh ingredients from local farmers markets. The result is the perfect blend of NY and NC. Dine in with your favorite schmear, or take one of their specialty bagel sandwiches to go. You can also order your breakfast sandwich on a roll, croissant, toast, or Hawaiian roll.
255 N Trade Street, Tryon | (828) 440-1441 | katiedsnybagelsanddeli.com
Krossroads Kitchen
Krossroads Kitchen is Columbus's gem for updated, gourmet versions of your favorite breakfast and lunch dishes. But don't be fooled by their location. This gem is hidden in plain sight! Enjoy bright croissant sandwiches, powerhouse breakfast plates, and down-home classics like biscuits and gravy. Only fresh, organic ingredients will do for these meals. Each one is made with love by two experienced chefs who have made bellies happy all over the U.S. Don't forget to stop back by for an equally impressive lunch menu.
401 W Mills Street, Columbus | (828) 802-1196 | krossroadskitchen.com
Southern Manners
Patrick and Patricia Overholt grew up with the homecooked, made-from-scratch meals of their Mennonite families. Since 2013, they've brought that same sensibility to their restaurant, deli, and bakery, Southern Manners. They offer classic Southern breakfast and lunch menus, including all your favorites. Biscuits, pancakes, French toast, oatmeal, and classic breakfast plates are available at 6:30AM daily (except Sundays). We recommend the decadent cinnamon roll pancake, which comes swirled with cinnamon sugar and topped with a cream cheese glaze.
192 E Mills Street, Columbus | (828) 894-0406 | southernmanners.online
Wakey Monkey
Pop around the corner from Main Street, duck behind City Hall, and you'll discover Saluda's premier coffeeshop, Wakey Monkey. They offer something for everyone to enjoy, including an assortment of baked goods, elevated breakfast and brunch items, and a selection of classic sandwiches for lunch. Prep for a day on the trails with their Grab & Go quick bites. Or start with a specialty smoothie made with a wide range of fresh ingredients and add-ins. They also offer waffles, pastries, frittatas, and more to help you start your day. No monkeying around.
18 Church Street, Saluda | (828) 769-9040 | facebook.com/WakeyMonkeySaluda
Wildflour Bakery
Don't feel confined to enjoying breakfast only in the mornings. At Wildflour Bakery in Saluda, breakfast is served all day. Enjoy fresh local eggs, Wildflour toast, and North Carolina grits. Or try one of their delicious fresh-baked scones or sticky buns. Wildflour Bakery also has a full selection of lunch items, including quiche, homemade soups, and sandwiches on their famous breads, as well as handmade pizzas and delicious desserts. No wonder they've been a local favorite since 1981! 
173 E Main Street, Saluda | (828) 749-9224 | wildflourbakerync.com
Newman's Restaurant
Wrap up your week of delicious morning meals at the Orchard Inn & Newman's Restaurant. Enjoy fabulous mountain views from every table in the dining room or outside terrace. The serenity of the surroundings, combined with the culinary artistry of the kitchen, is sure to translate to a sumptuous three-course Sunday brunch. Their upscale, farm-to-table menu incorporates only the freshest, most healthful ingredients. Many come from the 4,000-square-foot organic vegetable garden on site.
100 Orchard Inn Lane, Saluda | (828) 749-5471 | orchardinn.com/newmans-restaurant
Live Abundantly in Polk County
Polk County has a history as rich as its breakfast options. But locals also appreciate it for its outstanding natural features and proximity to iconic destinations. Known as the "First Peaks of the Blue Ridge," Polk County welcomes flatlanders to a higher altitude. The county has elevations ranging from just under 800 feet at the Green and Broad Rivers to over 3,200 feet on Tryon Peak and Wildcat Spur. Most of Polk's 20,000 residents cluster near the county's three main towns of Saluda, Tryon, and Columbus. Tryon International Equestrian Center, a sprawling, $100-million equestrian center and luxury resort, operates nearby in Mill Spring.
Does that sound like the perfect lifestyle for you? Find your dream home in Polk County now!
What's your favorite breakfast restaurant in Polk County? Share it with us in the comments!
Visited 31 times, 1 visit(s) today