Last Updated on March 17, 2023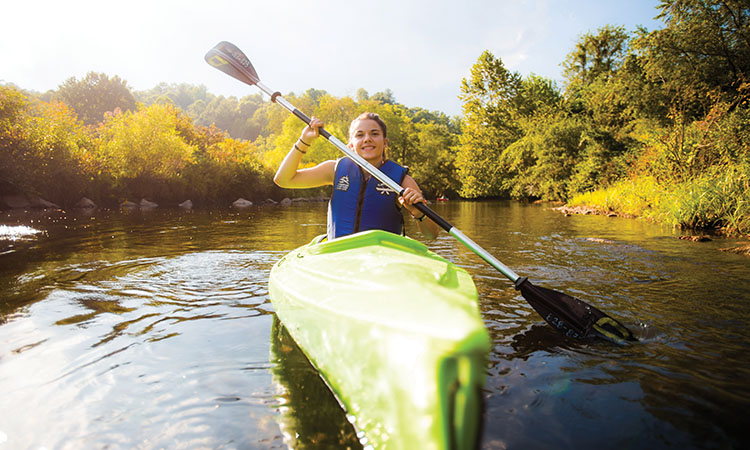 More than half of the land around Brevard, NC is publicly owned and protected. This includes 88,000 acres of Pisgah National Forest, the 10,000-acre DuPont State Park, and the 7,600-acre Georges State Park. Together, these lands offer myriad opportunities for biking, camping, climbing, hiking, horseback riding, paddling, and sightseeing.
But do you have the gear you need to enjoy the outdoors to the fullest? Here just five local businesses in Brevard, NC that can make your outdoor adventure dreams come true.
---
D.D. Bullwinkel's
D.D. Bullwinkel's loves the outdoors, just like you do. As Brevard's premier outdoor retailer, they are committed to providing the best items and supplies the outdoor industry has to offer. You'll find affordable clothing and gear, rich in quality and design. And you'll meet knowledgeable staff to help you find it, tell you all about it, and teach you how to use it. What's more, the business's shoe store, MooseTracks Footwear, is conveniently located within the same building on Main Street. Visit to select from a variety of styles in active footwear for the entire family.
60 E Main Street, Brevard | (828) 862-4700 | ddbullwinkels.com
---
Fox Mountain Guides
Fox Mountain Guides offers a comprehensive rock climbing training program, accessible even to those who've never climbed at all. Located just a short drive from the heart of Brevard, Looking Glass Rock offers great climbing and bouldering, especially in cooler months. (Cooler weather keeps the stone from baking you in the sun.) But if that's not enough adventure for you, the accredited experts at Fox Mountain can guide you through some of the best ice climbing on the East Coast. Ice isn't always available in the South, but when it does come in, it's spectacular!
(888) 284-8433 | foxmountainguides.com
---
Headwaters Outfitters
The headwaters of the French Broad River, one of the oldest rivers in the world, are located near Brevard. A few miles west of town, master guides at Headwaters Outfitters help residents and visitors alike take advantage of all the river has to offer. For more than 25 years, they've been the region's top source for family-friendly fly fishing, paddle canoeing and kayaking, and tubing trips. Headwaters is also home to the Forks of the River, a taproom that celebrates breweries within the watershed that make beer from these pristine mountain waters.
25 Parkway Road, Rosman | (828) 877-3106 | headwatersoutfitters.com
---
The Hub and Pisgah Tavern
There's no better place for awesome bicycles, killer outdoor gear, friendly service, and cold craft beer than the Hub. (It's one of our agents' favorite Brevard bike shops!) Their technicians work on all bikes, from cruisers to road and mountain bikes. But their focus is on service. The Hub also offers the latest in demos and rentals. When your outdoor adventure is finished, come back for a local brew at Pisgah Tavern, which happens to be nestled within The Hub. Everyone, including your furry friends, will love their outdoor seating space. 
11 Mama's Place, Pisgah Forest | (828) 884-8670 | thehubpisgah.com
---
SylvanSport
Formed in 2004, SylvanSport specializes in easy-to-use, affordable, and versatile trailers for camping, kayaking, or travel. Their "GO" and "VAST" brands are aimed at folks who prefer a minimalist approach to bringing their gear along for unforgettable excursions into the great outdoors. They also offer top-quality gear for camp kitchens, tents, sleeping, packs, bags, and more. You can find their trailers, gear, and merch at dealerships around the world. But there's no need to go far. Their headquarters and home dealership is right in Brevard!
21 Welcome Street, Brevard | (828) 393-4927 | sylvansport.com
---
Make every day an adventure in Brevard, NC!
Brevard, NC has distinguished itself as an epicenter for outdoor adventures, small businesses, education, art, and music. Tucked along the edge of the Pisgah National Forest, Brevard is a hotspot for eclectic in-town living and big mountain views. Downtown is a vibrant and walkable hub of independent shops, boutiques, galleries, pubs, and eateries. And Brevard is rich in year-round events and festivals.
Does that sound like the perfect lifestyle for you? Find your dream home in Brevard now!
Which outdoor businesses in Brevard make your adventure dreams come true? Share them with us in the comments!
Visited 71 times, 1 visit(s) today