Last Updated on June 15, 2023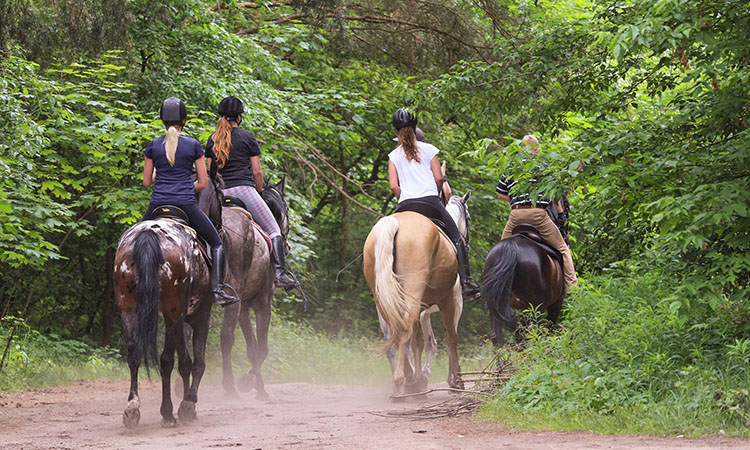 Move over, Kentucky! There's a new region in the running for prime horse country!
Western North Carolina is fast making an international name for ourselves among serious equestrians. Much of this is because of the Tryon International Equestrian Center. This state-of-the-art, 1,450-acre facility opened in 2014 is establishing the next chapter in a town where history and horses intersect. But Tryon isn't the only prime location for horse lovers. 
Here are three ways to get back on the saddle and enjoy an equestrian lifestyle in Brevard, NC.
BYO horse
If you're already living the equestrian lifestyle, there are tons of self-guided horseback trails in and around Brevard. Pisgah National Forest and Nantahala National Forest offer miles of trails for all levels of riders—more than 40 miles in Nantahala alone! Trails are well marked with the horse-use symbol. Plus, open and gated Forest Service Roads are open for horseback riding unless signed closed to this use. The South Mills River Area of Pisgah near Brevard is a very popular backcountry area for hiking, horseback riding, and mountain biking. Most trails follow historic logging roads and railroad grades alongside streams through hardwood forests, and many offer opportunities for loop rides.
DuPont State Recreational Forest and Gorges State Park are also great places to take your horse for the day. One great adventure is the DuPont State Forest Waterfall Loop, a two-hour loop trail that passes by four major waterfalls in the area. Take note, though, that the loop does involve crossing a large stream and two wooden bridges. Safety should not be a problem if you show caution, but your horse may need some guidance if they are inexperienced.
Note: Not all trails in WNC are open to horses. Get a map before you start, and check signs at the trailheads to make sure they're horse accessible.
Borrow a horse
Not a horse owner (yet)? No problem! There are a number of horseback riding providers in and around Brevard who are more than happy to saddle you up. Pisgah Forest Stables offers one-hour, two-hour, and scenic three-hour mountaintop, or three-hour waterfall rides. All their experienced trail guides are certified in first aid and CPR for your safety. Nearby Saddle-Up Trail Rides offers one-hour dry trail rides. But most people enjoy the two- or three-hour rides that offer from two to 14 water crossings, depending on your experience level.
Whitewater Equestrian Center's four-mile guided trail rides feature stories about deep-rooted local Native American history. Learn about the plants they used for medicines, such as headaches, poisonous venom bites/stings, and stomach ailments. Plus, their rides take you to the beautiful views of three mountain peaks and three natural lakes. Whitewater's horses were previously owned by a children's camp, making them mild-mannered and gentle.
Go to horse camp
Hold your horses! Did you say, "horse camp"? We sure did!
Camp Carolina is a boys camp that offers a ton of fun outdoors opportunities, from caving to paintball to river tubing to father/son weekends. Their horseback riding program is designed to be fun and safe while also teaching campers how to care for both horses and local trails. Their horses have undergone extensive training to make them a great fit for all riders, from beginner to advanced. Half-day or full-day rides include a picnic lunch and swim in one of the lakes along the route. They also offer a half-day "wrangler" clinic where participants learn how to tie, groom, and saddle their horses before mounting up and mastering basic riding skills.
For an even more gentle experience, visit Free Rein Center for Therapeutic Riding and Education. For 20 years, they've offered equine therapy programs to strengthen the spirits, minds, and bodies of children and adults. Activities include riding, grooming, feeding, haltering, and leading horses under the supervision of a PATH (Professional Association of Therapeutic Horsemanship International) certified instructor.
Horse around full time in Brevard, NC
In addition to having some of the best horseback riding trails around, Brevard, NC is a great place to find an amazing home for your equestrian lifestyle. Tucked along the edge of the Pisgah National Forest, Brevard is a hotspot for eclectic in-town living and big mountain views. Downtown is a vibrant and walkable hub of independent shops, boutiques, galleries, pubs, and eateries. The town has distinguished itself as an epicenter for outdoor adventures, education, art, and music. And Brevard is rich in year-round events and festivals.
Does that sound like the perfect lifestyle for you? Find homes in Brevard now!
What's your favorite way to lead an equestrian lifestyle in Brevard, NC? Share your experiences in the comments!
Visited 2 times, 1 visit(s) today