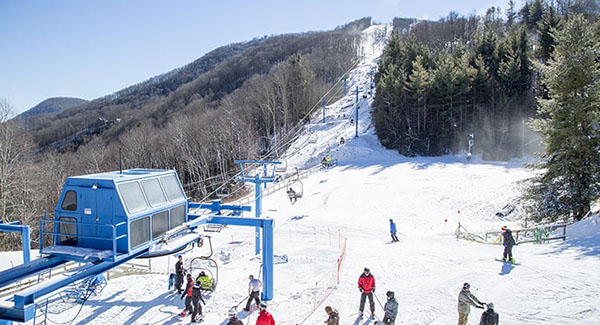 Last Updated on May 17, 2023
On chilly February mornings, it can feel like spring will never come. We've been cooped inside for months. And while many people are happy to stay curled inside with a good book, board game, or jam-packed Netflix queue, that's not the case for everyone.
There are those restless spirits who cannot be contained within four walls, regardless of the season! Those active spirits do well in Western North Carolina—a region full of outdoor adventures every day of the year. Even through the cold winter days, there's plenty to do outside to get moving and keep your mind off the cold.
Here are seven outdoor sports to try this winter within two hours of Waynesville, NC.
1. Sledding
Dipping your toe into the pool of winter sports in Waynesville is easy. Wherever you live in our mountains, you're sure to find a great slope for sledding nearby! Venture out into your neighborhood and see the ground in a new way as you look for the perfect sledding slope. Or take a tour of city parks you've never visited and find your new favorite sledding spot! Local parks, like Vance Street Park, offer safe spaces for short, gentle runs. We also enjoy Montford Park and West Asheville Park in Asheville.
2. Skiing
If winter weather brings to mind snowy slopes, ski runs, and exciting trails, WNC has what you need. Next door in Maggie Valley, Cataloochee Ski Area has five lifts leading to 18 slopes and trails. If you're not a regular skier, more than 4,000 sets of snowsports equipment will gear you up for your day on the mountain. Wolf Ridge Ski Resort in Mars Hill offers 54 acres of skiable terrain, including some of the most challenging runs in the Southeast! With 100% snowmaking capability, their 22 lighted runs operate all season long.
If cross-country skiing is your passion, the Waynesville area has that, too. When the famed Blue Ridge Parkway is inaccessible to vehicles, sections are transformed into the perfect tracks for cross-country skiers. RootsRated recommends the southern terminus around nearby Soco Gap, which connects Cherokee and Maggie Valley near milepost 456. Also on the list are Grandfather Mountain between Blowing Rock and Linville and the 20 miles of carriage-roads near Moses Cone Memorial Park at milepost 292.7.
3. Snowboarding and tubing
Along with skiing, Waynesville's slopes are great for snowboarders and tubers! If you're not familiar, check out one of the local snowboarding programs, like the one offered by the Cataloochee Kidz Ski & Ride Center for kids ages 4–12. Cataloochee Ski Area's Tube World in Maggie Valley also offers 12 lanes of fun on their specialized snow tubing hill. Come for the afternoon or stay for the weekend in a local cabin rental.
4. Snowshoeing
Perfect for "ski school dropouts," snowshoeing is great for people who want the skiing experience without the learning curve. But you'll have to drive a little bit to try this one. Elk Knob State Park near Boone and Sugar Mountain Resort near Banner Elk offer a variety of snowshoeing opportunities. Buckeye Recreation Center in Beech Mountain also offers snowshoe rentals. Warm up on their 1/3-mile loop, then tackle the eight miles of high-elevation tracks at the Emerald Outback trail park.
5. Winter hiking & backpacking
Enjoy the best views of the year without the crowds on one of the iconic mountain trails within a short drive of Waynesville! Areas like Mount Mitchell State Park are open 364 days a year (with the exception of Christmas Day) for properly-equipped hikers. Hikes around Panthertown Gorge take you to cliff top views of the surrounding mountains unobstructed by leaves. If you're a waterfall lover, popular spots like Silver Run Falls near Cashiers and Mingo Falls in Cherokee transform into magnificent ice sculptures during the nadir of winter temperatures.
6. Rock or ice climbing
Contrary to what you might think, some rock faces are better to climb in the winter, when the cool air keeps the stone from baking you in the sun. Looking Glass Rock, just outside of Brevard, offers great climbing and bouldering, especially in cooler months. Rumbling Bald, in Chimney Rock State Park, is another such location.
For climbers looking for a new daring thrill, some of the best ice climbing in the South can be found just a few miles from Waynesville. Fox Mountain Guides and Climbing School in Pisgah Forest offers a comprehensive training program, accessible even to those who've never climbed at all. Ideal conditions run from late November through February.
7. Canopy tours
If you don't mind the chill, canopy tours are another great way to view our frosted winter landscapes. Hawksnest near Banner Elk, NC offers one of the longest zip lines in the nation! Their two-hour Snowbird tour offers first-timers a birdseye view of the North Carolina High Country. You can find other nearby zipline options in Asheville, Highlands, and Bryson City. Check with tour companies to confirm their winter hours and weather policies.
Live Abundantly in Waynesville, NC!
It's easy to discover new outdoor adventures in Waynesville every day. High peaks surround the town, once billed as the Gateway to the Smokies and now the seat of Haywood County. But Waynesville's proximity to Asheville offers residents the best amenities of a larger city while still holding on to its small-town atmosphere. For instance, the recently restored Frog Level Historic District is now home to a collection of small galleries, a coffee roastery, and a microbrewery. From outdoor adventures to cozy spots downtown, Waynesville, NC welcomes people from many different backgrounds to visit and stay for life.
Does that sound like the perfect lifestyle for you? Find a great home in Waynesville now!
What are your favorite winter sports in and around Waynesville, NC? Share them with us in the comments.
Visited 77 times, 1 visit(s) today