Last Updated on April 20, 2023
Future historians may refer to 2020 as "the Year without a Summer"—not because of the weather, but because of the virus. COVID-19 has kept kids and adults off the beach, out of amusement parks, and away from summer camps.

With the official start of winter just around the corner, many people are terrified by the idea of still more months of being stuck inside. Luckily, even through the cold winter days, there's plenty to do outside throughout Western North Carolina.

Make the most of the season. Go on a winter adventure! Here are a few socially distant winter sports (and other seasonal activities) available in WNC.

---
Skip ahead! Find winter sports near you:
---
5 winter sports near Asheville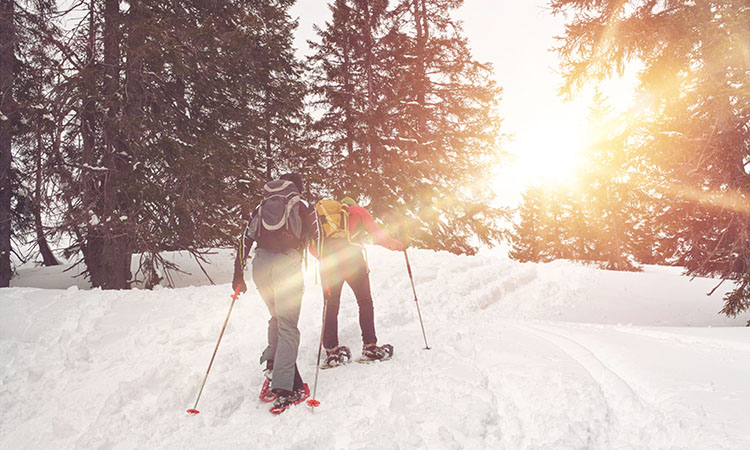 Cross-country skiing
If cross-country skiing is your passion, WNC has that in spades. When the famed Blue Ridge Parkway is inaccessible to vehicles, sections are transformed into the perfect tracks for cross-country skiers. RootsRated recommends Grandfather Mountain between Blowing Rock and Linville, the southern terminus around Soco Gap, and the 20 miles of carriage-roads near Moses Cone Memorial Park at milepost 292.7.

Blue Ridge Parkway | P.O. Box 2136, Asheville, NC | (828) 670-1924 | blueridgeparkway.org
Hiking & backpacking
Enjoy the least obstructed views of the year without the crowds on one of WNC's iconic trails! Areas like Mount Mitchell State Park are open 364 days a year (they're closed on Christmas Day) for properly-equipped hikers. If you're a waterfall lover, popular spots like nearby Linville Falls transform into magnificent ice sculptures at the nadir of winter temperatures.

Mount Mitchell State Park | 2388 NC-128, Burnsville | (828) 675-4611 | ncparks.gov/mount-mitchell-state-park
Skiing
Wolf Ridge Ski Resort offers 54 acres of skiable terrain, including some of the most challenging runs in the Southeast! But if you're not a skilled skier, don't worry. Wolf Ridge is a family-oriented resort offering everything from beginner to expert slopes. With 100% snowmaking capability, their 22 lighted runs operate all season long. Come after dark for nighttime skiing and snowboarding. Or enjoy snow tubing on a separate run just down the road.
Wolf Ridge Ski Resort | 578 Valley View Circle, Mars Hill | (828) 689-4111 | skiwolfridgenc.com
Walking trails
Fill the car and head over to the NC Arboretum in Bent Creek. In addition to miles of walking trails and outdoor gardens, the arboretum offers regular exhibits, events, and educational opportunities for nature lovers of all ages. Through the end of the year, you can also attend the Winter Lights event, featuring more than 500,000 holiday lights, as well as a LEGO® Bricks exhibit, interactive games, and more.
The North Carolina Arboretum | 100 Frederick Law Olmsted Way, Asheville | (828) 665-2492 | ncarboretum.org
Cool down by heating up
Located in Madison County, the town of Hot Springs got its name from one of the region's most extraordinary features: natural mineral springs with temperatures of more than 100 degrees Fahrenheit. That makes them a perfect way to escape the cold. The mineral-rich water is said to increase circulation and oxygen flow throughout the body. So before you know it, any tight muscles you have from the winter cold (or from winter sports) will fade away.

Hot Springs Resort & Spa | 315 Bridge Street, Hot Springs | (828) 622-7676 | nchotsprings.com
It's cold—Get outside! Find homes near your favorite winter activities. Search homes for sale in Asheville.

2 winter sports near Brevard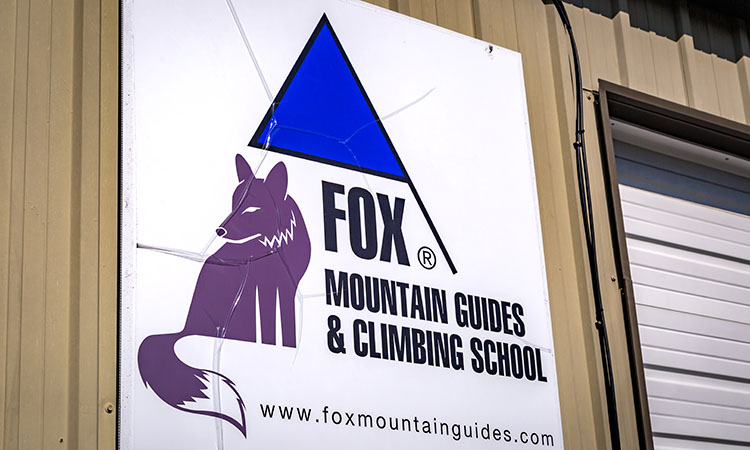 Hiking & backpacking
Winter hikes offer many rewards. In addition to crisp fresh air and few crowds, you'll get the best views of the year thanks to leafless trees and hazeless skies. Plus, many mountain valleys stay warmer (and thus free from snow) for much of the season. ExploreAsheville.com recommends Moore Cove Falls and John Rock Trail among their top winter hiking trails that are easily accessible throughout the winter.

Moore Cove Falls | US-276, Brevard | hikewnc.info/besthikes/moore-cove-falls
Rock or ice climbing
Many areas of Pisgah National Forest offer great climbing and bouldering, especially in cooler months. (Cooler weather keeps the stone from baking you in the sun.) But if you're not experienced enough to go on your own, the accredited experts at Fox Mountain Guides and Climbing School can guide you through some of the best ice climbing on the East Coast—when it's available. Every year, Fox Mountain trains clients for major alpine objectives around the world.

Fox Mountain Guides | 234-A S Broad Street, Brevard | (888) 284-8433 | foxmountainguides.com
It's cold—Get outside! Find homes near your favorite winter activities. Search homes for sale in Brevard.

3 winter sports near Hendersonville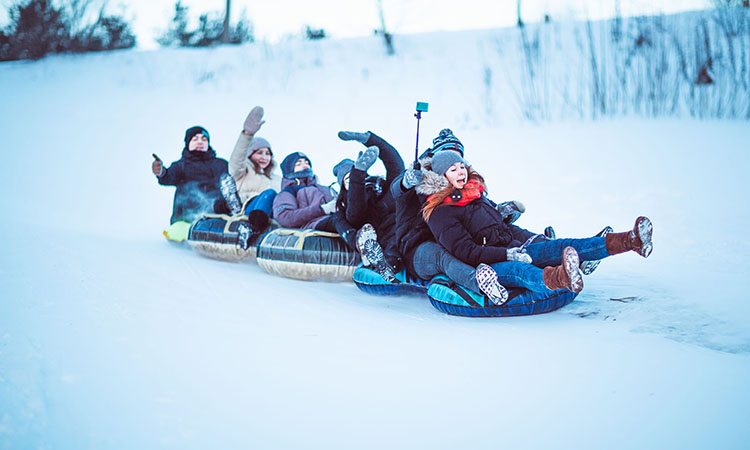 Rock or ice climbing
Contrary to what you might think, some rock faces are better to climb in the winter, when the cool air keeps the stone from baking you in the sun. Looking Glass Rock, just outside of Brevard, offers great climbing and bouldering, especially in cooler months. Rumbling Bald, in Chimney Rock State Park, is another such location.

Chimney Rock State Park | 827 Boys Camp Road, Lake Lure | (888) 625-1823 | ncparks.gov/chimney-rock-state-park
Snow tubing
Along with skiing, WNC's slopes are great for snowboarders and tubers! If you're not familiar, check out one of the local snow tubing programs at Moonshine Mountain. They are the only snow tubing park in the Southeast that allows trains. Tube down Moonshine Mountain as many times as you want, and take the lift back to the top. They provide tubes, and helmets for small children are available to rent. It's over 500 feet of fun!

Moonshine Mountain Snow Tubing Park | 5865 Willow Road, Hendersonville | (828) 696-0333 | moonshinemountain.com
Zip lining
If you don't mind the chill, canopy tours are another great way to view WNC's frosted winter landscape. Canopy Ridge Farm is nestled into 120 acres in the beautiful Hickory Nut Gorge, just a stone's throw from Lake Lure. Pleasant weather conditions and a plethora of natural vegetation mimic the feeling of sailing through a tropical rainforest.

Canopy Ridge Farm | 7115 US-64, Lake Lure | (828) 625-4500 | canopyridgefarm.com
It's cold—Get outside! Find homes near your favorite winter activities. Search homes for sale in Hendersonville.

2 winter sports near Waynesville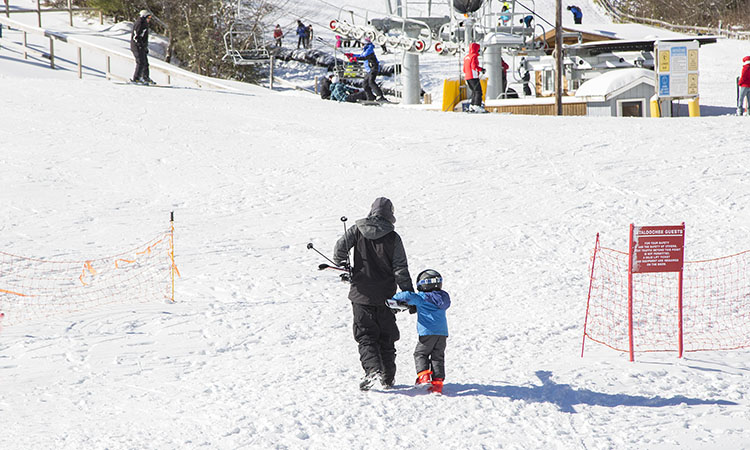 Skiing
If winter weather brings to mind snowy slopes, ski runs, and exciting trails, Western North Carolina has what you need. Cataloochee Ski Area has five lifts leading to 18 slopes and trails. If you're not a regular skier, more than 4,000 sets of snowsports equipment will gear you up for your day on the mountain. Cataloochee Ski Area's Tube World also offers 12 lanes of fun on their specialized snow tubing hill. Come for the afternoon or stay for the weekend in a local cabin rental.

Cataloochee Ski Area | 1080 Ski Lodge Road, Maggie Valley | (828) 926-0285 | cataloochee.com
Zip lining
Zip rain, shine, or snow! Highlands Aerial Park's zipline canopy tours consist of eight ziplines spanning 44 acres—including the 1,550-foot long, 210-foot high Squealing Mare! First-timers can enjoy the Half Mountaintop Zipline Tour, which features the first four zipline rides of the Full Mountaintop Zipline Tour. Work your way up from 10 feet to 45 feet off the ground.

Highlands Aerial Park | 9625 Dillard Road, Scaly Mountain | (828) 526-8773 | highlandsaerialpark.com
It's cold—Get outside! Find homes near your favorite winter activities. Search homes for sale in Waynesville.

Keeping your social distance this winter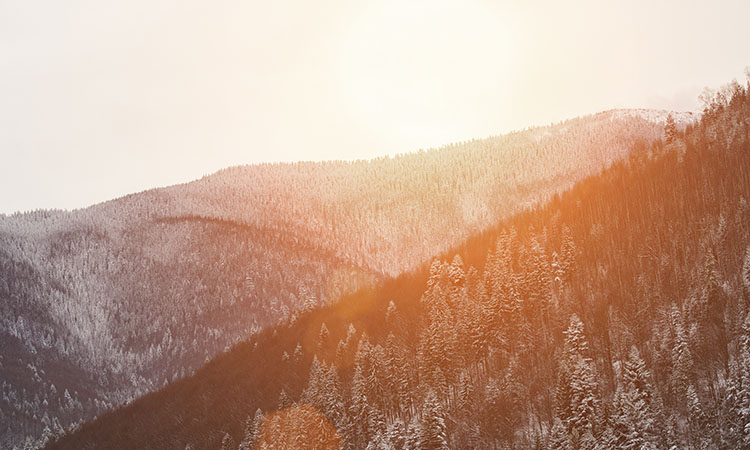 Since social distancing measures began in town, people have taken to the outdoors like moths to a flame. As a result, some outdoor venues and locations have become extremely overcrowded. In those cases, just "being outside" isn't good enough to keep yourself safe from the virus. As you plan your activities, have a Plan B and Plan C ready to go, just in case. If the parking area for your planned outing is full or overflowing when you arrive, go to the next plan.

Remember to maintain safe distances in parking areas, and wear your face coverings anytime you're within several arms' lengths of others. Many businesses and facilities remain closed during the pandemic. Check to confirm exactly what's available before you head out.

What winter sports do you feel safe participating in this year? Share your thoughts with us in the comments!
Visited 24 times, 1 visit(s) today