Last Updated on May 17, 2023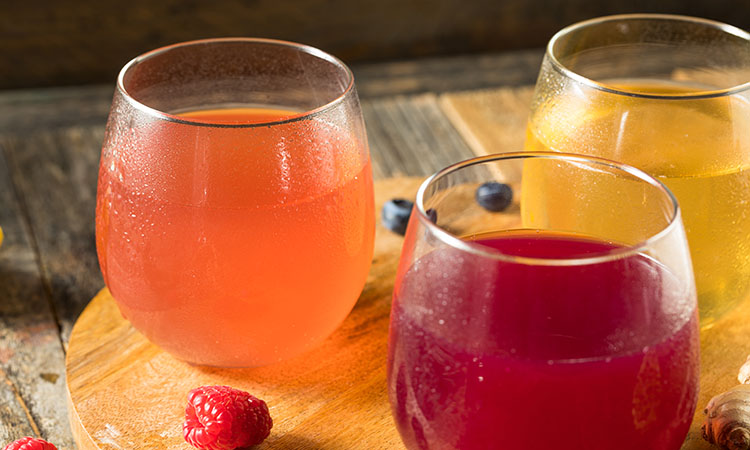 At its core, kombucha is just water, tea, and sugar. But add in a SCOBY (symbiotic culture of bacteria and yeast) and the fermented beverage that results becomes so much more than the sum of its parts!
Many uninitiated scoff at their first taste of kombucha. But the beneficial acid and probiotics found in kombuchas balance out the tang and fizz to create a product that is as tasty as it is refreshing. If you're focused on being healthier, you can't go wrong by adding an occasional kombucha to your diet.
So, where's the best place to find a delicious, refreshing bottle of kombucha? In Hendersonville, locally bottled kombuchas are easy to find in grocery stores, retails shops, restaurants, and breweries. Here are just five places where you can find kombucha in Hendersonville, NC.
Flat Rock Village Bakery
Experience delicious cafe and bakery menus in a relaxed environment. At Flat Rock Village Bakery, they make everything from scratch daily. Bakers use only organic ingredients to make their cakes, pastries, and brick-oven breads. And they source fruit and produce locally whenever possible. Treat yourself to sweet and savory scones, croissants, cinnamon swirls, and more! Village Bakery also carries Buchi, raw and unpasteurized living drinks made using an ancient method of wild fermentation. Buchi flavors include ​​Ginger Cayenne, Peach Ginger Molasses, and Coconut Blueberry Elderberry.
2710 Greenville Highway, Flat Rock | (828) 693-1313 | villagebakerync.com
Franny's Farmacy
At Franny's Farmacy, staff and partners are all committed to revitalizing rural communities through agriculture. They're also committed to developing high-quality CBD products. As a result, Franny's is involved in every step of the process, from seed to shelf. And customers trust their CBD products for their purity and quality. From hemp oil soap to CBD chocolates, customers can find a variety of healing, beauty, edible, and pets products, as well as hemp flowers. Franny's Hendersonville, NC, location also carries Booda Kombucha, made with organic, fair trade green and black teas and organic raw cane sugar. Booda comes in a variety of CBD flavors.
128 Henderson Crossing Plaza, Hendersonville | (828) 697-7300 | frannysfarmacy.com 
Hendersonville Community Co-op
Since 1978, the members of the Hendersonville Community Co-op have been dedicated to buying wholesome food at discount prices. They also encourage informed choice through education and exceptional service to customers and the community. To that end, the co-op offers Buchi kombucha among their local products. Buchi, based in Marshall, NC, offers bottled and canned kombuchas and kefir sodas in a variety of flavors. These nutrient dense drinks check all the boxes: organic, raw, unpasteurized, non-GMO, gluten free, and vegan.
60 S Charleston Lane, Hendersonville | (828) 693-0505 | hendersonville.coop
Mountain Juicery
Mountain Juicery offers a wide selection of cold-pressed juices, creative and healthy smoothies, and smoothie bowls. The family-owned business believes that raw cold-pressed juice can help the body achieve optimal health and increase energy. That's why they provide you with fruits and vegetables in a delicious and nutritious way. They also carry a variety of grab-and-go snacks, including protein bites, protein packs, granola, and vegan cookies. On days when your tummy needs a little something extra, grab a Booda Kombucha. This Asheville-based fermented beverage comes in a variety of signature flavors, including Raspberry Dragonfruit, Blood Orange, and Pineapple Lemon Ginger.
1863 Hendersonville Road #132, Asheville | (828) 277-6006 | mountainjuicery.com
Sideways Farm & Brewery
Sideways is WNC's only farm brewery—where beer is grown. They have taken craft brewing back in time to when farmers grew their own ingredients and would craft fine artisan ales by hand. To do so, they grow their own seasonal bounty of flowers, herbs, and foliage using sustainable methods. In addition to their regular selection of beers, Sideways also produces hand-crafted, gluten-free hard Jun kombucha—the champagne of kombucha. Local wildflower honey, Asheville Tea Company's Green River Tea, and a secondary tea flavor the small batch Jun. It doesn't get more local than that!
62 Eade Road (off Old 64), Etowah | (828) 595-3445 | sidewaysfarm.com
Stay healthy and Live Abundantly in Hendersonville, NC!
Distinguished by an almost perfect climate, beautiful surroundings, great shopping, tasty eateries, and recreational variety, Hendersonville, NC is known as the City of Four Seasons. The town's many tranquil neighborhoods and housing developments all surround a sturdy core. It's a place where you can be as active or idle as you wish. No wonder Hendersonville has attracted hundreds of residents looking for a gilded life topped with ample recreation and a friendly atmosphere. 
Does that sound like the perfect lifestyle for you? Find your dream home in Hendersonville now!
Where's your favorite place to find kombucha in Hendersonville, NC? Let us know in the comments!
Visited 71 times, 1 visit(s) today