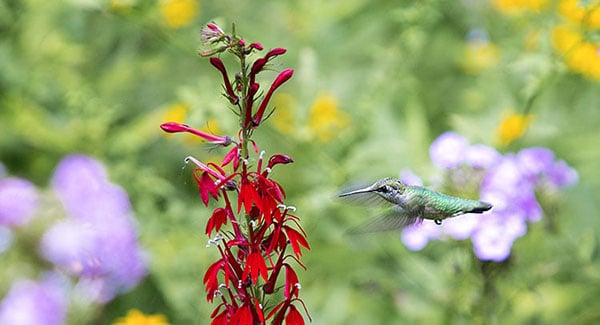 Last Updated on June 7, 2023
Recent social distancing measures have crushed a lot of local events, hobbies, and activities. But one thing it can't trample is our love of plants. From trending house plants to home gardens, native species to exotics, right now, plants are growing on us.

One local event that isn't so easily eradicated is Hendersonville's long-running Garden Jubilee. For decades, this annual street festival has attracted thousands of plant lovers to Main Street. This year, the event is branching into a self-guided nurseries and orchards tour instead. But if you can't make it out this weekend, don't let it wilt your spirits.

Here are four flourishing flower farms in Henderson County that you can visit and patronize anytime.

More Tomorrow Farm
More Tomorrow Farm is a small, family-owned farm that supplies fresh, high quality, specialty cut flowers throughout the region. Although not certified, they grow everything using strict organic principles and sustainable practices. Find More Tomorrow flowers at local florists, visit the Transylvania Farmers Market in Brevard, or buy them directly from the farm. Their exceptional service and attention to detail make them a great choice for wedding bouquets, boutonnieres, table arrangements, or floral arches catered to your desires, interests, and color palettes.

333 Cantrell Loop, Hendersonville | (828) 692-4363 | facebook.com/moretomorrowfarm

Oliver Organiks
Hal Oliver is the supreme commander of Oliver Organiks, a local farm growing over 150 varieties of vegetables, perennial and annual flowers, and pollinator plants. Elderberry and mulberry are available for fruit lovers, and ginger for those looking for tropical flair. But milkweed is a favorite of both local homeowners and the butterflies its flowers attract. Visit their greenhouse daily (except Saturdays) from 12:00–5:00PM. On Saturdays, Oliver Organiks sells their plants at the Henderson County Tailgate Market.

101 Winsome Trail, Hendersonville | (828) 697-1153 | facebook.com/hendogrower

Sideways Farm & Brewery
Sideways bills itself as WNC's only farm brewery—where beer is grown. They have taken craft brewing back in time to when farmers grew their own ingredients and would craft fine artisan ales by hand. To do so, they grow their own seasonal bounty of flowers, herbs, and foliage using sustainable methods. Free from all synthetics, you can buy them by the bouquet, bucket, or u-pick cup. Or subscribe to their CSA for fresh flowers all season!

62 Eade Road (off Old 64), Etowah | (828) 595-3445 | sidewaysfarm.com

Flying Cloud Farm
Just over the Henderson County line, in the last open valley before the road climbs the mountain to the continental divide, sits Flying Cloud Farm. For the last 20 years, they have produced vegetables, fruits, and flowers for local markets. They want their flowers to be accessible to people with all budgets, so they offer everything from pick-your-own to full floral design. All produce grown on the farm is sold directly at farmers markets, through their 100-member CSA, and at a self-service roadside stand.

1860 Charlotte Highway, Fairview | (828) 768-3348 | facebook.com/FlyingCloudFarm

Find Your Future near a Flower Farm!
Does anything sound more bucolic than living in sight of a flower farm? Farming lifestyles offer unparalleled opportunities for connection with nature, stewardship of the land, and living a self-reliant, outdoor lifestyle. And in Henderson County, the terrain and climate couldn't be better. With a diverse population of people of all ages and from all walks of life, Henderson County is the perfect location for enjoying life. It's where "getting away from it all" doesn't mean living away from it all.

Does that sound like the perfect lifestyle for you? Find a home in Henderson County today!

Visited 108 times, 1 visit(s) today