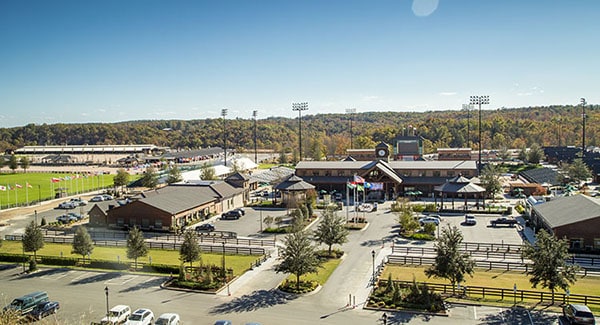 Last Updated on November 2, 2023
Touted as the "First Peak of the Blue Ridge," towns in Polk County, North Carolina have long welcomed flatlanders to a higher altitude. The elevation of Polk County ranges from just under 800 feet near the confluence of the Green River and Broad River to over 3,200 feet on Tryon Peak and Wildcat Spur. The area's foothills are rich with history, culture, crafts, vast natural areas, and unique culinary traditions.
Most of Polk's 20,000 residents live in or near the county's three main towns of Columbus, Saluda, and Tryon. Learn about each of these charming mountain towns and plan your next trip to Polk County, NC today!
Columbus, NC
With just about 1,000 residents, Columbus is the seat of Polk County, NC. Even though it's the smallest of Polk County's townships, the tiny community has a lot going for it. The historic four-block downtown has a number of great local restaurants and shops for browsing. Columbus' courthouse, built in 1857, is also one of the oldest in the state.
Explore Columbus's beautiful downtown today for many attractions located in the heart of the county. Craft beer lovers are sure to enjoy the drafts on tap at Iron Key Brewing Company. The unique House of Flags museum is the only flag museum in the country. It showcases more than 300 different flags, including military, international, and religious flags. And the Polk County Historical Museum tells local history with fascinating photos and artifacts.
Saluda, NC
Saluda, NC (population 600) is an historic Victorian mountain village at the base of the Blue Ridge Mountains. Since the turn of the 20th century, Saluda has been a favorite mountain destination to escape sweltering summer heat. Over the last 50 years, Saluda has experienced a steady growth of people seeking simpler, more peaceful lives. The town is now home to many artists and craftspeople.
Saluda is famous for sitting at the top of the Norfolk Southern Railway's Saluda Grade, the steepest mainline standard gauge railroad line in the country. Today, downtown Saluda is recognized as a National Historic District. A museum is now housed in the 1903 train depot.
Get out and play in Saluda! Stroll leisurely among tree-lined streets of lovely Victorian homes and browse the many distinctive shops, art and craft galleries, and delicious restaurants along historic Main Street. Walk into its century-old general stores, and get a whiff of oil-stained heart pine floors stirring up memories of times gone by. And don't forget to enjoy all the outdoor adventures the area has to offer. Choose from local parks, walking tours, hiking, road biking, swimming, fishing, camping, ziplining, and whitewater adventures in the Green River Gorge.
Search homes for sale in Saluda, NC.
Tryon, NC
Calling itself "The Friendliest Town in the South," Tryon, NC is currently home to about 1,600 residents. However, that number may change dramatically over the next few years. Tryon has been rediscovered by people flocking to the area for its equestrian events and facilities. In fact, Tryon has been one of the South's top equestrian destinations for more than 100 years.
Tryon still offers world-class equine veterinary, boarding, and training facilities, as well as more than 100 miles of private trail systems. The town has probably been best known for Foothills Equestrian Nature Center (FENCE), a 384-acre educational and recreational center that provides programs in nature study, outdoor recreation, and equestrian competition. The center features three lighted show rings, spectacular seating, and permanent stables for more than 300 horses.
Opened in 2014 in nearby Mill Spring, the $100 million, 1,450-acre Tryon International Equestrian Center (pictured at top) takes a love for horses to the next level. TIEC features 10 riding arenas, over 1,000 permanent stalls, elevated and shaded viewing decks, restaurants, family activities, boutiques, and more. In part because of TIEC, Tryon is now mentioned in the same breath as the equestrian cities of Lexington and Saratoga. TIEC hosed the 2018 World Equine Games.
Search homes for sale in Tryon, NC.
Find what feels like home in Polk County, NC
Polk County is quickly growing! Homes for sale in the area include hobby farms, planned equestrian communities, and urban living near quirky and historic downtowns. And in addition to offering many amenities of its own, Polk County is conveniently located a short drive from many of the Southeast's top cities and destinations. Find what feels like home in Polk County, NC.
Search homes and land in Polk County, NC.
Visited 898 times, 1 visit(s) today