Last Updated on March 20, 2023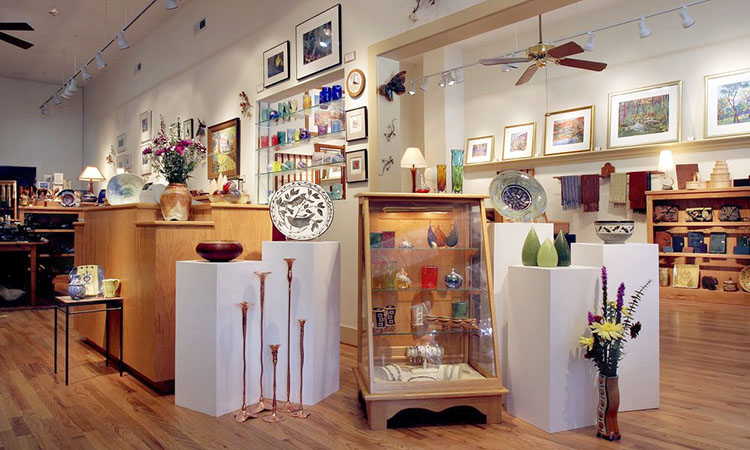 Western North Carolina's many local art galleries have created exciting downtown destinations for artists and art lovers alike. Saluda, in particular, is home to an ever-growing list of fine artists and galleries to showcase their work.
If you love local art as much as we do, you should check out the many local artists in our area. Here are six local art studios, galleries, and museums that showcase the best artists in Saluda, NC. 
---
Art of Yoga Studio & Art Gallery
In an effort to address the mind, body, and spirit, Art of Yoga offers online yoga classes, herbal remedies, and fine art. Artist Laura Polanco focuses her acrylic paintings on her love of nature and her background as a naturalist. Discover her bright majestic mountains, streaming waters, deep green forests, and bold landscapes that flow together naturally. Polanco also uses her expertise as a practitioner of Ayurvedic and Chinese medicine to help others achieve their healthy lifestyle goals.
Nostalgia Courtyard, 19 Pearson Falls Road, Saluda | (803) 627-5293 | herbalremediesapothecary.square.site/
---
Heartwood Gallery
Heartwood Gallery offers fine handmade items to view, use, gift, or enjoy for years to come. Since 1985, Heartwood has offered 100% American craftwork that is designed for function as well as beauty. Heartwood boasts one of the best collections of pottery in the region. They also support a wide variety of artisans from across North America working in candles, ceramics, fiber, garden art, glass, jewelry, wood, and more. Celebrate the quality and craftsmanship of American art every day by taking one of their pieces home.
21 E Main Street, Saluda | (828) 749-9365 | heartwoodsaluda.com
---
Jim Carson, AIS
Jim Carson, AIS, has been painting in both oil and acrylic for more than 30 years. When he retired from his law practice in 2003, he took up painting full time. Visit Carson's working studio on the second floor above the Saluda Grade Café. If Carson is there, you can chat with him about the art on display. Carson's art is known for its harmonious color balance and bold brushwork. The artist has won numerous awards in both regional and national shows. But if you don't catch him, he may be out painting, giving a workshop or mentoring class, or painting in a plein air festival.
20 Main Street #2, Saluda | (828) 749-3702 | jimcarson.net
---
Red Earth Studio (Dale McEntire Art)
As a member of the "Nature Symbolist" movement, Dale McEntire's interest in the spiritual essence of nature can be seen in his use of color and form. His focus is to refine his own personal language of this inner form and create an object of beauty and skill. McEntire works primarily in oil and pastel for his paintings. His sculptures combine stone, steel, cast glass, and wood. These are materials that teach patience and allow for a natural art form to emerge upon completion. McEntire's studio is open by appointment only.
(828) 749-1402 | dalemcentireart.com
---
River Dog Run
River Dog Run celebrates contemporary, local artisans from Charleston and the mountains of North Carolina. Discover inspiration for a beautiful home through their elegantly casual, modern design at the intersection of art and history. This vintage store and artspace offers reclaimed and upcycled design with soap and candle lines, leather journals, art, and furniture. Owner and artist Lisa Preston Clark hopes to inspire everyone who walks in the door with her beautiful art and home décor.
46 E Main Street, Saluda | (828) 551-1461 | facebook.com/River-Dog-Run
---
Saluda Historic Depot
Opened in 1878 as the local railroad depot, the Saluda Historic Depot serves as a modern icon of Saluda's beginning and subsequent prosperity from the train line that brought this small mountain town into being. Since 2016, a train and heritage museum has occupied the historic depot, offering visitors a chance to tour the restored structure and learn about its interesting history. (It was originally located elsewhere.) Stop in for exhibits and events that preserve and promote Saluda's heritage, celebrate its culture, and showcase its natural resources.
32 W Main Street, Saluda (828) 674-5958 | saludahistoricdepot.com
---
Plan your next trip around the Saluda Arts Festival
Held annually, the Saluda Arts Festival attracts fine artists and attendees from across WNC, Upstate South Carolina, and Eastern Tennessee. The small town swells with more than 5,000 residents and visitors for the afternoon. And more than 80 regional artists showcase original work across a variety of mediums and offer live demos. The festival is one of the town's premier events showcasing its historic downtown.
Stay tuned for more information about the next Saluda Arts Festival.
---
Make Saluda your year-round home!
Saluda, NC is an historic Victorian mountain village at the base of the Blue Ridge Mountains. The town is famous for sitting at the top of the Norfolk Southern Railway's Saluda Grade, the steepest mainline standard gauge railroad line in the country. At the turn of the 20th century, Saluda became a favorite mountain destination to escape the sweltering summer heat of lower latitudes. Since the 1960s, Saluda has experienced a steady growth of people seeking simpler, more peaceful lives. Today, the town of less than 1,000 is home to many artists and craftspeople, and the downtown area is recognized as a National Historic District.
Does that sound like the perfect lifestyle for you? Find your dream home in Saluda now!
Visited 130 times, 1 visit(s) today