Last Updated on June 1, 2023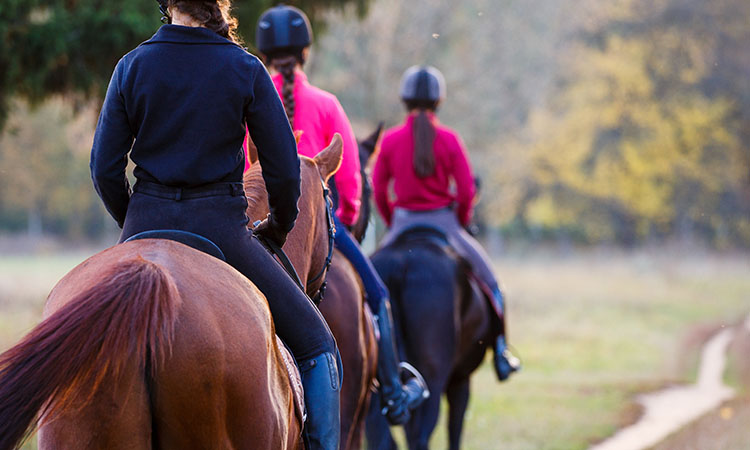 Move over, Kentucky. The Blue Ridge Mountains are one of the best places in the world for horse owners!
Our temperate climate, abundant natural resources, and proximity to the Tryon International Equestrian Center (TIEC) make Polk County, NC one of the most desirable places to live with horses in the United States. Properties suitable for horses can be found in most price brackets, making it affordable for many, as well.
If you and your horses are new to the area, there is much to explore! Here are three of the most popular horse trails in and around Polk County.
FENCE
Horse lovers from all over the region know and love the Foothills Equestrian Nature Center (FENCE). The center maintains nine riding/foot trails covering six miles, including a hard-paved trail for the physically challenged. In addition, each trail on the 384-acre preserve has signs describing different native plant and animal species in the area. FENCE has gained a reputation as one of the finest facilities of its kind in the Southeast, hosting events in all disciplines year round. Hunter and jumper and three-day eventing clinics take place here. Also, dressage and jumper competitions are held in lit show rings, including one covered ring.
3381 Hunting Country Road, Tryon | (828) 859-9021 | fence.org
Cherokee Hill Farm
For nearly 40 years, Cherokee Hill Farm has offered care, instruction, and training from their full-service, 100-acre horse farm. In addition to full boarding options and equine rehabilitation services, they offer bitless training and riding instruction for the novice equestrian. The main stable has 25 stalls, hot and cold wash racks, two tack rooms, an office, feed room, and ample storage for shavings and hay. The horses have nearly 60 acres of turn out space across five pastures. For those interested in riding on site, the farm's ​​bridle paths lead directly into FENCE, as well as connecting to the FETA Trail System (see below).
460 Cherokee Hill Lane, Tryon | (828) 859-9990 | cherokee-hill-farm.business.site
DuPont State Forest
Located in nearby Transylvania County, there is much to discover throughout the 10,000+ acres of DuPont State Forest. The forest's multiple-use trail plan supports hikers, bikers, horseback riders, fishermen, and hunters (during season). All trails are open to horses except for Triple Falls Trail from the picnic shelter to Staton Road and a few foot trails that are clearly marked. The Friends of DuPont State Forest have several trail suggestions for great afternoon horseback rides: Wintergreen Falls, Grassy Creek Falls, and Lake Julia. There are a number of designated horse watering stations throughout the park. Show caution around waterfalls, and do not bring horses within 50 feet of picnic shelters and other structures. 
Staton Road between Little River and Cedar Mountain, NC | dupontforest.com
Looking for more trails? Join FETA!
The Foothills Equestrian Trails Association (FETA) is an alliance of rural landowners and trail riders dedicated to preserving more than 125 miles of historic horse trails throughout Polk County and upper Spartanburg County, SC. Many of these historic trails were originally roads used by European settlers, who in turn most likely followed routes established by Native Americans. Other trails date back to the 1920s when people began coming to Tryon from all over the United States for fox hunting events.
FETA limits their membership to residents of Polk County and Campobello, Gowensville, and Landrum, South Carolina. FETA does not own the trails. Access to the trails is provided through the generosity of landowners who allow members to ride across their land. 
Live Abundantly in Polk County
Polk County has a rich history. But locals also appreciate it for its outstanding natural features and proximity to iconic destinations. Known as the "First Peaks of the Blue Ridge," Polk County welcomes flatlanders to a higher altitude. The county has elevations ranging from just under 800 feet at the Green and Broad Rivers to over 3,200 feet on Tryon Peak and Wildcat Spur. Most of Polk's 20,000 residents cluster near the county's three main towns of Saluda, Tryon, and Columbus. Tryon International Equestrian Center, a sprawling, $100-million equestrian center and luxury resort, operates nearby in Mill Spring.
Does that sound like the perfect lifestyle for you? Find your dream home in Polk County now!
Visited 156 times, 1 visit(s) today