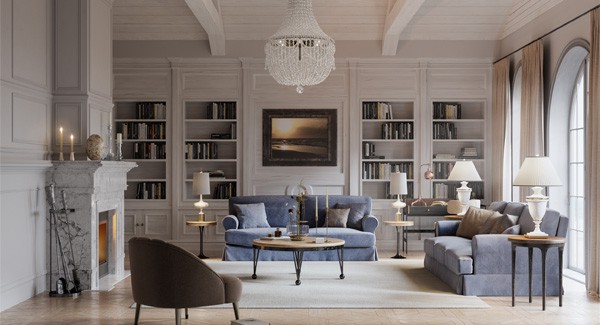 Last Updated on October 25, 2022
2023 is quickly approaching and I'm sure you're wondering what's going to be big in the interior design world. Trends come and go and some even cycle through the years as you'll see. Luckily, interior design experts have helped us determine what's rising in popularity and the themes and elements you can expect to see in homes next year.
Organic Materials
The health and wellness space has taken off in recent years and the shift from man-made to natural or organic materials in interior design is apparent, as people strive to feel closer to nature while indoors. Warm wooden furniture, accent pieces, and architectural elements are prevailing, as well as homey textiles like wool, cotton, and linen in pillows, throws, and rugs. Besides incorporating organic materials into their decor scheme, many homeowners are also opting to add a breath of fresh air by incorporating houseplants.
Wickerwork
Wicker furniture has been around for nearly 5,000 years and while we've seen its comeback in interior design in the last few years, it likely isn't going anywhere. We're still seeing rattan being used as it was in the 60s, but the newest trend for 2023 is the use of this timeless material in unique ways, popping up in pendant lights, headboards, and funky architectural components. And, of course, wicker/rattan ties in perfectly with the rise in the usage of organic materials.
Natural and Oversized Light Fixtures
Unconventional light fixtures in interior design have been popular for several years now, but more recently the use of natural textures and materials are being incorporated into the mix, as well. As the fondness for natural elements continues to rise, the latest light fixture designs seek to bridge the outdoors with the in. In the market for a new fixture soon? Materials like twine, bamboo, and rattan will be huge in 2023—and if they're oversized? Even better!
Curves Galore
Oblong mirrors and art pieces, curved architectural components, and curvy furniture pieces are all the rage. Just as clothing trends cycle from decade to decade, interior design trends do too, and we're seeing a revival of 60s and 70s furniture styles with curved cabinets, credenzas, and nightstands, as well as oblong couches and rugs. Adding curved elements to your home design softens the feel of the room and gives off a calm and tranquil vibe.
Art Deco Style
While minimalism has certainly had its time in the limelight, we are now witnessing a decline in its admiration. Not to say that maximalism is the new minimalism, but certain elements are surely gaining popularity. Textural wallpaper, geometric patterns, metals with pointed edges, and mirrored finishes are the elements of Art Deco style that are making a comeback and will dominate the design world in the coming year.
Now that you have some expert insight into design trends for homes in 2023, you can easily incorporate these elements into your own space.
Visited 6,039 times, 4 visit(s) today