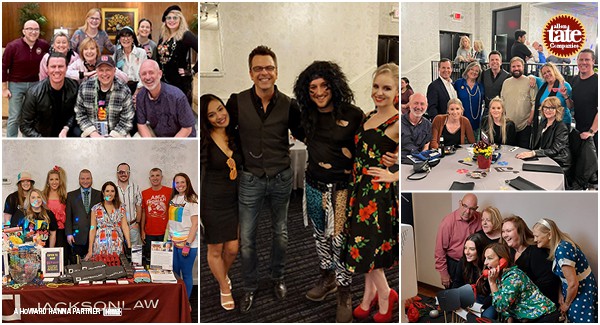 Last Updated on October 26, 2022
Allen Tate Realtors® in the Triangle region recently raised more than $25,000 to benefit public education, as part of the company's Annual FUNday event.
For the past 25 years, Allen Tate agents, employees and guests have raised money for local public education organizations. In 2020 and 2021, the company shifted to a virtual fundraising campaign, Tate Cares Operation Education, because of COVID.
This year, the company returned to four in-person regional FUNday events across the Carolinas. To date, FUNday has raised more than $2.51 million for public education across the Carolinas (not including proceeds from 2022 events).
More than 115 people attended "Dance Through the Decades," an evening event held October 6 at the Junior Woman's Club of Raleigh.
Festivities included a live auction, DJ, photo booth, wine pull and reverse raffle.
"The energy was high as the Triangle region of Allen Tate came together to raise money for public education," said Teri Fountain, branch leader, Allen Tate Cary, and Triangle FUNday chairperson.
"Everyone was excited to be together again in person to support our local children. We all know it's for the kids," Fountain said.
Local education organizations that will benefit from Allen Tate FUNday dollars include Communities in Schools of Wake County, Durham Book Harvest, and the Poe Center for Health Education.
FUNday is made possible through the support of national, regional, and local sponsors.
Company-wide sponsors included 2-10 Home Buyers Warranty, Adwerx, MoxiWorks, Progressive, Ribbon, Quantum Digital and Telware.
Platinum sponsor was Jackson Law.
Gold sponsors included Benjamin Franklin Plumbing, Care Services, Taylor Morrison Homes, and True Homes.
Silver sponsors included Advanced Quality Inspections, Agri-Waste Technology, All American Relocation, Arnette Law, Nest Egg Home Services, Piedmont Service Group, and John South Law Firm.
Bronze sponsors included Holly Springs Law, McCrystal Law, Punch List, RiteRug, Rock Solid Home Inspections, and Sawyer Exterminating.
Public education is part of the Tate Cares giving initiative, along with giving campaigns to benefit arts and cultural organizations and United Way agencies. The lifetime Tate Cares contribution since 1998 is more than $5.63 million.
Allen Tate is the Carolinas' largest real estate company with eight offices in the Triangle region – Apex, Cary, Chapel Hill/Pittsboro, Durham, Lake Royale, Raleigh-Falls of Neuse, Raleigh-Glenwood, and Wake Forest/Rolesville – and a total of 70 offices in North and South Carolina.
Visited 240 times, 1 visit(s) today