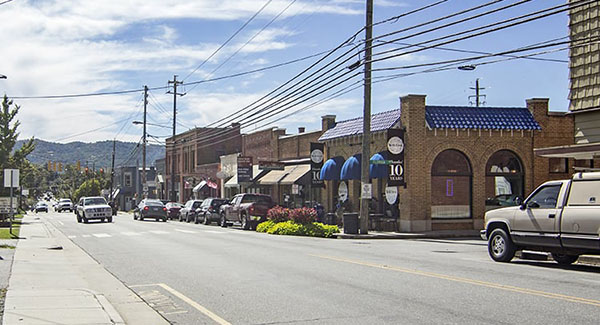 Last Updated on May 4, 2023
With a population of 3,900, Weaverville has had a mini growth spurt in recent years. Away from the hustle and bustle of typical urban life, Weaverville has cultivated a full and active community unique among towns across Western North Carolina.
There are plenty of terms we could use to characterize this charming small town. But don't take our word for it. We asked a resident and business owner what words she could think of to describe Weaverville, NC.
---
---
Weaverville is "Mayberry"
"Three words that come to mind when I think of Weaverville: One of them is 'Mayberry,'" said Well-Bred Bakery & Cafe general manager, Laura Bogard. "It's that sort of small town feel—kids and young people, old people walking down the street."
Weaverville offers many events and amenities along the town's main corridor, including a county library branch, shopping, entertainment, and dining options. Wake up early to get to Well-Bred Bakery for breakfast. Mountain Xpress readers vote this community staple a "Best of WNC" location every year.
Main Street also offers a unique selection of easily walkable art galleries, fun retail establishments, and events throughout the year. Weaverville Art Safari events usually occurs the last weekend of April and the first weekend of November. The self-guided free tours offer a unique look at the work of active, local artists within their working environments. Plus, Music on Main is held one evening in June, Art in Autumn is held in September.
"There's holiday parades and candlelight strolls, and it just feels really cute," Laura said of the town's annual events.
Weaverville is Eclectic
"I think [I would describe Weaverville as] eclectic, too, just because there's the old timers who've been here for a long time. This area's attracting new people all the time, and so it's really sort of becoming a little melting pot of lots of great, wonderful people of all walks of life—artists, professionals, families. It's really kind of everyone," said Laura.
The town of Weaverville has its own economic base built upon a range of different businesses. Many highlight the area's historical crafts, agriculture, and environment, from Echoview Farm and Fiber Mill to Navitat Canopy Adventures. Weaverville is also home to three local breweries: Blue Mountain Pizza and Brewpub, Eluvium Brewing, and Zebulon Artisan Ales. Blue Mountain uses fresh ingredients to make their pizza dough in house. Pair a pie with one of their small-batch craft beers, and you have the ingredients for a great meal! 
Weaverville is Green
More than just a passing fancy, Weaverville has earned a reputation for keeping its neighborhoods clean and green. It's garnered the Arbor Day Foundation's Tree City USA certification every year since 1990. And in 2009, the foundation named it the top "Tree City" in the state.
The town also maintains Lake Louise Park, a hub of local recreation. Picnic tables and shelters, outdoor grills, a playground, and a walking trail surround the small lake. It's a perfect spot for family and community events, exercise, and romantic strolls. If you enjoy the outdoors, don't miss the walking trails that run through Main Street Nature Park, 7.54 acres of local flora and fauna behind the Weaverville Town Hall.
To wrap up her list of descriptors, Laura said of Weaverville, "Maybe not just one word, but 'small little mountain town.' You know, super cute."
Make your home in Weaverville, NC
Away from the hustle and bustle of urban life, Weaverville, NC is attracting newcomers because of its small-town, friendly atmosphere. The town is situated in the Reems Creek Valley, adjacent to Interstate 26 and just five miles north of Asheville, where many Weaverville residents work. The area's rolling hills and serpentine streets support many different home types, including condominiums, townhomes, and single-family homes.
Does that sound like the perfect lifestyle for you? Find your dream home in Weaverville now!
Visited 158 times, 1 visit(s) today