Last Updated on May 10, 2023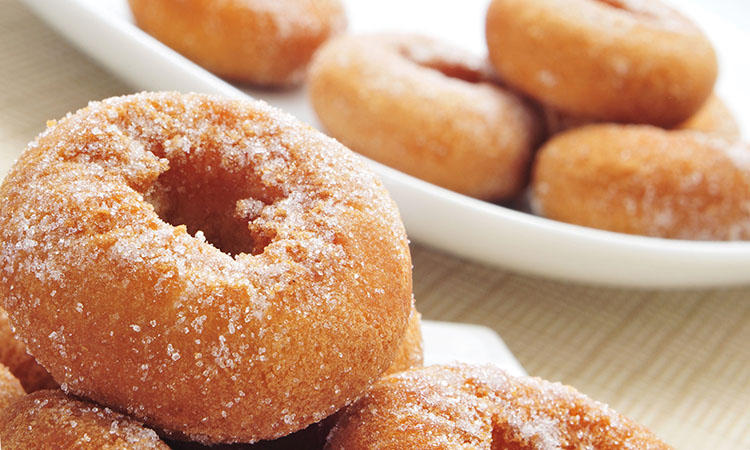 How many doughnuts is too many doughnuts? Can there ever be such a thing?
Today, in honor of National Doughnut Day on June 3, we wanted to offer you a half dozen options to satisfy your sweet tooth. And best of all, there's no need to drive far!
Here are six yummy spots to celebrate National Doughnut Day with fresh doughnuts in Hendersonville, NC.
Breedloves Family Restaurant
How many delis do you know that are so beloved they have their own song? Breedloves believes in good food made from scratch, quality ingredients from local vendors, and friendly service for every customer. The result is love in every bite. Enjoy a homemade meal at their cafe. Pick up some goodness to-go from their deli and bakery cases filled with sweet and savory treats. Or indulge your sweet tooth with a dozen mini specialty doughnuts in the flavors—and with the specialty toppings and drizzles—of your choice. They offer doughnut decorating boxes—the perfect activity for birthday parties, sleepovers, summertime fun, or anytime!
316 Chadwick Avenue, Hendersonville | (828) 290-5152 | breedlovesdeli.com
Celtic Creamery
Born on the west coast of Ireland, now Celtic Creamery is based in the lush pastures of North Carolina, where they combine the freshest ingredients and just a little bit of Irish magic to make truly scrumptious, rich and velvety ice cream. Each of their 58 flavors is made, churned, and frozen daily on the premises. The scoop ice cream is undeniably the star of the show. But Celtic also specializes in old fashioned signature sundaes, hot made-to-order doughnuts, Celtic blend coffee, and more. Today, enjoy a few of their fresh mini cake doughnuts tossed in powdered sugar or cinnamon sugar.
227 7th Avenue E, Hendersonville | (828) 595-9250 | celticcreamery.com
HenDough
If you have not checked out HenDough yet, make National Doughnut Day the day! HenDough is a quick casual restaurant in Hendersonville, serving America's two favorite comfort foods under one roof: handmade doughnuts and fried chicken. Try one of their delicious fresh-made sandwiches, served with crunchy, juicy fried chicken. Or pair your doughnut with a WNC-sourced soda or coffee. HenDough aims to be fun and approachable while maintaining the high level of quality and hospitality that they have come to expect. Enjoy their creations for breakfast and lunch every day of the week.
532 Kanuga Road, Hendersonville | (828) 412-2788 | hendough.com
McFarlan Bakery
Looking for a bite that takes you back to your childhood? McFarlan Bakery is a Hendersonville staple for made-from-scratch baked goods, including doughnuts. In operation since 1930, they still use the same recipes the old timers used 60–80 years ago. And that goes for their fresh-daily doughnuts. Enjoy upwards of 15 yeast and cake varieties, including Bavarian creme, red raspberry creme filled, and old fashioned cake. They even have a blueberry cobbler doughnut that's among our favorites. And at McFarlan, you don't have to stop with doughnuts! Enjoy seasonal cookies, old fashioned pastries, and pies, cakes, and breads, as well. There's always something tasty on this menu!
309 N Main Street, Hendersonville | (828) 693-4256 | mcfarlanbakery.com
Mountain Fresh Orchards
Many Hendersonville apple orchards are only open seasonally. But that's far too rare an occasion to enjoy fresh apple cider doughnuts sprinkled with cinnamon sugar! When you're craving a freshly fried doughnut—or fried apple pies, fritters, apple caramel cake, or whole apple pies—head to Mountain Fresh Orchards. They have all the roadside fruits, veggies, and bakery items you need throughout the year. Quench your thirst on hot summer days with a cup of apple cider slush or peach cider slush. And pick up all the preserves, honey, chow chow, and hot sauce you need for your next backyard cookout.
2887 Chimney Rock Road, Hendersonville | (828) 685-7606 | mtnfreshorchards.com
Tienda Los Nenes
This Asheville community favorite expanded to Hendersonville about six years ago. Since then, Hendersonville locals have enjoyed celebrating many holidays there. The grocery offers a wide variety of quality products, from house-made salsas to chicharron to pinatas. Fresh baked pastries include conchas, chocolate glazed doughnuts, pan dulce, and more. Come in for fresh produce, ready-to-cook carne asada, and your favorite grocery items. Stay for all the delicious fixings on their taco bar!
1945 Spartanburg Highway, Hendersonville | (828) 692-8723 | facebook.com/Losneneshendersonville
Live a sweet life in Hendersonville, NC!
Distinguished by an almost perfect climate, beautiful surroundings, great eateries, and recreational variety, Hendersonville, NC is known as the City of Four Seasons. The town's many tranquil neighborhoods and housing developments all surround a sturdy core. It's a place where you can be as active or idle as you wish. No wonder Hendersonville has attracted hundreds of residents looking for a sweet life topped with ample recreation and a friendly atmosphere.
Does that sound like the perfect lifestyle for you? Find your dream home in Hendersonville now!
Where's your favorite spot for doughnuts in Hendersonville? Share it with us in the comments!
Visited 37 times, 1 visit(s) today