Last Updated on May 3, 2023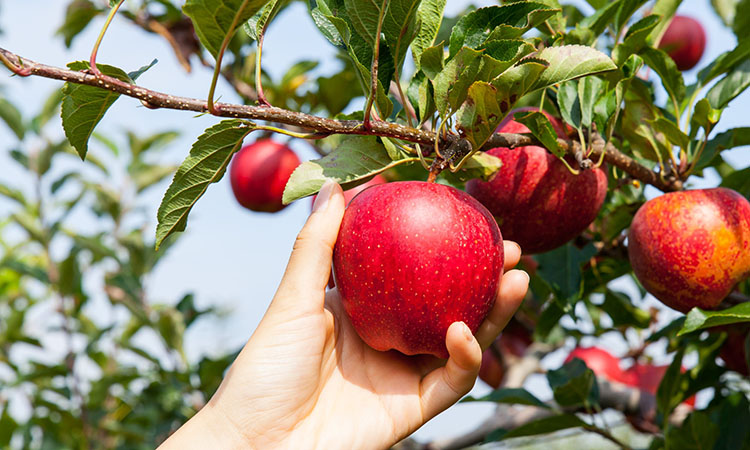 Having new children in the family means a lot of changes. And one of the best changes is all the new traditions you can begin.
In Western North Carolina, a favorite annual tradition among families and friends is apple picking at a local farm. It's easy to make an entire fun, family-friendly day out of the excursion and leave with bushels of fresh, locally grown apples and prepared goods. However, it's also easy to spend the whole day frazzled and leave feeling like you lost your chance to make a happy memory.
Don't make rookie apple picking mistakes. Here are three quick tips to help you win at apple picking season in Hendersonville, NC.
1. Make a game plan
Not all apple orchards are created equal. And especially if you're driving a significant distance with small children, it's best to know exactly what you're getting into. Research local apple farms to see who's open, who's popular, what's ripe, and what amenities they offer. Some farms have fresh baked snacks and food trucks with hot dogs, making it easy to spend a whole day onsite. For others, you may want to pack a picnic lunch. Find out whether they have planned activities such as wagon rides, petting zoos, or musical events. Confirm that they will provide bags or bushels for your bounty. And don't forget to ask about bathroom facilities! You should be able to check off all those boxes at the apple farms around Hendersonville, NC, but it never hurts to double check.
2. Know your apples
It's so much fun to take the kids out into the middle of a huge orchard and grab whichever apples are the most colorful or accessible! But then you get home, and what do you do with them? If you have picky eaters, consider a store-bought-apple taste test leading up to your big day of apple picking. That way, you can determine which varieties they enjoy before you're there. If you have more grandiose plans for your apples, such as making baked goods or jarring apple butter, understand which varieties work best for your task at hand.
And be sure to treat your apples with care. You probably know to skip the apples on the ground and pick only tree-ripe fruit. But there are more tips for picking the best apples on the tree. Start from the lower outside branches (perfect for the kiddos, anyway), and work your way up and in toward the trunk. Apples that are ready for picking should pop off their shoot with a gentle twist. Be gentle with your apples, as they bruise more easily than you might think.
3. Dress for the occasion
It's tempting to wear your fall finery and your best boots so that you look perfect during the inevitable family photo opp. But we have to tell you, some of these apple orchards around Hendersonville stretch out for acres. And hiking out to the back trees through grass and maybe mud can be challenging even in proper footwear.
Dress in layers for maximum comfort. Make sure you're in hiking boots or another kind of footwear that can tread through mushy apples, if need be. And if you still want that perfect photo, plan to bring a change of clothes. Remember, you'll be outside all day—it's also a great idea to have hats, bug spray, and sunscreen on hand.
When is apple picking season in Hendersonville, NC?
The terrain and climate of Henderson County are a haven for apples. Apples have been the traditional agricultural crop in the county, especially since World War II. Today, Henderson County is one of the top 10 apple-growing counties in the entire country.
Prime season for apple picking around Hendersonville, NC is between August and October. However, different varieties ripen at different times. So, if you're looking for a specific variety, you will want to ask.
The tradition of honoring the local apple industry persists, and dozens of local apple farms open themselves up to visitors each season. Roam the orchards, enjoy the fresh mountain air, and pick your own popular and heirloom varieties. Oh, and don't forget to enjoy a cup of fresh apple cider or a nice, warm apple cider doughnut while you're there!
Live Abundantly in Hendersonville, NC!
Distinguished by an almost perfect climate, beautiful surroundings, great eateries, and recreational variety, Hendersonville, NC is known as the City of Four Seasons. The town's many tranquil neighborhoods and housing developments all surround a sturdy core. It's a place where you can be as active or idle as you wish. No wonder Hendersonville has attracted hundreds of residents looking for a sweet life topped with ample recreation and a friendly atmosphere. 
Does that sound like the perfect lifestyle for you? Find your dream home in Hendersonville now!
Visited 23 times, 1 visit(s) today