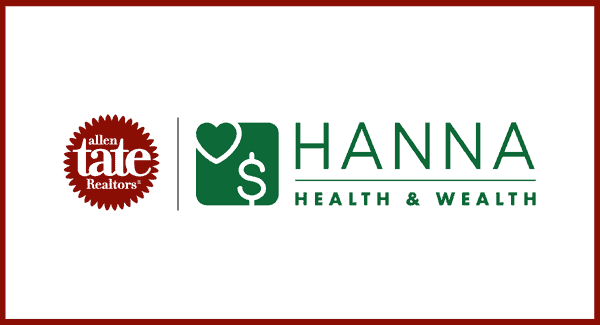 Last Updated on August 18, 2022
Allen Tate Companies, a Howard Hanna Real Estate Services partner, is pleased to introduce Hanna Health & Wealth, a comprehensive benefits and business planning solutions program for Allen Tate Realtors® and licensed and unlicensed assistants.

Hanna Health & Wealth is designed to provide Allen Tate agents and their families with options to safeguard their personal and financial well-being. Benefits include healthcare and Medicare options, disability, dental, vision and life insurance.

The business planning management portion of the program was developed to provide enhanced assistance and security for agents looking for methods of tax withholding, rollover and investment strategies, and retirement and college savings plans.

"Our partnership with Howard Hanna has given us the scale and buying power to make these important benefits available to agents and their families and give them peace of mind," said Gary Scott, president, Allen Tate Realtors.

Industry-leader Howard Hanna has offered benefits to its agents for nearly 30 years and began offering the enhanced Hanna Health & Wealth program in 2021.

"These programs are a game-changer, designed to support the whole agent – today, tomorrow and in the future – and allow them to focus on their business without additional stresses and distractions," Scott said.
"We are excited to offer Hanna Health & Wealth to current and future Allen Tate agents," Scott said.

Open enrollment is currently underway, with benefits to begin October 1, 2022. Agents who join the company in the future will have immediate access to these benefits.

For information about real estate career opportunities with Allen Tate, visit
careers.allentate.com or contact any Allen Tate office.
###
About Allen Tate Companies
Allen Tate Companies is the Carolinas' leading real estate company, based on closed transaction sides, with 70 offices and more than 2,100 Realtors® in the Charlotte, Triad, Triangle, High Country, Highlands/Cashiers and Asheville/Mountain regions of North Carolina and the Upstate region of South Carolina. Allen Tate provides real estate, mortgage, insurance,
and relocation services throughout the entire homeownership life cycle. We are committed to providing and protecting quality of life for the communities we serve. For more information, visit allentate.com.

About Howard Hanna
Howard Hanna Real Estate Services is the #1 family-owned and operated independent broker in the country. The full-service real estate company has more than 500 real estate, mortgage, insurance, title, and escrow service offices across 13 states, including Allen Tate Realtors in the
Carolinas and The F.C. Tucker Company in Indiana, with more than 14,000 sales associates and staff, including many of the industry's top-producing real estate agents. For more information, visit howardhanna.com
Visited 270 times, 1 visit(s) today