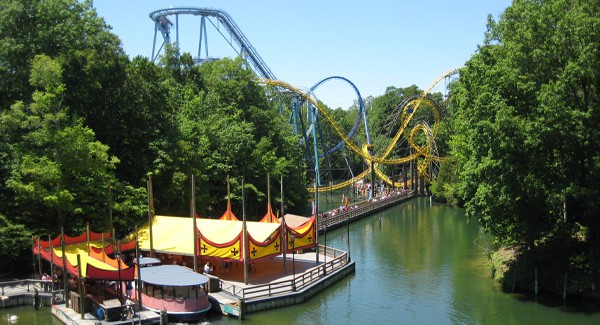 Last Updated on April 25, 2023
Seeking a thrill? Charlotte is geographically close to many amusement parks, from smaller, family-friendly parks like Tweetsie Railroad, to larger amusement parks like Dollywood and Six Flags, and of course, our own Carowinds– just to name a few.
Amusement parks close to Charlotte
Ready for some weekend fun? Here are our picks for the best amusement parks less than 4 hours from Charlotte.
Tweetsie Railroad
Described as a "Wild West theme park adventure," Tweetsie Railroad is located in Blowing Rock North Carolina. Given its close proximity to our area, Charlotte residents can easily make this theme park a day trip, making it the perfect day for families with small children.
Steeped in history, the roots of Tweetsie date back to 1866 when the railroad first operated and in 1957 it was transformed into Tweetsie Railroad, giving guests from all over the south the opportunity to take a one mile trip to a little picnic area and then back to the station.
Today, Tweetsie is much more than just a one mile trip. Park patrons have the opportunity to ride on two powerful locomotives, have a thrill with the many kid-friendly rides and catch a show or two.
Families of little kids will love the plethora of rides geared toward little ones. Relax on the carousel, take a chair lift to Miner's Mountain, get some screams out on the tilt a whirl, Farris wheel or tornado, and take a ride on the Mouse Mine Train. With 15 rides and attractions, there's something for all ages. Geared toward little and big kids, most kids will be able to either ride rides themselves or ride with a parent accompanying them.
Make sure you check the calendar before you plan your trip, as the railroad has several special events each year. The parks, "Day out with Thomas," is a popular event among preschoolers and is held every June.
The fall and winter also bring many seasonal events with Railroad Heritage Weekend happening in September, Ghost Train spooking riders in October and Tweetsie Christmas making spirits bring over the holidays.
Dollywood
In just under 4 hours, Charlotteans can visit Dollywood, located in Sevierville, TN. Set in the beautiful Great Smokey Mountains and named after Dolly Parton, who also co-owns the park.
Widely-known as the most popular ticketed attraction in Tennessee, Dollywood is a 160 acre theme park. Home to more than 50 rides, including 9 rip-roaring roller coasters, kids' classics like "Little Ducky," "Piggy Parade, and "The Scrambler," and family favorites Smokey Mountain River Rampage and "Rockin' Roadway."
Come for the attractions and stay for the culture when you visit Dollywood. Beyond thrill rides, guests can catch family-friendly shows like Dreamland Drive In and Forever Country.
Park goers will save money by enjoying the park for two days, and honestly, there's so much to do and see, we highly recommend extending your stay. Day passes start at $74. Recently voted the #1 theme park in the United States by Trip Advisor, Dollywood is a park you can't miss.
The park is open mid-March through early January each year, with a variety of seasonal events peppered throughout the year. Gaze at more than 500,000 blooming flowers when you catch the Flower and food festival in the Spring. Summer guests can experience the ever-popular Sweet Summer Nights and Drone Festival. Fall and winter at the park bring their own highly-anticipated events with the Harvest Festival in the fall and the Smokey Mountain Christmas event during the holidays.
Just like Carowinds, Dollywood's also home to a water park. Named Dollywood's Splash Country and recognized by TripAdvisor as one of the Country's most beautiful waterparks, Splash Country
Cool off as you meander right by lush mountain side in the mountain twist, drop 140 feet in Fire Tower Falls, enjoy some river tubing with the family on Big Bear Plunge or take a load off while you float down the 1,500 foot "river."
Carowinds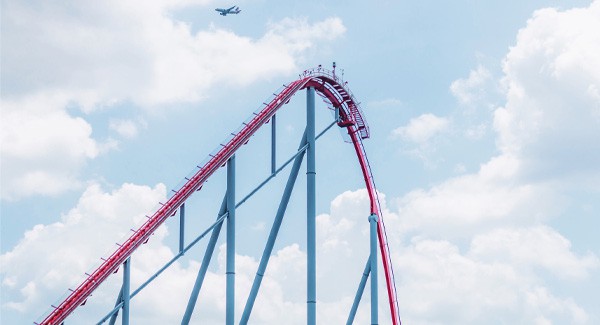 Queen City natives are lucky to have Carowinds right in their back yard. Straddling the North and South Carolina line, Carowinds is home to more than 57 thrill rides.
There's something for everyone at Carowinds, ranging in low-dose thrill rides for the little ones like Snoopy's Junction and the Grand Carousel to jaw-dropping, stomach-turning fun found on rides like Fury 325, the world's tallest and fastest giga coster (a giga coster is classified by a drop of at least 300 feet).
Beyond the plethora of thrill rides, Carowinds also offers many seasonal events. Scarowinds, dubbed the Carolinas' largest Halloween event will keep guests on their toes, and runs select nights in September and October each year.
Spread a little holiday cheer when you experience the holidays at Carowinds. Held each holiday season, Winterfest runs late November through the new year. Guests can watch in wonder as they view the nightly Winterfest Wonderland Parade, ice skate, and participate in the many holiday-themed family activities.
Cool off in the summer months with Carolina's largest water park, Carolina Harbor. Opening on Memorial Day Weekend each season, the water park is the perfect place for families. With over 26 acres of wet and wild fun, Carolina Harbor features an 1,000 foot lazy river, two wave pools, and no shortage of water slides.
View Carowinds hours and more info here.
Busch Gardens at Willamsburg
Yes, we know we said within four hours of Charlotte, but with a park like Busch Gardens, we know an extra hour of drive time won't matter too much.
Just five short hours from Charlotte, Busch Gardens is located in Williamsburg Virginia. More than just a theme park, Busch Gardens is three parts theme park, one part zoo.
With a total of 53 rides, including 9 soaring coasters, 3 water rides and tons of rides for smaller kids, there's something for everyone at Busch Gardens over Williamsburg.
Widely known for its abundance of roller coasters, the park just debuted its newest thrill, Pantheon. Pantheon is the world's fastest, multi-launch roller coaster, rising 180 feet tall and reaching up to speeds of 73 miles per hour.
Beyond Pantheon, there's also Alphengeist, which climbs to a feet of 195 inches and reaches 67 miles per hour. Loose your stomach on Griffon, a flourless coaster that drops risk takers 205 feet.
In addition to coasters and family-friendly rides, guests can also gaze at wildlife. You'll find everything from clydesdale horses to reptiles at the park's wildlife facilities.
Be sure to check the calendar of events before you plan your stay, as the park has many festivities throughout the year–with the Bier Fest and Hallowscream in the fall and Christmas Town over the holidays.
Six Flags over Georgia
Dubbed the thrill capital of the south, Six Flags over Georgia is right at 4 hours from Charlotte. Open daily during the summer season, which runs late May through the first week in August, Six Flags is home to more than 40 rides.
Just one of 11 rollercoasters, the park's flagship coster, Goliath, has been in existence since the beginning and welcomes guests as the enter the park.
Batman lovers will love soaring through Bruce Wayne's, Gotham City in one of the park's most popular rides, Batman: the ride. Thrill seekers will get their fix on the classic wooden coaster, The Great American Scream Machine, and families will enjoy classic favorites like Log Jamboree, and Thunder River.
Frequently asked questions about amusement parks close to Charlotte
Which is better? Carowinds or Six Flags?
This is a hard call. Both Six Flags and Carowinds are known for the thrill-factor, as they both have countless coasters. However, if you're looking at it in terms of a what has more, Carowinds has nearly 17 more rides than Six Flags, making it a great choice for those looking to maximize their time.
Does North Carolina have roller coasters?
You betcha! North Carolina is home to Carowinds, a major theme park with 13 coasters–perfect for thrill seekers!
What's the most affordable theme park close to Charlotte?
The most affordable tickets from this list can be found at Six Flags over Georgia, with an adult one day ticket coming in at $39. A close second is Carowinds, with a one day adult ticket costing $45. From there, Tweetsie is $58 for an adult ticket, and Dollywood is $74 for an adult ticket. Busch Gardens was the most expensive amusement park on this list, costing an adult $99. If you're looking for a weekend getaway in NC or the surrounding states, you'll have a ton of fun at these theme parks. There's value in going more than one day, as all of the parks offer significant discounts for visiting more than one day.
Keep reading: All about the North Carolina Zoo
Play every day in Charlotte, NC
Known for its charming neighborhoods, cultural attractions, successful business economy, and natural beauty, Charlotte, NC is an exceptional city to call home.
Search now for Charlotte homes for sale.
(Visited 288 times, 1 visits today)