Last Updated on June 30, 2022
Planning a trip to Carowinds? You may be wondering about ticket prices, parking, hours of admission, and whether everyone in your family will be able to have fun. No worries—we're here to tell you everything you need to know to make your day at Carowinds a success.
The Carowinds motto is "Where the Carolinas Come Together," and you'll find it's quite accurate when you enter the park. The North Carolina/South Carolina state line runs right through the middle, providing a perfect photo opportunity right off the bat.
Bringing the Carolinas together was the dream of Charlotte businessman Earl Patterson Hall, who was inspired to create an amusement park in his hometown after a 1956 visit to Disneyland.
Carowinds opened on March 31, 1973 at a cost of $70 million and was sold to Taft Broadcasting in 1975. Paramount bought the park in 1993 and sold it to Cedar Fair, the current owner, in 2006.
The 400-acre park offers more than 60 rides including 14 roller coasters, and it's ranked fifth in the world for number of coasters in one park.
Carowinds Tickets and Discounts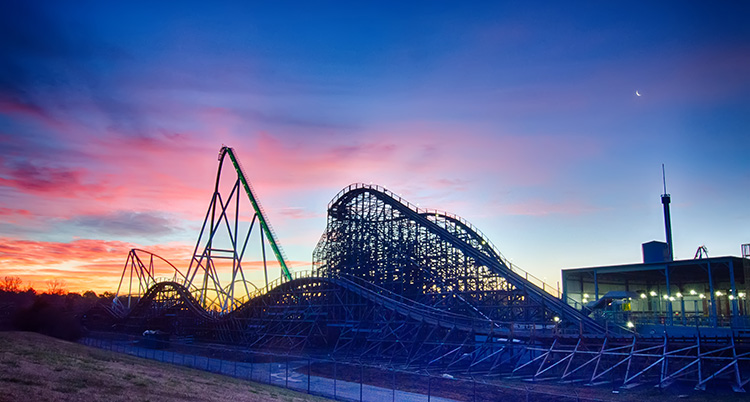 Ready to make a day of it? Then let's talk tickets.
If you're only planning to go once per season, get daily tickets. Prices vary, so check the link often to see what the best deals are.
Want to pay less for your ticket? Thought so! Here are a few options for finding discounted Carowinds tickets.
We highly recommend getting tickets online, because you end up paying less in the long run. Start here and input the number and type of tickets plus the date of your visit. You'll get a list of discounts available for your specific visit, including Saturday Saver, Weekday Saver, and Park 'N Play Thursday. You can also save by waiting until after 4pm to enter the park.
Are you a true bargainista? You can comparison shop the discount codes available at Carowinds with codes on discount sites like Retail Me Not and the Honey app. AAA Carolinas members can often get discounts as well. Or you can scour Coca-Cola product labels in the Charlotte region. As promotional partners, the company often offers Carowinds discounts on their products.
If it's early in the season (early spring) and you're planning on visiting Carowinds at least twice, look into getting a season pass. Prices range from $135 to $240, and depending on the level you purchase, they come with benefits including free parking for the season, 10:30am admission at the Carolina Harbor water park entrance, and Bring a Friend discounts on certain days.
Carowinds also offers free Pre-K Season Passes for children 3-5 years old. Check their site early in the season (early spring) for details.
Carowinds Fast Lane
We get it. Waiting in line is no fun.
Carowinds gets that too, and they're willing to move you closer to the front of the line—for a price. It's called a Fast Lane wristband and it lets you skip ahead on Carowinds rides that tend to have the longest wait times. If you're going on a weekend during the summer and your time is limited, it's worth considering, as waiting in lines can eat up much of the day during peak hours.
Regular Fast Lane wristbands cost $75 per visit. Carowinds also offers a Fast Lane Plus Season Pass, but get yours early because they sell out before the season ends.
Getting to Carowinds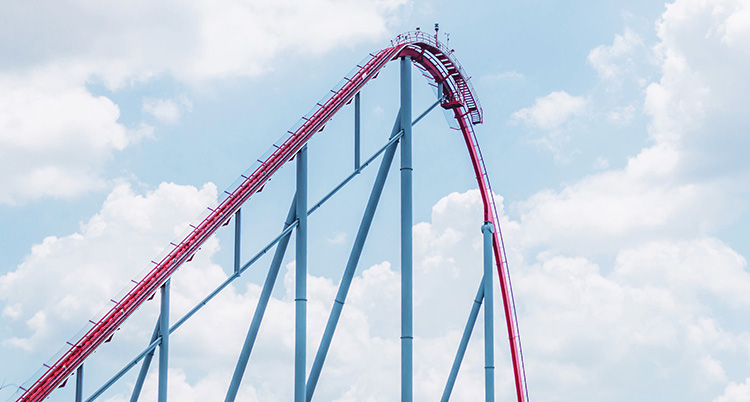 Located on Exit 90 of Interstate 77, Carowinds' address is 14523 Carowinds Boulevard in Charlotte, North Carolina. A portion of the park sits on Fort Mill, South Carolina. Fifteen minutes from Uptown Charlotte, the 400-acre park is 83 miles from Columbia, SC, 104 miles from Greensboro, NC, 179 miles from Raleigh, NC and 248 miles from Atlanta, GA. The nearest airport is the Charlotte Douglas International Airport.
Parking at Carowinds
Parking is $20 per visit, and you can pre-pay online and save $4. You can also purchase a VIP single day parking pass for $25 and park closer to the entrance. Gold and Platinum Season Passholders receive free parking on every visit.
Parking is clearly marked once you go through the drive-up check in booths. Planning on staying in the Carolina Harbor water park during your visit? Continue past the main parking lot until you see the water park lot, and park near the water park entrance. This entrance opens at 11am for daily ticket holders and 10:30am for season passholders and people who have reserved a cabana in the water park.
No matter where you park, write down your location or store it in your phone. After a long day of Carowinds fun, you're not going to feel like walking up and down rows of cars looking for yours. Another option is to download the Carowinds mobile app and use the nifty Car Finder feature.
Related reading: Romantic getaways in NC
Carowinds hours of admission
If you're planning a trip to Carowinds, make sure you check Carowinds website for the hours of operation for the exact date you're planning to go. You'll find separate calendars for the park, Carolina Harbor, and seasonal events like SCarowinds and WinterFest. Carowinds hours can vary greatly depending on the day of the week, month, whether it's a holiday weekend, and during seasonal events.
During the prime time summer season, Carowinds opens at 10am weekdays and weekends. Depending on when you go, closing time could be anywhere between 5pm and 10pm.
Things to know before you go to Carowinds
Maximize the fun on your next Carowinds visit by being prepared. First off, download the Carowinds mobile app for special offers, a list of ride wait times, a tool to find where you parked, and more. You can even store your season pass on the app.
Download a map or get a free paper copy at the front entrance. Guest Services offers guides for guests with disabilities and entertainment guides.
As you pack for your Carowinds visit, keep in mind that the park does not allow outside food or beverages, sharp objects or firearms, and they will search your bag as you go through security. Guests with special dietary needs can request exemptions by contacting foodallergy@carowinds.com or visiting Guest Services at the Main North Gate.
You can bring phones, cameras, videocameras, GoPros and selfie sticks, but you may not use them on rides. Pack light, because you'll be stuck with your belongings all day, unless you want to get a locker. Lockers are located at the North and South Gates, Carolina Harbor, and the Thrill Zone next to Fury 325. Most rides have a cubbie area where you can store your bag while you ride.
In spite of our best efforts, roller coasters plus gravity sometimes equals lost belongings. Report lost items to Guest Services near the front entrance or on their website. Keep in mind that belongings are collected throughout the day and taken to Lost and Found at the end of the day, so your items might not show up right away.
Are you on the road with a fur baby during your visit? Service animals are the only pets allowed inside Carowinds, but there is a pet kennel left of the Main North Gate in front of section 19. The free service is first-come, first-served, and you need to bring your own food, bed and water bowl. The pet kennel does not allow overnight stays.
Summer weather in the South can quickly go from hot and humid to downpour central, with lightning, thunder and wind thrown into the mix. While summer storms are usually over quickly, Carowinds takes inclement weather seriously and will shut down some, or all, rides depending on where the conditions are and which direction they're heading.
Wait out these (hopefully) short-lived closures by watching a live show or stopping at an indoor restaurant like Chick-fil-A, Chickie's & Pete's, or Harmony Hall.
Visiting Carowinds with babies and children
Carowinds may be known for its thrilling roller coasters, but it's actually quite family friendly. First of all, little ones under three get free admission. And with the Pre-K Season Pass, children up to age five can get free admission all season.
Carowinds makes it easy for parents to figure out which rides are suitable for their children. Stop by Traditions at the North Gate to measure your child and get a wristband to make it easy to tell which rides will be open to him or her.
The park map shows the height requirement and thrill level for every ride, and height requirements are marked at the entrance to each ride. Keep in mind that some rides in Camp Snoopy have maximum heights, so older siblings may not be able to ride with young children.
Where are the best places in Carowinds for the younger crowd? Head to the left from Celebration Plaza and you'll find Camp Snoopy, with more than a dozen rides geared toward the youngest guests. Many of these rides are "mini" versions of popular amusement park staples, like Charlie Brown's Wind Up, a mini swing ride.
Camp Snoopy has a baby care center with a rocking chair for nursing moms, a microwave to warm bottles, and a diaper changing station. Strollers are also available for rent—ask Guest Services near the main entrance.
Carolina Harbor is another family-friendly area, as long as you stick to Kiddy Hawk Cove, Myrtle Turtle Beach, Seaside Splashworks and Pirate's Landing. Little ones may also enjoy the classic midway rides and games in the County Fair zone, and the charming Grand Carousel in the Carousel Park area.
The KidTrack wristband program helps reunite parents with little ones. Visit Guest Services to learn more. You should also designate a meeting spot in case any family members get separated. Carowinds has two first aid stations—in Carolina Harbor next to Harbor House and between Chickie's & Pete's and County Fair.
Carowinds rides: something for everyone
Whether you're a die-hard coaster fanatic or taking a tot to her first amusement park, you'll find something for everyone among the 60-plus rides at Carowinds.
As you enter the park you'll see the famous North Carolina/South Carolina state line where kids will get a kick out of being in two states at once.
This zone is called Celebration Plaza, featuring the Carolina Skytower, one of three rides original to the Carowinds of 1973.
The Intimidator, named for NASCAR legend Dale Earnhardt, runs through Celebration Plaza, reaching 75 mph and climbing to 232 feet. Another iconic Carowinds coaster, Nighthawk, is the Carolinas' first flying coaster, boasting eight inversions.
Just to the right of Celebration Plaza is the Carousel Park zone, with the classic Scrambler from 1973; The Vortex—the South's first stand up roller coaster; and the Grand Carousel, dating back to 1979.
Next to Carousel Park is the Thrill Zone, featuring Fury 325, the world's tallest and fastest giga roller coaster. (Giga means between 300 and 399 feet tall and completing a full circuit.) The Hurler, Drop Tower, and Scream Weaver round out the Thrill Zone excitement.
Continue to the Carolina Boardwalk to experience the Carolina Cyclone, the first roller coaster to feature four inversions; the Carolina Goldrusher, the first coaster to cross state lines and a 1973 Carowinds original; and the Ricochet, a steel coaster from 2002 that whips riders around with jarring turns and drops.
Next comes the County Fair, featuring classic midway games and rides like the Rock 'N' Roller, the Do-Si-Do and the Zephyr. This is the home of the Flying Cobras, a boomerang model coaster that sends riders into a cobra roll and vertical loop, then repeats the madness in reverse.
Next to the County Fair is the new Blue Ridge Junction. This seven-acre zone features Copperhead Strike, the first double launch coaster in the Carolinas. With the most inversions of any double launch coaster in North America, Copperhead Strike goes from zero to 42 mph in 2.5 seconds. Mountain Gliders is another new ride in Blue Ridge Junction, allowing guests to spin outward in carriages they can guide on their own.
From Blue Ridge Junction you can access Carolina Harbor, a water park included with the price of Carowinds admission. With a 27,000 square-foot wave pool, an array of water slides, a lazy river that winds through two states, and a three-acre children's area, this water park can take up a whole day in itself.
Want to stay dry? From Blue Ridge Junction, head away from Carolina Harbor toward Crossroads, a themed area with fun and thrills including Plants vs. Zombies, the world's first intra-active game; Boo Blasters on Boo Hill; the Windseeker and Yo Yo swing rides; and Afterburn, currently celebrating its 25th anniversary and regarded by coaster fans as one of the best inverted roller coasters in operation.
Rounding out the themed areas is Camp Snoopy, a kid-friendly zone featuring more than a dozen rides and Beagle Scout Acres, an 8,000 square-foot climb and play area for tots. Look for your favorite life-sized Peanuts characters as you explore Camp Snoopy. At up to 40 feet tall and 35 mph, the Woodstock Express is the perfect starter coaster for thrill-seeking tykes.
Carowinds restaurants
You can find dining and beverage options throughout Carowinds, with a la carte or meal plan pricing options. Popular spots include Chickie's & Pete's, a Philadelphia favorite featuring the famous cheeseteak, and Harbor House, the flagship dining spot of Carolina Harbor. Find a list of gluten-friendly foods offered at Carowinds.
Special events at Carowinds
When the sun goes down from mid-September to late October, Carowinds becomes SCarowinds! Guests ages 13 and up can run from over 500 monsters, catch haunted attractions and shows, and experience mazes and scare zones. SCarowinds requires a separate ticket.
For the younger guests, fall means it's time for the Great Pumpkin Fest. This event is free with Carowinds admission and includes corn and hay mazes, games, crafts, a Halloween Hootenanny at Blue Ridge Junction, and more.
Starting in November, Carowinds transforms into a winter wonderland for WinterFest. More than five million lights, a 70-foot tree, live shows and performers, holiday activities and more await WinterFest guests.
Where to stay near Carowinds
Can't get enough of Carowinds? Consider a Camp Wilderness Cabin, Lodge, or RV site, situated on the grounds and ranging in price from $65.99 to $498 per night.
We hope you have a memorable visit to Carowinds and get that perfect state line photo!
Visited 20,507 times, 1 visit(s) today