Last Updated on April 5, 2023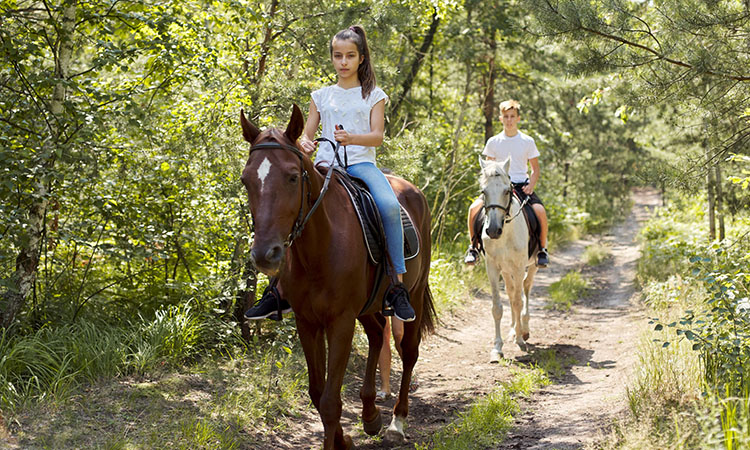 You may not have heard of it before moving to Western North Carolina. But Tryon, NC, has been a destination for equestrians for well over a century. Today, the town offers world-class equine veterinary, boarding, and training facilities, as well as more than 100 miles of private trail systems. In 2014, the town quickly hit the international scene because of the $100 million, 1,450-acre Tryon International Equestrian Center (host of the 2018 World Equestrian Games).
Today, we're shining a spotlight on one local organization that serves the equestrian and greater communities. We invite you to learn more about the Foothills Equestrian Nature Center and how you can help them meet their mission.
What is the Foothills Equestrian Nature Center?
The Foothills Equestrian Nature Center (FENCE) is a 384-acre educational and recreational center that provides programs in nature study, outdoor recreation, and equestrian competition. The facility includes six miles of trails, suitable for hiking or riding*. The center also features classrooms and meeting spaces in the FENCE Center, a nature pond with a boardwalk, three lighted show rings, and stables for more than 300 horses. Best of all, the property's hardwood forests, meadows, and wetlands are fully protected by conservation easement, protecting them for generations to come. If you enjoy connecting with nature and learning how to preserve our precious natural resources, this is the place for you.
*FENCE's riding trails are part of the Foothills Equestrian Trail Association (FETA) trail system. All riders must be FETA members, have your tag displayed, and wear a helmet.
What do they do?
FENCE serves several roles in the community:
Educational center
During the school year, nearly 8,000 elementary and middle school students join the Project FENCE natural history curriculum. Programs like "Schoolyard Kids & Turtle Scavenger Hunt" and "Insects & Creepy-Crawlies" get kids outside, while other programs take place in the classroom. Students participate from four WNC counties, as well as two in the SC Upstate. FENCE also manages a number of summer day camps appropriate for children ages 5–12.
Recreational center
There are no limits to the ways you can explore nature at FENCE! The facility's six miles of foot trails, including a hard-paved trail for the physically challenged, are open from dawn to dusk. The trails are prime spots for birdwatching, one of America's most popular hobbies. Their birdwatching brochure lists dozens of common and uncommon birds previously spotted at the center, as well as which seasons you can spot them.
Therapeutic riding center
TROT is a therapeutic riding program that teaches horsemanship skills to adults and children with physical, developmental, and cognitive challenges. Depending on the needs of each student, mounted classes include exercises and games designed to promote balance, strength, and coordination; others help develop cognitive skills. Many lessons take place only at the walk, and unmounted programs are also available. TROT is a Premier Accredited Center of the Professional Association of Therapeutic Horsemanship (PATH) International.
Equestrian center
The FENCE Equestrian Center is fully equipped to host equestrian events in all disciplines year round. In fact, since holding its first event in the late 1980s, the center has gained a reputation as one of the finest facilities of its kind in the Southeast. The center boasts permanent stabling for over 300 horses in 11 barns, all-weather footing in three lighted show rings (including a covered arena), on-site parking, and spectator seating.
How can I support FENCE?
Donate
As a nonprofit, FENCE relies on the generosity of supporters at all levels. All contributions help facilitate the center's programs and services, including safe, well-maintained nature trails, natural habitats for wildlife, and preservation efforts. Become a Friend of FENCE or donate at a higher level here.
Volunteer
FENCE relies heavily on volunteer support to facilitate their many various programs. Almost all FENCE events, from horse shows to nature hikes, are planned and staffed by volunteers. And the need for volunteers extends beyond humans, as well. FENCE has recently posted a call for TROT horse volunteers.
Participate
One of the easiest ways to support FENCE is by taking advantage of all the programs they offer. Sign up your kids for horse camp, enjoy an outdoor evening concert, cheer on riders at a horse show, or simply enjoy the sunshine along one of their trails. FENCE is also a great spot for parties and wedding receptions.
Get more by giving back
At Allen Tate/Beverly-Hanks, we believe that everyone should have the opportunity and means to Live Abundantly in WNC. Donate time and money to an organization like the Foothills Equestrian Nature Center that means something to you. Reach out to FENCE or contact your Allen Tate/Beverly-Hanks agent to learn about community nonprofits near you.
FENCE
3381 Hunting Country Road, Tryon | (828) 859-9021 | fence.org
Visited 29 times, 1 visit(s) today