Last Updated on May 9, 2023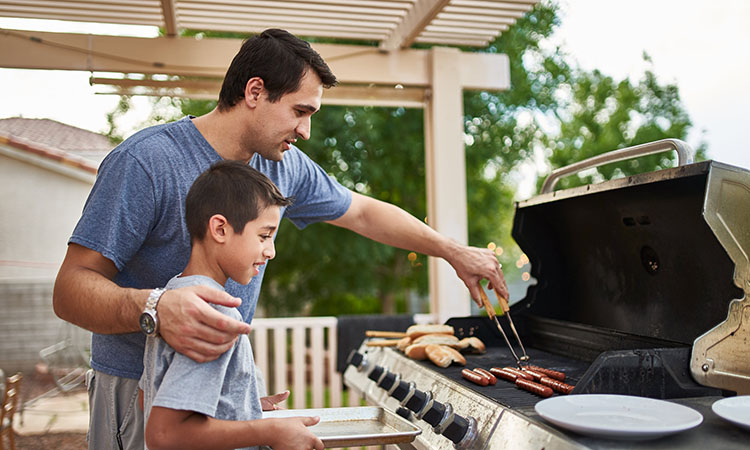 If television sitcoms are to be believed, dads are not much more than bumbling blockheads who need their level-headed wives to get them out of the pretty pickle they've found themselves in. But we know better. Dads helped us learn to ride bikes, change a flat, and grill up the perfect hot dogs. They were there when we skinned our knees, and they remain just a phone call away—whatever the trouble.
This Father's Day, celebrate the Haywood County dad in your life. Give him a day he's sure to love, and one you'll both remember for years to come.
Here are five places to find the perfect Father's Day Gift in Haywood County, NC.
For dads who spend their days on the green
There's nothing like playing a round of golf at high elevation to quicken the blood and make you feel alive. So, it's no wonder that in Haywood County, one of the most popular activities for living an active lifestyle is golf. Our region boasts dozens of golf courses, both public and private, for a wide range of skill levels and price points. And in Haywood County, four courses stand out on the lists of golf aficionados:
Laurel Ridge Country Club is a private course that is open to the public for golf. Its 18-hole, 6,904-yard, championship course was conceived by renowned golf course designer and architect Bob Cupp. Maggie Valley Club & Resort lets Dad while away his days on the golf links in any fashion he desires, including golf stay-and-play packages. Nestled at the base of Cold Mountain, Springdale mountain golf resort combines the beauty of the natural landscape with the convenience and hospitality of a golf resort. All golf members can use the club storage area at no charge. And while the course at the Waynesville Inn Golf Resort & Spa is currently closed for renovations, they are accepting memberships for the nearly-100-year-old Donald Ross-designed course.
Read more: Play the Best Courses in WNC with this Complete Golf Course Guide
For dads who prefer the trails and streams
Is your pop the type who prefers the quiet of early morning trout fishing in local rocky streams? No matter the season, Haywood County offers some of the nation's best fishing, with abundant species and trophy game fish. It's common to find bluegill, brim, crappie, and perch throughout the region.
Or is your dad more of a thrill-seeker, riding the whitewater in a custom kayak? Does he like to band with friends for an intense mountain hike on hidden trails? Or zip line through the canopies of our old-growth forests?
However Dad prefers to spend his time enjoying our mountains and rivers, there's a local outdoor gear store with any and all of the gear he needs. Among our favorites is Mast General Store, which opened in 1883 and now operates nine locations in three states. Mast offers outdoor gear, clothing, home items and accessories, and much more, for whatever adventures Dad craves.
Read more: 12 Outdoor Gear Stores that have Everything You Need to Enjoy Nature in WNC
For dads who hide out in their man caves
We understand. Some dads prefer the peace and solitude of their special space at home, be it a basement jam space, outdoor workshop, or patio kitchen. But does his space really match his personality? If we know dads, he's probably put minimal effort into sprucing it up.
This Father's Day, help Dad turn his special spot into something new. Find the perfect wall hanging for his music corner. Uncover the best stool for his woodworking studio. Or find the best accessories or outdoor lighting for his next barbecue. No matter which kind of space your dad prefers, Haywood County has the perfect home furnishings store for every taste and budget.
Read more: 18 Home Furnishings Stores that Will Help You Refresh Your Home
For dads who steal the show
Does your dad remember quotes from his favorite movie better than he remembers birthdays? This Father's Day, you could take him to see the latest summer blockbuster at one of our favorite local theaters in Haywood County. Or you could put him right in the middle of the action!
Western North Carolina has been a popular filmmaking destination for decades. In fact, Hollywood has often given a starring role to the scenic mountains, beautiful rivers, and waterfalls around us. At least a handful of popular movies were filmed in and around Waynesville. And we bet your Dad has seen them all.
Take Dad on the WNC Movie Trail to see the spots where his favorite scenes were filmed. See the remains of the iconic train crash from "The Fugitive" in Sylva. Hike a portion of the AT and visit Fontana Dam, like they did in "A Walk in the Woods". Or walk downtown Maggie Valley and see if you can spot any landmarks from "Three Billboards outside Ebbing, Missouri".
Read more: Scout out 27 Popular Movies Filmed in the Region on the WNC Movie Trail
For dads who deserve a toast
Is your dad a "beer guy"? You know the type: he owns custom beer glasses, has enough home brewing equipment to supply a small barracks, carries a "church key" on him at all times, and has souvenir stickers and coasters from every bar he's ever visited. If so, indulge him in what he enjoys most.
It's perfectly possible to craft the perfect beer day in Waynesville. But if he's all tapped out of those locations, craft a self-guided tour of the area's growing brewery scene. There are plenty of locations in Haywood and nearby Jackson County to wet your whistle. Experience what happens when passion collides with creativity at BearWaters Brewery, a quick walk from the heart of downtown Canton along the Pigeon River. Or see what the mad scientists at Innovation Brewing in Sylva are concocting this season. Wherever you go, Dad will be sure to appreciate the great brews and having a designated driver!
Read more: 3 Innovative Brewery Tours You're Guaranteed to Enjoy [Interactive Maps]
Give dad the perfect day every day in Haywood County
Haywood County consists of four unique mountain towns: Canton, Clyde, Maggie Valley, and Waynesville, as well as an assortment of unique mountain communities. The county also boasts the highest average elevation of any east of the Rockies, with 18 mountains topping 6,000 feet. Throughout the county, you will find an array of places and events of great significance. From music venues to art exhibits, Haywood County has active arts organizations that bring culture and excitement to the area. Whatever your interests, there is something to look forward to every month of the year.
Does that sound like the perfect lifestyle for you? Find your dream home in Haywood County now!
Where do you find the perfect Father's Day gifts in Haywood County? Share your secrets with us in the comments!
Visited 19 times, 1 visit(s) today