Last Updated on May 23, 2023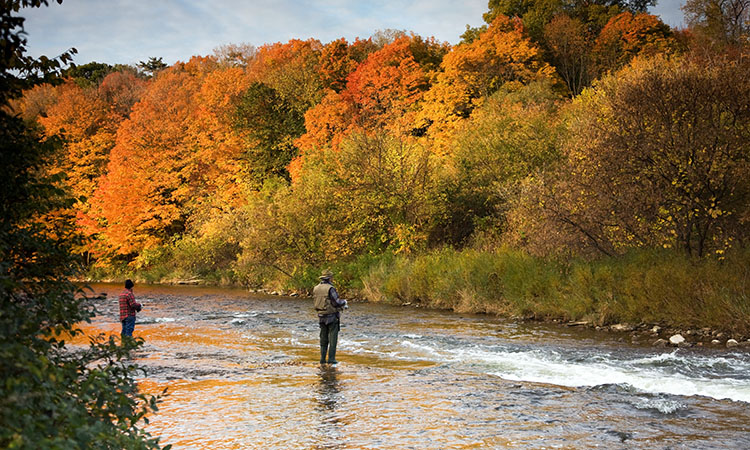 Fly fishing is, in large part, about enjoying nature's bounties. And no time of the year feels more bountious than the fall. With our mountains erupting in bright golds and reds, we love any excuse to get out into the thick of it.
All year long, Western North Carolina offers some of the nation's best fishing, with abundant species and trophy game fish. It's common to find bluegill, brim, crappie, and perch throughout our local rivers and streams. Cool October and November mornings are also an ideal time for catching rainbow or brown trout, as well as smallmouth bass.
Are you ready to get out onto the waters yourself? Here are three important tips for fishing near Waynesville, NC this fall.
Get your fishing license
The North Carolina Wildlife Resources Commission manages licenses for fishing, trapping, and hunting in NC. Wherever you plan to fish in the state, you need to grab your license before you head out on the waters. Seasonal licenses are easy to purchase online or by phone. However, if you're only visiting our area for a short time, you can instead purchase a three-day, $10 fishing license. There are no closed seasons on inland game fishes (with just a few exceptions), so get your license, get out there, and get fishin'!
Save on equipment
If you're new to fall fly fishing in Waynesville, it's easy to try out the sport before you commit to purchasing a host of expensive equipment. Between April and October, the Haywood County Visitor Center lets you check out a fishing rod for a $5 refundable deposit. Or, if you would prefer a little more direction, consider booking a fishing guide. Fishing guides offer fishing instruction for beginners, along with all necessary gear and equipment, at a price that works better for your budget.
Find the perfect spot for you
There are thousands of miles of rivers, stocked streams, and lakeshores throughout our region. So, it can be overwhelming for beginners to know where to start. Luckily, there are plenty of maps and resources that can help you find the right spot for your interests and skill level. The NCWRC has several fishing maps and guides, including a map of fishing attractors. Their fishing access map also helps you determine which spots are bank accessible, canoe accessible, and even wheelchair accessible. The Mountain Heritage Trout Waters map covering Waynesville and Maggie Valley offers additional public access points, including several public parks. 
Discover great fishing year round in Waynesville, NC
In Western North Carolina, it's easy to spend every day enjoying a brand new natural wonder in your back yard! High peaks surround the town of Waynesville, as do hundreds of miles of heritage trout waters. The town was once billed as the Gateway to the Smokies and is now the seat of Haywood County. Plus, Waynesville's proximity to Asheville offers residents the best amenities of a larger city while still holding on to its small-town atmosphere. From outdoor adventures to cozy spots downtown, Waynesville welcomes people from many different backgrounds to visit and stay for life.
Does that sound like the perfect lifestyle for you? Find your dream home in Waynesville now!
Visited 140 times, 1 visit(s) today