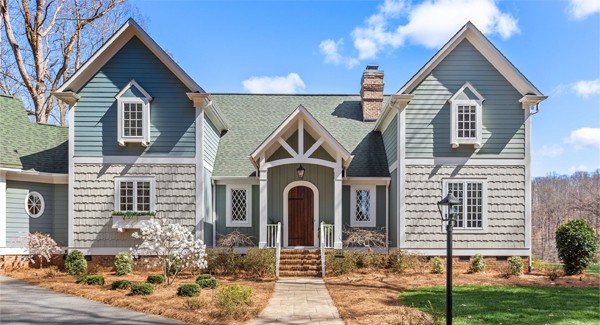 Last Updated on September 29, 2022
In today's busy real estate environment, it's not unusual for a Realtor's phone to ring or ping with a text from a client when they are meeting with another one. Most agents will ignore it or politely excuse themselves for a moment.
But when Val Hubber's phone sounds an alert tone, everyone stops and listens – and most understand. Because that's what happens when your entire family – and many of your clients – work in law enforcement.
When Val – an award-winning Allen Tate Realtor® in the company's Easley/Powdersville office – married her husband Damon 30 years ago, he worked in manufacturing but had a strong interest in the police academy.
"So I knew that's where we were going," Val said. "But we were young and I just didn't think about it much. Then it just became our life."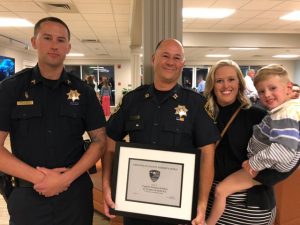 Today, Damon oversees emergency management services as a captain for the Greenville County Sheriff's Office. He just celebrated 25 years on the force and has earned a medal of valor and several distinguished service awards. As a member of the command staff, Damon is connected to every situation, especially when he hears 10-41 – officer needs backup.
That's because his son Mason and daughter Sara also are members of the force. Once, all three responded to the same call.
"And despite Damon's experience, it was a whole different matter when our kids chose that career," Val said.
Mason was ready. At age 21, he left the University of South Carolina in his junior year to enroll in the academy, eventually finishing his degree. Today, he's a master deputy with the Greenville County Sheriff's Office and a member of the SWAT team. His career has taken him everywhere from appearances on the COPS and Live PD television shows to a call in a restaurant where he met his wife Mallorie – also an Allen Tate Realtor® in Val's office.
But when his sister Sara talked about going into the profession, some tears were shed.
"We tried to talk her out of it. But she told us that's what she wanted and we needed to be supportive of her decision. So we were," Val said.
After working in Greenville County and taking a break to care for her two young sons, Sara recently became recertified and now works as a deputy for the Anderson County Sheriff's Office.
"If something happened to Mason or Sara, Damon would know first," Val said.
In 2012, Damon responded to a 10-57 – code for a hit and run – involving a motorcyclist. At the time, Damon didn't realize it was his youngest son, Tony, who had been seriously injured.
"The work suddenly became personal," Val said.
Tony, who was working on a degree in criminal justice at the time of the accident, finished his studies during a long recuperation in the hospital. He's now working towards his chosen career, often doing "ride alongs" with Mason.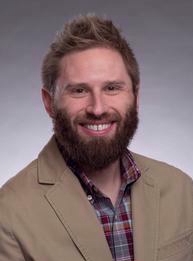 While the rest of the family often apprehends criminals, Val's son JC Barnes studies them. Barnes, a Ph.D. in criminal justice, is a professor at the University of Cincinnati and renowned expert on bio-social behavior – what makes someone become a repeat criminal. JC was quoted in Newsweek following the Las Vegas concert shootings in 2017 and recently spent time in New Zealand working with the Dunedin Study, a long-term project monitoring the health and behaviors of 1,037 people born over the course of one year in 1972-73.
JC is frequently Mason's therapist, Val said, as the siblings share experiences with each other. Family gatherings become a jumble of abbreviations and ten codes.
Despite having four police scanners in her home and office, Val tries to compartmentalize what her family does and find an outlet of peace, such as enjoying time with her grandchildren. But that's not always possible when friends often call with concerns and questions, and even "normal" behaviors are never ordinary.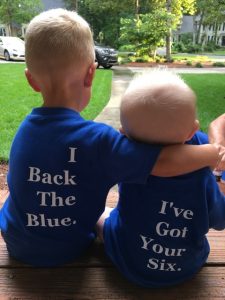 "There's no other profession where your family members show up to the playground wearing guns and bulletproof vests. There are restaurants we can't eat in, or if we can, my husband never sits with his back to the door. We always park facing out. We've walked in stores and have had to leave when Damon spots someone he's arrested," Val said.
"Everything is relevant and pervasive. This is just our 24-7," she said. "Fortunately, the family has never been shot or shot at, but there have been threats that are always taken seriously."
Sometimes, police work brings humor.
"When they were little, the kids' friends would ask them why the 'po po' was at their house again last night," Val said.
Val says she has no past experience or future plans to work in law enforcement herself, despite earning what she calls her B.A. degree – "by association." And you won't find her watching reruns of Law and Order.
"I live it," Val said.
Real estate and law enforcement have some similarities, however. Both professions are governed by a Code of Ethics, and as law enforcement protects and serves the public, Val also protects and serves the interests of buyers and sellers during their real estate transactions.
"And we're both negotiators, investigators and mediators," Val said."We both do whatever it takes to get the job done."
"I'm proud of everything they do. Some days they help change a tire. Other days they disarm a suspect," she said. "All I can do is kiss them goodbye and hope they stay safe."
Visited 311 times, 1 visit(s) today