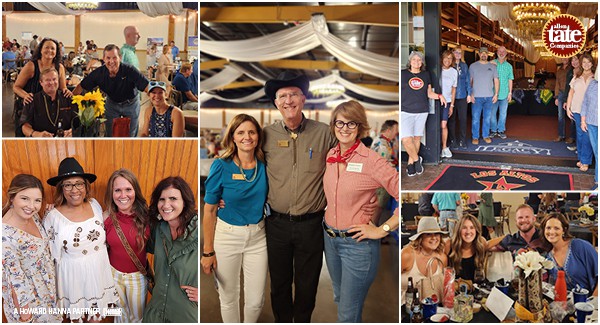 Last Updated on September 29, 2022
You've heard the expression "If you need something done, ask a busy person." Today, few people fit that description better than Allen Tate Realtors® – some of the busiest and most responsive people around.
And where there's a Tate, there's a way. Especially when it comes to public education and improving the quality of life in local communities.
On April 15, a tornado with 135 mph winds swept through east Greensboro, N.C. and left a 33-mile path of destruction, badly damaging homes and three elementary schools.
Nearly 1,000 students who attended Erwin Montessori, Hampton Elementary and Peeler Open Elementary were suddenly without a school. Fortunately, because the storm hit on Sunday, the schools were empty. But there were nearly two months left in the academic year.
Guilford County Schools sprang into action, approving a resolution declaring damage to these schools as a special emergency under state law, expediting response and mobilizing school resources. Officials decided to relocate students to three other area schools and to have them back in the classroom just one week later.
But schools are more than brick and mortar. The classrooms needed supplies and tools of learning.
Winston McGregor, executive director of Guilford Education Alliance (GEA), knew where to go for help. Local businesses had long supported GEA's mission of educational success for Guilford County students, through advocacy, professional development programs and a Teacher Supply Warehouse. Allen Tate is one of GEA's community partners, supporting it through proceeds from the company's Annual FUNday event.
Late on Tuesday, April 17, McGregor called Allen Tate Regional Vice President Tony Jarrett.
"Winston asked if we could help support these schools, specifically Peeler, which would be relocated to Bluford Elementary. I told her we would do our best and fingers crossed," Jarrett said.
Jarrett never doubted the generosity of the Allen Tate Triad-area Realtors. But the school needed everything by Saturday, in time for a Sunday open house for parents, to assure them their kids would be OK when returning to school on Monday. So they needed to move fast.
On Wednesday, Jarrett delivered the "ask" to eight Allen Tate offices in the Triad region. Each office made a commitment to participate, "dividing and conquering" to make sure plenty of the requested supplies would be delivered.
By Thursday, supplies started coming in to all Allen Tate Triad offices – area rugs, floor lamps, desk lamps, organization bins, rocking chairs, bean bag chairs, pillows, and book cases. Those who could not provide specific supplies opened their wallets and checkbooks.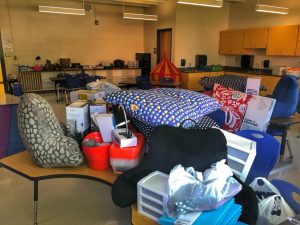 Burlington agent Missy Flora and her husband witnessed the aftermath of the storm when traveling to her parents' home in Whitsett on Sunday night.
"It was like nothing I had ever seen. I looked at my husband and said 'I can't imagine what is going to happen to those folks.'"
Green Valley Branch Leader Sandra O'Connor saw similar devastation when making a trip to Raleigh two days later. She immediately called her friend, who owns rental property and was willing to offer a vacant one-bedroom apartment to a displaced family of three – including a 6-month-old. Her friend donated the apartment, utilities and renter's insurance; Green Valley agents contributed kitchen items, furniture and baby supplies.
"We adopted this family before we were contacted by Guilford Education Alliance for help with Peeler, but our agents were generous with both efforts," O'Connor said. "We have an amazing group of caring people who always go the extra mile."
By mid-day Friday, donations from all eight Triad offices had filled the Green Valley office with an array of furniture and supplies. But agents hadn't been able to find the requested floor pillows that children used each day for reading.
No worries: Allen Tate had a plan. Green Valley Sales Manager Lolita Malave set up a sewing site in the training room, and along with agents Anette Lowhagen and Marcia Goins, crafted 20 durable and kid-friendly pillow covers.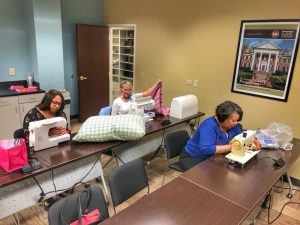 Goins, who had grown up in east Greensboro, had already committed to assist Hampton Elementary with school supplies through her sorority and also help with food for the school open house, when Allen Tate was asked to aid Peeler.
"These schools are part of my community. I wanted to help Tate's efforts, too, so I offered to sew," Goins said.
Betty Smith, team leader of Smith Marketing, purchased the pillows, and along with agents Kathy Carpenter and Becky Mills, stuffed them. And each pillow received a special Allen Tate tag, left over from an old community service project.
"We believe that the educational part of the day is extremely important to children who have suffered a trauma like a tornado. We felt that doing anything we could do to help get the children back to school was extremely important," said Smith, who also made a financial contribution to GEA to help with any unmet needs.
On Friday afternoon, Jarrett and agents Debbie Allen and Wayne Young packed their vehicles and delivered the supplies to Bluford Elementary. Young, a North Elm agent who had been a teacher for 21 years before his real estate career, realized that many of the donated items would require assembly. So on Saturday morning, he returned to the school basement and helped teachers clean and prepare the space that would be used for three classes of students.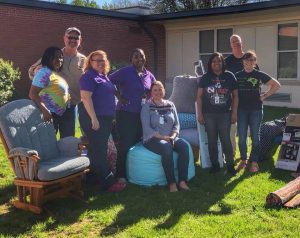 "It was a very rewarding experience to see the efforts of these teachers and other volunteers create a warm and inviting space for the students," Young said. "The gifts from Allen Tate brokers went a long way to make that happen."
Jarrett estimates that Allen Tate agents and staff, representing eight Allen Tate Triad offices, contributed approximately $4,000 in supplies and an additional $4,500 in cash and checks.
"These children were on the front lines and needed to get back to school quickly," Jarrett said.
On April 23, displaced students were welcomed to their new classrooms. And Tate agents returned to helping people buy and sell homes. But both groups have forever been changed by the experience.
"When he was delivering the supplies, I asked Tony if Allen Tate always under-promised and over-delivered. Because Tate sure knocked it out of the park for these kids," McGregor said.
Want to help? Visit the Guilford Education Alliance website to learn about opportunities.
Visited 28 times, 1 visit(s) today