Last Updated on April 24, 2018
For a busy professional, a typical day might include rising early, getting children off to school, hitting the gym, attending multiple meetings, having lunch with a client, after hours networking, shopping for groceries, supervising homework, checking emails and grabbing a few hours of sleep … before doing it all again.
But that day usually doesn't include challenges like struggling to feed the children because there's no food; trying to understand the teacher's comments on their report cards because you can't read; or hoping it doesn't rain because your only pair of shoes have holes in the soles.
As many as half of the 10,000+ children served by Spartanburg School District Two are part of families that struggle. The Upstate Family Resource Center understands.
The Center helps families thrive by providing education, activities and services to help "bridge the gaps" of daily survival and barriers to self-sufficiency.
"The majority of families we serve have reached some kind of crisis. There's an immediate need for food, clothing, money to pay utility bills," said Kelley Ezell, executive director, a Boiling Springs, S.C. native and District Two alumni who has been with the Center since it was established in 2007.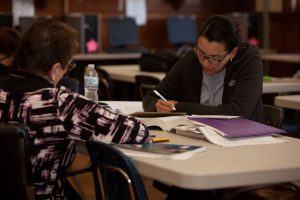 Ezell, a former banking and financial industry professional, was working at the United Way of the Piedmont when the Mary Black Foundation awarded a multi-year grant to Spartanburg School District Two. Established as a 501(c)(3), the Center was a way for the district to provide crisis intervention, financial assistance and enrichment services like GED, ESL and job training to families in need. The Center also works in tandem with 25 highly accountable community partners, who connect clients with resources and services.
Allen Tate Companies is proud to support the Center through funds raised from its annual FUNday for public education.
Referrals come through the school system and from local churches. Last year, more than 800 families – 2,700 people – were helped through the Center.
Among those helped are Jennifer and her three teenage sons. A single mother, Jennifer already struggled to support her family when she fell at home and broke her knee. After emergency surgery, medical complications and a month of physical rehabilitation, she found herself unable to work, overwhelmed, depressed and too embarrassed to share her desperate situation with anyone – including her mother.
"The Upstate Family Resource Center pointed me in the right direction and helped to calm my fears," Jennifer said, who learned about the Center in the local newspaper. "I had a mountain of medical bills and no way to support my family."
Like similar programs, the Center helps fill immediate needs and tries to build a relationship with willing families to help them prioritize needs; overcome education, mental health and other barriers; and connect with resources such as vocational rehabilitation.
"We work to break old habits and create new habits," Ezell said.
In Jennifer's case, those needs included food, household items, help with utilities and gas gift cards so she could travel to physical therapy and job-training classes. She also received financial counseling, vocational rehabilitation services, resume writing assistance, computer training, parenting classes and free tax preparation.
What makes the Center different is its incentive system.
"When you are trying to get out of a bad situation, the system is not set up in your favor. It's tough to find time for education when you're working two jobs to make ends meet. Cutting back on work hours to get ahead means cutting out essentials," Ezell said.
The Center's Strive to Thrive program helps. Clients who agree to work with a navigator on a change plan earn points for completing classes and meeting goals. Every six weeks, clients have the opportunity to "spend" their points at the Thrive store on items such as food, paper products and toiletries. A similar store is offered at Christmas. Jennifer shopped at both for household items, shoes for the boys and holiday gifts.
One of the Center's core focus areas is Family Development, which includes evidence-based programs on adolescent parenting, a Family Solutions group and the Triple P – Positive Parenting Program®, parent education for families with children from birth to age 12.
Last year, the Center introduced PASOs, a statewide program, to support the Spartanburg region's growing Latino population with a focus on early childhood development and resource navigation. PASOs strives to address health issues and improve outcomes for Latina mothers and their babies.
One of the Center's greatest challenges is overcoming the mindset that it only exists for low-income families.
"While many of the families we serve qualify for free or reduced lunch, we help anyone who needs help. The lessons we teach can benefit the community at large," Ezell said.
"I'm no longer a nameless face in the crowd needing help. I'm a person addressed by my name and treated with the utmost kindness and respect. Thanks to the Upstate Family Resource Center, I'm now better equipped to meet the challenges of my life," Jennifer said.
Want to help? The Upstate Family Resource Center accepts financial contributions to supplement grant funding; in-kind contributions such as paper products, personal care and food pantry items; and gas gift cards. Volunteers are also needed to staff the Thrive store, manage food and clothing donations and help with special events. For more information, call 864.578.1379 or visit upstatefrc.org.
Visited 41 times, 1 visit(s) today