Last Updated on April 5, 2023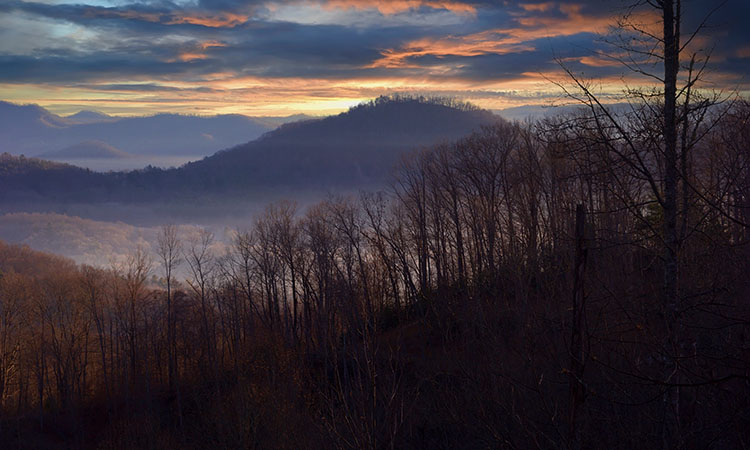 Every day in the Blue Ridge Mountains is an adventure, especially if you know where to look. And luckily, in Saluda, you can look in nearly any direction outdoors and find great trails for hiking, biking, walking your dog, and exploring with friends and family—no matter the time of the year.
In winter, some WNC paths at higher elevations are closed as safety precautions, such as stretches of the Appalachian Trail and Blue Ridge Parkway. But Saluda's lower elevations mean that popular trails remain popular, especially those leading to some of the most spectacular waterfalls around!
Here are five exciting winter walking trails for outdoor adventures in Saluda, NC.
Judd's Peak
Volunteer teams from Saluda Community Land Trust (SCLT) regularly clear and control invasive plants from under the trees on Judd's Peak Lookout. That means that throughout the year, and especially in winter, you have stellar views from the acre-sized lookout. Seven organizations combined funds to purchase Judd's Peak in 2014 to ensure that the land would never be developed. While the crest itself doesn't offer much in the way of trails, it is located at one entrance to Saluda Nature Park. Enjoy more than a mile of trails that run down into a valley where you can walk along a creek or go to a small spring. Reach the trailhead at Judd's Peak Lookout from the end of Judd's Peak and Orchard Hill roads.
Little Bradley Falls
The nine-acre Bradley Nature Preserve, mostly within Saluda's City limits, features the Lazy Girl Loop, an easy trail that runs through the woods. Bishop Branch, Pulliam Creek, Big Bradley, and Big Hungry trails are also located within the preserve. But for a delightful sight in the dead of winter, we recommend Little Bradley Falls Trail. This wide, 50-foot waterfall cascades down four tiers into a pool that's perfect for summer swimming. In winter, you can still appreciate the moderately difficult trail through dense hardwood forest and over Cove Creek. Bring waterproof hiking boots or water shoes to avoid cold, wet feet!
SCLT also maintains Bradley Nature Preserve.
Melrose Falls
The parking and trailhead for Melrose Falls is conveniently located just along Highway 176, east of town. Located near the 185-acre Norman Wilder Forest preserve, the almost-100-acre Melrose Falls preserve is surrounded by one of the most abundant forests in the region. Head left from the fork in the trail and follow the relatively flat grade about half a mile along the Pacolet River. Be careful on frosty mornings as you take the short but very steep descent to a rocky viewing area. The view of this 50-foot waterfall will be worth it!
Conserving Carolina, a local nonprofit conservation organization working to preserve water and land resources in WNC, owns and maintains Melrose Falls and Norman Wilder Forest.
Pearson's Falls and Glen
One short but exquisitely beautiful trailhead adventure near town leads you to Pearson's Falls. During the spring and summer, you'll practically feel like Snow White among the native flora and fauna. Throughout the year, you can see plants of remarkable diversity on the relatively easy, quarter-mile trail, including over 300 varieties of ferns, flowering plants, algae, and mosses. During winter, plan to visit before 3:00 PM to fully experience the falls and glen.
In keeping with the community management theme above, Pearson's Falls and Glen is also a wildlife and bird sanctuary maintained by The Tryon Garden Club. There is a modest admission fee.
Main Street Saluda
Looking for a trail that's paved, popular, and features as many coffee stops as you want? There are new adventures to discover every day when you walk Main Street Saluda! Enjoy the many distinctive shops, art and craft galleries, and delicious restaurants along Main Street. And don't miss the two century-old general stores. While you're there, get a whiff of glossy oil-stained, heart pine floors stirring up memories of times gone by. Wrap up your journey at the Saluda Historic Depot and Museum, a modern icon of Saluda's beginning and prosperity from the train line that brought this small mountain town into being.
Walk all winter from your Saluda home!
Saluda, NC is an historic Victorian mountain village at the base of the Blue Ridge Mountains. The town is famous for sitting at the top of the Norfolk Southern Railway's Saluda Grade, the steepest mainline standard gauge railroad line in the country. At the turn of the 20th century, Saluda became a favorite mountain destination to escape the sweltering summer heat of lower latitudes. Since the 1960s, Saluda has experienced a steady growth of people seeking simpler, more peaceful lives. Today, the town of less than 1,000 is home to many artists and craftspeople. And the downtown area is recognized as a National Historic District. 
Does that sound like the perfect lifestyle for you? Find your dream home in Saluda now!
Visited 47 times, 1 visit(s) today