Last Updated on April 5, 2023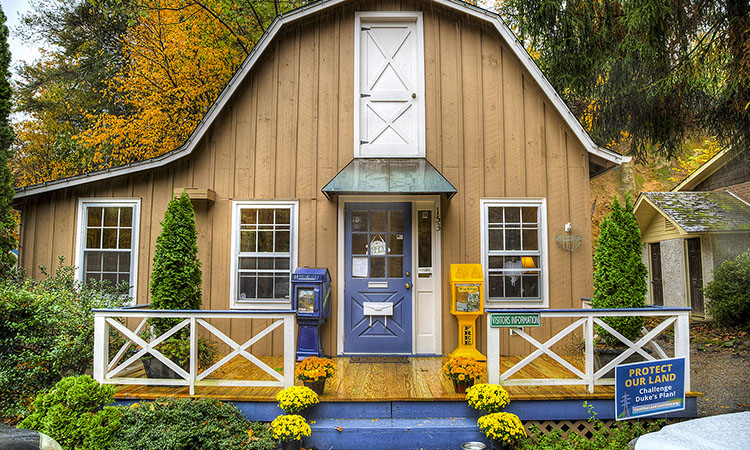 Main Street Saluda, NC is a place where people walk, where people work, and where people share their lives with each other. At Allen Tate/Beverly-Hanks, we're proud to have an office located at the heart of this vibrant and easily traversable town. Each day, we treasure our opportunity to help people find homes in this amazing mountain town—as well as our ability to take advantage of everything Main Street has to offer!
From coffee shops and eateries to locally-sourced shopping, outdoor adventures, and an abundance of art, historic Saluda has a multitude of things to offer residents and visitors alike. It's almost impossible to decide what's best about town. However, here are five of our favorite places within walking distance of our Main Street Saluda office.
Wildflour Bakery & Cafe
Wouldn't you love to work across the street from the best bakery in town? We know we do! At Wildflour Bakery in Saluda, breakfast and baked goods are served all day. Enjoy fresh local eggs, Wildflour toast, and North Carolina grits. Or try one of their delicious fresh-baked scones or sticky buns. Wildflour Bakery also has a full selection of lunch items, including quiche, homemade soups, and sandwiches on their famous breads, as well as handmade pizzas and delicious desserts. No wonder they've been a local favorite since 1981! 
Nostalgia Courtyard, 173 E Main Street, Saluda | (828) 749-9224 | wildflourbakerync.com
Green River Adventures
Eat, shop, and go on an adventure! Since 2006, Green River Adventures has provided unforgettable outdoor experiences built on kayak instruction. They have evolved into a full-adventure business, providing everything from inflatable kayak trips, stand-up paddleboarding, and ziplining to their unique Big Bradley Waterfall Rappel. Looking for something low impact and family friendly? They even offer a 1.5-mile swimming hole hike through historic Game Lands. Your guide will show you the way.
111 E Main Street, Saluda | (828) 749-2800 | greenriveradventures.com
M.A. Pace General Store and Thompson's Store
Technically, these are two distinct businesses. But they both have one thing in common: they trace their histories back to the late nineteenth century! In fact, Thompson's Store is the oldest continually run grocery store in North Carolina. Step inside either establishment and get a whiff of oil-stained heart pine floors stirring up memories of times gone by. Today, Thompson's old-timey family business sells fresh produce and cheeses, meat market items, gourmet foods, fine wines, local beer, and more. M.A. Pace's has retained the look and feel of an older hardware and general store. Browse the store, and you'll find essential items for mountain life—everything from local jams and honey to rakes and paint.
M.A. Pace: 60 E Main Street, Saluda | (828) 749-2401 | facebook.com/M-A-Pace-General-Store
Thompson's: 24 E Main Street, Saluda | (828) 749-2321 | facebook.com/Thompsons-Store
Saluda Historic Depot and Museum
Saluda hosts the steepest, mainline, standard gauge railroad built in the U.S. Opened in 1878, the three-mile Saluda Grade crests in its namesake town. The historic depot serves as a modern icon of Saluda's beginning and subsequent prosperity from the train line that brought this small mountain town into being. Since 2016, a train and heritage museum has occupied the depot, offering visitors a chance to tour the restored structure and learn about its interesting history. Stop in for exhibits and events that preserve and promote Saluda's heritage, celebrate its culture, and showcase its natural resources.
32 W Main Street, Saluda | (828) 769-9016 | saludahistoricdepot.com
The S.P.O.T.
Looking for the perfect spot for lunch or dinner following an afternoon at nearby McCreery Park or a kayak adventure on the Green River? That spot is The S.P.O.T.: Saluda Purple Onion Taqueria. After long days serving customers at The Purple Onion, the staff would gather with friends for tacos and margaritas. In Spring 2022, they got an opportunity to share that practice with the community, and The S.P.O.T. was born! Satisfy your cravings for Mexican-inspired favorites, like tacos and burritos, as well as margaritas and craft cocktails. This is sure to become your regular spot for taco night.
101 E Main Street, Saluda | (828) 769-9100 | purpleonionsaluda.com/thespot
Walk to Main Street from your Saluda home!
Saluda, NC is an historic Victorian mountain village at the base of the Blue Ridge Mountains. The town is famous for sitting at the top of the Norfolk Southern Railway's Saluda Grade, the steepest mainline standard gauge railroad line in the country. At the turn of the 20th century, Saluda became a favorite mountain destination to escape the sweltering summer heat of lower latitudes. Since the 1960s, Saluda has experienced a steady growth of people seeking simpler, more peaceful lives. Today, the town of less than 1,000 is home to many artists and craftspeople, and the downtown area is recognized as a National Historic District. 
Does that sound like the perfect lifestyle for you? Find your dream home in Saluda now!
Visited 14 times, 1 visit(s) today