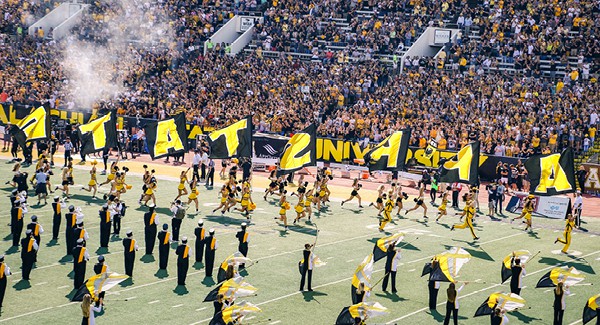 Last Updated on September 15, 2022
On every Saturday morning since 1993 during the college football season, ESPN's College Gameday has traveled to universities all across the country to host their pregame show. From blue chip programs like Alabama, Ohio State, and Oklahoma to successful midmajors like North Dakota State and James Madison, a wide variety of settings have hosted what has become America's most popular Saturday morning show.
Now, for the first time ever, this weekend, College Gameday is adding to their national variety approach by taking the beloved pregame show to one of the most unique college settings in the country—Appalachian State University.
"Pregame show" isn't always a term that draws the attention of the non-to-casual football fan, but what separates College Gameday from the pack is its environment. Setting up shop in the middle of campus with students and fans enthusiastically waving homemade signs as far as the eye can see, the outdoor studio show pulls TV viewers in by transporting them to its setting and illustrating what makes college football great: the passion and pageantry, the students and fans, and the school traditions.
App State certainly doesn't fall short in those departments, and the fact that millions of people around the country will get to see what makes the Mountaineers unique, along with the town of Boone and its beautiful mountain setting demonstrate why this weekend is so special.
Appalachian State University was founded in 1899 as "Watauga Academy," and was created as a teachers college to prepare quality educators to serve the state of North Carolina. Though the name eventually changed, the school's perception as a small teacher school in the mountains remained the same until the 1960's when the college became a university and other fields of study were added. The state took notice as more and more students found the idea of spending their college years learning and living in the high country very appealing.
As the university grew, so too did its athletics. Football, like so many schools, was always the favorite of Mountaineers everywhere, even if their team wasn't always successful. Though generally thought of as a mediocre FCS program, Head Coach Jerry Moore's hiring in 1989 once again proved that perceptions can change.
Under Coach Moore, App State became the first school in the playoff era to win three straight FCS national championships in 2005, 2006, and 2007. Though the Carolinas took notice, the greater college football world didn't concern themselves with a small FCS (league below FBS) being successful.
So when the 5th ranked Michigan Wolverines (the winningest program in college football history) scheduled App State as their season opener tune up game in 2007, college football fans didn't bat an eye when oddsmakers made App State a 33-point underdog. In fact, most college football fans couldn't point on a map where the school even was, let alone if they had even heard about it before.
Yet, in one of the best games in college football history, Appalachian State emerged victorious after blocking a last second field goal attempt by the Wolverines. From that day on, the name Appalachian State University has been known all over the country.
Wins like that for "smaller" schools not only change football programs, they change the schools themselves. Though some might not like to admit the Michigan game being the genesis, Appalachian State enrollment since 2007 has almost doubled, and it's not just because of having a good football team or the school's picturesque mountain setting. The university now offers quality academic programs across the board and has become one of the leading institutions in the state. That win illuminated to people everywhere all that Appalachian State has to offer, and people responded.
These days, the Appalachian State community has become one of the biggest in the region. In North Carolina alone, nearly 97,000 Appalachian State University alumni make the state their home, and that number continues to grow. Most all of them keep the school and Boone close to their hearts.
"Mountaineer fans are fiercely loyal, and that makes for a great partnership for our organizations. App State alumni come back to Boone because they love the university, they love the town, and they love the experiences. To take a cue from Allen Tate's current marketing campaign, it feels like home," said Scott McIntosh, branch leader, Allen Tate Realtors Blowing Rock and Boone.
Allen Tate joined on as the Official Realtor of App State Athletics last year. With Allen Tate's presence in Boone and App State community's presence across the Carolinas, the partnership was a natural fit.
"We have been helping buyers and sellers in the High Country since 2005," says Pat Riley, president and CEO, Allen Tate Companies. "And our love of this community has grown exponentially since we opened our newest office in downtown Boone in September 2020. We're proud to partner with App State."
Last week, the 6th ranked Texas A&M Aggies scheduled App State to come down to College Station, Texas for a tough but tune-up game nonetheless. Though some predicted it would be a close game, most had Texas A&M as a 17 point favorite. Yet again, App State proved they are more than just a "small" school in the mountains, winning 17 to 14, and now College Gameday is coming to Boone.
College Gameday is without a doubt going to shine a light on what is so special about the university, Boone, the region, the fans, the alumni, the football team, and everything else. But even more so, the Saturday morning broadcast is going to show how far Appalachian State has come and why it is such a special place.
As a legacy brand, Allen Tate Realtors understands and appreciates history rooted in tradition, which is why partnering with App State Athletics was such an easy decision. We're excited to see the Mountaineers match up this Saturday and where the program goes in the future!
Visited 747 times, 1 visit(s) today