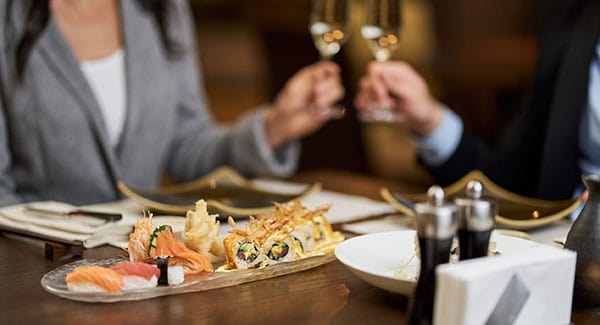 Last Updated on March 21, 2023
In North Carolina, we take our farming seriously. In fact, agriculture and agribusiness is our number one industry, employing a full 17.5% of the workforce. And we have one of the top three most diverse agriculture economies in the nation, producing more than 80 commercial crops and livestock. That gives Tarheels access to a year-round bounty of produce, dairy, and other farm products.
So, it's no wonder that cuisine across the state is healthy, diverse, and very tasty. When fresh local produce makes it to innovative local restaurants, something magical takes place.
Whether you consider yourself a foodie or you just enjoy food (who doesn't?), delicious meal options are available in every small town and urban street corner across the state. But if we had to choose where to eat, there are several locations we wouldn't want to miss.
Here are our top picks for the best cities in North Carolina for foodies.
---
Asheville
In recent years, Asheville has firmed up its reputation as a culinary center with a sizable and rapidly evolving food scene. The city has some 250+ independent restaurants and food trucks, as well as 11 farmers markets. Livibility.com named Asheville one of the country's most vegan-friendly cities. And Yelp recently crowned it THE top city for foodies—for the second time in three years. But Yelpers aren't the only ones who've noticed the great dining options. The city has seen a number of James Beard Award nominations in recent years. And two restaurants brought home the gold in 2022: Chai Pani (Outstanding Restaurant Award) and Cúrate Bar de Tapas (Outstanding Hospitality Award).
Find homes for sale in Asheville.
---
Banner Elk
With fewer than 1,500 residents, it's possible that Banner Elk has the best restaurants per capita of any North Carolina mountain town. Leading the movement is Stonewalls, a locally owned fine dining option since 1985. This upscale steakhouse is also beloved for their "sinful" fried deviled eggs topped with candied bacon. The farm-to-table Artisanal may operate out of a renovated barn. But they treat dinner like an event to be savored and remembered. Next time you spend the weekend, bring your jackets, fellas—business casual dress or better is required.
Find homes for sale in Banner Elk.
---
Carrboro
Chapel Hill locals intent on creating their own culinary masterpieces start at nearby Carrboro's farmers market. In operation for more than 40 years, the market only features products produced within a 50-mile radius. And yet, shoppers will find everything from produce, meats, and cheeses to pottery, art, and crafts. Those who prefer to eat out also have much to explore. Tiny Tesoro only hosts 18 seats. But their menu of housemade pasta, seasonal plates, and European-inspired sweets is big on flavor. Patrons of Glasshalfull inevitably come for the wine and cheese shop but stay for the Mediterranean-inspired, seasonal meals.
Find homes for sale in Carrboro.
---
Charlotte
For a city first settled by European colonists around 1755, Charlotte has a remarkably fresh and up-and-coming food scene. In recent years, the "Queen City" has been attracting big-name chefs from culinary centers like New York and San Francisco to resettle in the South. Combined with the city's reputation as a banking hub, long-time locals are seeing an uptick in the diversity of Charlotte's cuisine. Eater lists Seoul Food Meat Company, a Korean-meets-Southern barbecue hotspot, and Yunta, Japanese-Peruvian food, among the best new restaurants around. Another favorite is Amelie's, a picture-perfect French patisserie that offers three display cases full of sugar-dusted options.
Find homes for sale in Charlotte.
---
Davidson
Sports fans will recognize Davison as the college home of Steph Curry. But no matter the sports season, everyone north of Charlotte flocks to the town's "Restaurant Row." Top on the list of culinary destinations in town is Kindred, specializing in seasonal, locally sourced, contemporary Southern cuisine. Located just blocks from the shores of Lake Norman, the restaurant is led by James Beard Award finalist Joe Kindred and has received national attention in turn. In 2015, it was voted one of the Best New Restaurants in the U.S. by Bon Appetit. Within a few blocks are at least a half dozen other restaurants, including The Pickled Peach, which allows foodies to dine in or grab-and-go from their market.
Find homes for sale in Davidson.
Durham
---
We couldn't argue with Southern Living magazine when they called Durham the South's "tastiest town." As part of the Research Triangle, it seems that Durham's restaurateurs have done their research! Eater has even covered their "essential" restaurants in a post of its own. Many old tobacco warehouses have been rehabbed into the area's hottest culinary destinations. And an artisan approach to Southern staples weighs out over stuffy fine dining, such as at Harvest 18, whose menu features bacon-braised collard greens, cornmeal-crusted catfish, and glazed donut bread pudding. Long story short, Durham offers a farm-to-table philosophy and international flair that is sure to take you on a tour de tastes.
Find homes for sale in Durham.
---
Fayetteville
Best known as the home of Fort Bragg, locals have spent recent years bragging about the burgeoning foodie scene—and rightfully so! The city's diverse population has brought in diverse culinary traditions, from Egyptian to Vietnamese. And of course, everything sits on the foundation of whole-hog barbecue that eastern North Carolina is known for. At the top of everyone's culinary bucket list is Circa 1800, an upscale eatery that utilizes as many locally grown ingredients as possible. The brunch Bloody Mary bar draws a crowd every week! We're also partial to Country Fish Fry, a hidden gem for seafood fans that focuses their attention on a small menu of high-quality options.
Find homes for sale in Fayetteville.
---
Goldsboro
Located southeast of Raleigh-Durham and northeast of Fayetteville, Goldsboro has long been known as an important railroad junction in the heart of cotton and tobacco country. But the city (and surrounding county) has reinvented itself as a destination for food-loving families. Wilber's sits at the center of the city's competitive BBQ scene. But in this competition, everyone is a winner—especially the diners! Enjoy your whole-hog chopped 'cue with a side of real banana pudding. In fact, the city has leaned into the local beer and barbecue scene by creating a self-guided Brews and 'Cue Trail!
Find homes for sale in Goldsboro.
---
Greensboro
If you love burgers, biscuits, and mac-and-cheese tacos, you're going to love Greensboro! More than 100 languages are spoken in this international city, thanks in part to several local refugee resettlement agencies. The "Gate City" has embraced its new residents with open arms—and open mouths! The city is known for its many immigrant-run and family-helmed restaurants, in addition to its Southern staples. Machete has quickly slashed its way to the front of the Triad's dining scene, being named a James Beard semifinalist for Best New Restaurant nationwide. And spots like Nazareth Bread Co and Restaurant can rightly be called culinary multi-hyphenates. This Middle Eastern bakery-grocery-restaurant occupies a former gym.
Find homes for sale in Greensboro.
Raleigh
---
Where does Zagat's think ranks higher than New York or Miami for the "Most Exciting Food Cities in America?" Why, Raleigh, NC, of course! Our state capital is also a capital spot for a constantly evolving food scene. Behind many of the area's recent culinary attractions is Chef Ashley Christensen. In the 15 years since she opened her flagship restaurant, Poole's Diner, Christensen has personally transformed downtown's food scene. Among her many ventures are a burger bar, a chicken and waffle joint, an underground liquor bar, and a Neapolitan-style pizza shop. It's no wonder the James Beard Foundation awarded her the title of Outstanding Chef.
Find homes for sale in Raleigh.
---
Winston-Salem
Great food awaits you in Winston-Salem! This foodie mecca is the birthplace of Krispy Kreme, the home of Texas Pete Hot Sauce, and the world capital of Moravian Cookies. It's also within range of many of the Piedmont's finest wineries. And now, one of the oldest homes in the city has opened its doors to diners. Since 1907, Shaffner Inn has been a private home, a bed and breakfast, and now operates as an eight-room inn. The inn recently began serving classic breakfast and brunch items out of Founders Restaurant. You may have to wait for a table, but waiting is a pleasure when you can tour this beautiful historic home!
Find homes for sale in Winston-Salem.
---
Live the foodie dream in North Carolina!
More than 10 million people live in "The Old North State," making it the ninth most populous state in the nation. North Carolina features a wide range of geographies, from the Atlantic coastal lowlands and islands of the Outer Banks to Western North Carolina's towering mountain ranges. Located in the Piedmont region, Charlotte is the second largest banking center in America (behind New York City) and the Raleigh-Durham-Cary triangle features the largest research park in the U.S. The state is home to 34 state parks and 14 national park sites, making it a hub for outdoor recreation throughout the year. In addition, it's a destination for higher education, fine dining, and quality health care.
Does that sound like the perfect lifestyle for you? Find your dream home in North Carolina now!
Visited 3,310 times, 1 visit(s) today