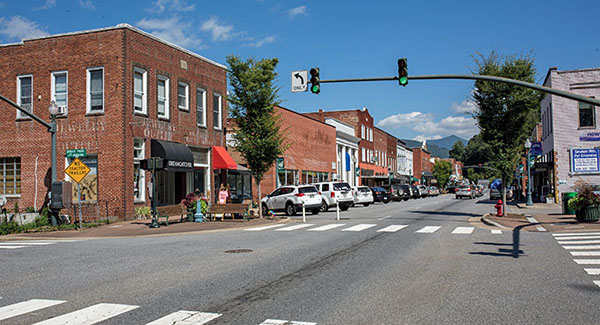 Last Updated on March 23, 2023
When many Western North Carolina residents think of Sylva, NC, they first think of the town's iconic historic courthouse building sitting atop 107 steps. Visitors from out of town recognize the "all American" mainstreet from the 2018 Oscar-nominated movie "Three Billboards Outside Ebbing, Missouri". But from its verdant outdoors opportunities to its innovative craft brewing and culinary scene, there is much to love about Sylva.
Whether you're vacationing or stay-cationing, Sylva offers residents and visitors alike many opportunities to Live Abundantly in WNC. Here's a quick itinerary for a fun-filled weekend in Sylva, NC.
Friday evening in Sylva, NC
Give a whistle
Whether you're in the mood for a conventional hotel, an historic B&B, or a cozy mountain cabin, you can find whatever lodging you're looking for during your weekend in Sylva. Built in 1878, the Whistle Stop Inn offers a warm welcome to all guests. The former farmhouse was restored and now offers casually elegant, railroad-themed rooms. Centrally located within the heart of historic Dillsboro, the inn is within walking distance of the town's vibrant culinary scene, antique shopping, and brewery. And only minutes from adjacent Sylva.
Find a new favorite meal
Southern Living Magazine called Lulu's on Main their "Favorite Restaurant in the Region," and we know you'll love it, too. Executive Chef Devin McCardle once served as honorary chef for Julia Child's foundation, The American Institute of Wine & Food. Now, he has created a menu filled with hormone-free and humanely-raised products for the residents of Sylva. Enjoy fantastic, out-of-the-ordinary eclectic fare and great service in an edgy, retro atmosphere. While you're there, take advantage of the in-house martini bar!
Hit the trail!
There's one trail in town that's fun to explore even after the sun sets: The Jackson County Ale Trail. TripAdvisor calls it "One of the Top 10 American Brewery Tours," and Sylva's booming brewing scene is where it all begins. Experience more than 100 beers on tap along Sylva's Historic Main Street. Or pick up the official field guide for the trail's suggested top 10 local brews. Most of these breweries host live music and special events. So, grab a beer, drink responsibly, and enjoy the best of a weekend in Sylva.
Saturday in Sylva, NC
Start the day in 1926
Known simply as The Coffee Shop, this local landmark opened in 1926 and hasn't changed much since. You'll get a serving of nostalgia with your morning cup of joe. In addition to their vintage menu of home-cooked favorites, the diner also offers a glimpse into the past. Vintage signs, photos, and an old jukebox line the walls. Can't decide what to order? Their gypsy omelet, good ole hamburger, and famous homemade pies are among the favorites. Or do what the locals do: Come back every morning and try something new!
Connect with history
If your breakfast left you wanting more of days long gone, you're in luck. The surrounding area has a long and vibrant history. And there are many local landmarks and museums available to help you connect with the past during your weekend in Sylva. Take a short drive from town to Judaculla Rock. This sandstone boulder features hundreds of petroglyphs carved into it by the Cherokee, dating back 1,500 years.
Closer to town, several museums are open for viewing. The Appalachian Women's Museum celebrates prominent women in the arts, government, education, and social sphere. And the recently restored 16-acre Monteith Farmstead offers a recreation area, picnic pavilion, public restrooms, and exercise paths. Twenty minutes away, the Museum of the Cherokee Indian offers a cultural and historical tour without equal.
Have a light lunch
City Lights Cafe was created as a community gathering place and eatery in the heart of Downtown Sylva. Today, locals consider it their favorite coffee stop. Bean Werks serves as their local coffee partner, providing organic beans and espresso. Choose from daily coffee options, as well as an array of lattes, cappuccinos, and other frothy drinks. The cafe is also a great stop for lunch. Their menu includes all-day breakfast, sweet and savory crepes, salads and paninis, and even a taqueria. Come in and enjoy comfy indoor seating and an outdoor patio.
Dip your toe in
Surrounded by the Great Smoky Mountains, there are myriad water-based outdoor adventures awaiting within steps of town! Panthertown Valley, within Nantahala National Forest, is home to many waterfalls. Make your way to the popular Schoolhouse Falls, Greenland Creek Falls, Wilderness Falls, or Frolictown Falls, and (safely!) dip your toes into our cool mountain streams. Seeking a bigger thrill? Plunge into Jackson County's three whitewater rivers on a guided rafting trip. The area is also the home of the Western North Carolina Fly Fishing Trail®. The trail maps out 15 prime spots to catch brown, rainbow, and brook trout in Jackson County's crystal-clear streams. No wonder Jackson County is recognized as the North Carolina Trout Capital®!
Dine with a view
Great Smoky Mountains Railroad is your ticket to a quality meal! The railroad offers a variety of regular family-friendly and all-adult experiences, as well as seasonal adventures. Aboard the train, you'll travel through the beautiful countryside of WNC, experiencing breathtaking views and making memories along the way. For a true mountain experience, we recommend hopping aboard the BBQ & Brews experience, featuring slow-cooked BBQ pork and chicken. Each basket of 'cue is prepared fresh and served alongside beer tastings showcasing local breweries. GSMR's scenic rail excursions start and end at the historic depot in Bryson City, just minutes from Great Smoky Mountains National Park.
Sunday in Sylva, NC
Feel like a foodie
All foodies must stop at Guadalupe Cafe while in Sylva for the weekend! This farm-to-table, tropical fusion restaurant features an innovative menu filled with internationally-inspired dishes. Plus, you'll love the eclectic ambiance. The restaurant is housed in a restored 1920s drugstore and soda fountain shop. With flavors from Spanish, Middle Eastern, Caribbean, and even Southern cuisine, it's no wonder Gourmet magazine named it one of "America's Best Farm-to-Table Restaurants." On weekends, enjoy a brunch menu that includes pancakes, shrimp and grits, and huevos rancheros!
Reach the Pinnacle
Jackson County has some of Western North Carolina's most spectacular scenery, including portions of the Great Smoky Mountains National Park and the highest point along the Blue Ridge Parkway. If you're looking for a challenge, hike to the top of The Pinnacle (elevation 5,008 feet). The 1,400-acre park surrounding the peak is owned by the town and operated by the Pinnacle Park Foundation. The West Fork Trail climbs steadily uphill for 3.4 miles along an old logging road, taking you 3,000 feet in elevation. At the summit, you'll be rewarded with panoramic views of the valley in Jackson County.
Try something out of the ordinary before you go
One of our favorite things to do when we travel is check Roadside America or Atlas Obscura for hidden and out-of-the-way attractions. There are several unusual attractions in Sylva, NC.
Lovers of the WNC Movie Trail will enjoy seeing what remains of the iconic train crash from the movie "The Fugitive." The American Museum of the House Cat features 5,000+ feline artifacts and curiosities, including a statue of the Egyptian cat goddess Bastet from 600 B.C. Sylva's Freedom Park behind the Historic Courthouse and Library features life-sized replicas of the Declaration of Independence and the Bill of Rights. And the county is also home to the "Smallest U.S. Post Office" in the United States, located near Cashiers. While no longer in operation, it is still open every day for curious visitors.
Plan your next weekend trip to Sylva
Greening Up the Mountains is a large Earth Day festival spanning several blocks downtown every spring. The event features arts and craft vendors, food, and a 5K run.
Every May, Sylva's Hook, Line, & Drinker Festival combines the town's love of fly fishing and craft beer. The festival features fly fishing guides and fishing industry vendors; food trucks; children's activities; live music; clean water, outdoor activity, and wildlife advocates; and WNC craft beer vendors.
The free Concerts on the Creek music series runs on Fridays from Memorial Day through Labor Day. Head down to Bridge Park at dusk for live music in a family-friendly setting. Bring a chair or blanket, and enjoy.
Spend more than one weekend in Sylva
With about 2,600 residents, the town of Sylva serves as the county and cultural seat of Jackson County. Sylva's vibrant downtown boasts an assortment of art galleries, bookstores, farm-to-table restaurants, craft breweries, and coffee shops. Plus, the historic courthouse is the most photographed courthouse in the state. The town's tree-lined streetscape, dotted with benches, provides visitors with an afternoon of easy walking. And Sylva's eco-friendly initiatives—including being a certified Tree City and maintaining a 1.2-mile tree walk featuring 50+ species—have earned it a reputation as one of the "Top 10 Cleanest Cities in the US" by Expedia.com.
Does that sound like the perfect lifestyle for you? Find your dream home in Sylva now!
Visited 1,476 times, 1 visit(s) today