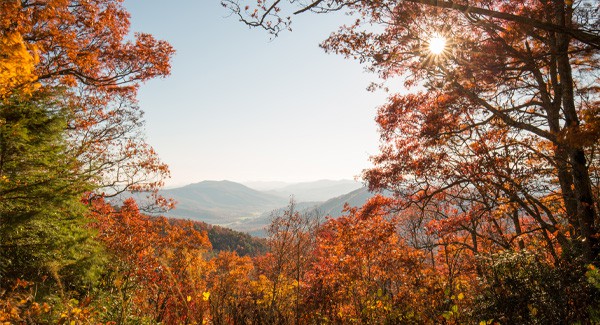 Last Updated on October 10, 2023
It's that time of year again where the mountains of North Carolina are graced with a beautiful kaleidoscope of autumn foliage. With fall officially starting tomorrow, "color watch" in the mountains has begun.
Because of the many 6,000 foot peaks throughout the Blue Ridge and Great Smoky Mountains, we are lucky enough to experience one of the longest and most vibrant autumn color seasons in the country.
Leaf Viewing Dates:
Here is a guide to dates and locations for peak colors via High Country Host, but keep in mind that Mother Nature is unpredictable so these are just an educated, ballpark estimate!
Last Week of September- 6,000 Elevation
(Mt Mitchell, Grandfather Mountain)
1st Week of October– 5,000 Elevation
Beech Mountain, Rough Ridge Trail MP 302.9
2nd Week of October- 4,000 Elevation
Banner Elk, Jumping off Rocks Trail MP 260.3
3rd Week of October– 3,000 Elevation
Boone, Blowing Rock, West Jefferson, Price Lake MP 297, Little Switzerland, Bakersville Spruce Pine, Pisgah National Forest, Brevard, Maggie Valley, Bryson City
4th Week of October- 2,000 Elevation
Wilkesboro, Stone Mountain State Park, Yadkin Valley Overlook MP 289.8, Asheville, French Broad River, Biltmore, Sylva, Saluda, Dupont State Forest
1st Week of November
Chimney Rock, Lake Lure, Lake James, South Mountains State Park, Marion, Rutherfordton, Tryon Foothills Wine Country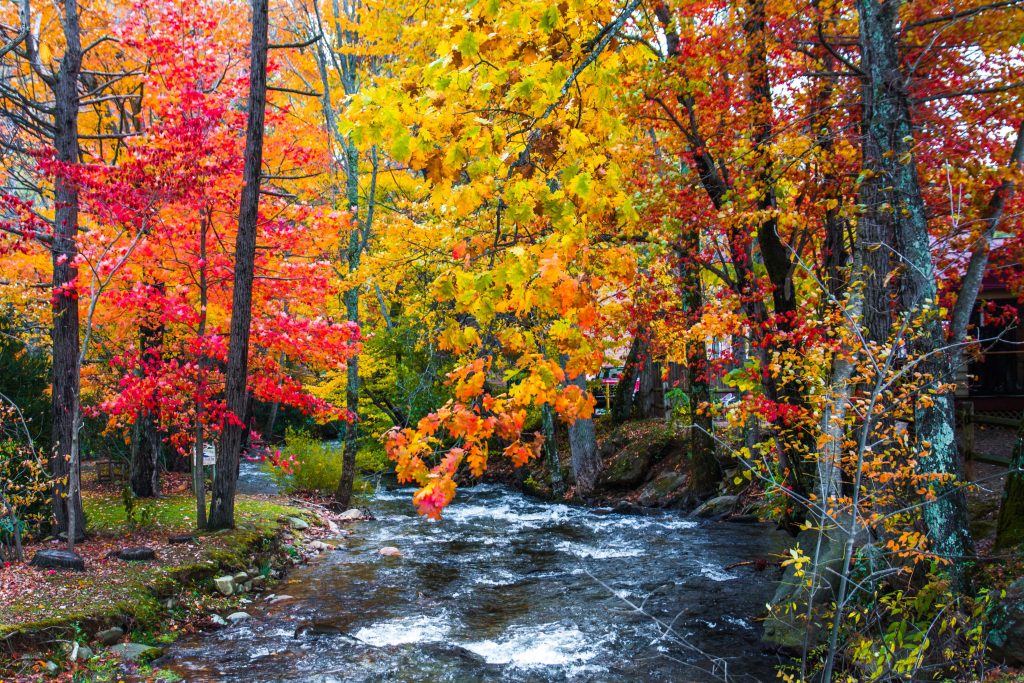 Leaf viewing tips:
Plan ahead: If you are planning on experiencing peak season for more than just one day, you will want to make your lodging arrangements ASAP. Get those hotels, Airbnb's, and restaurant reservations booked before it's too late.
Expect crowds: As you can imagine, October is one of the most popular times to visit the mountains. Saturdays and Sundays are the busiest days so if you are able, plan your hike on a weekday! Pack your own snacks and enjoy a parkway picnic instead of having to wait in line at the popular tourist restaurants.
Pack right: Be prepared for all kinds of weather. It can drop almost 20 degrees at higher elevations so bring layers and maybe even a rain jacket to be safe. Bring your cameras and polarized sunglasses to enhance the colors.
Check the forecast: If you plan on venturing to the NC mountains in late October, you may encounter some early winter weather. The parkway will block off certain roads at higher elevations due to snow or ice so keep an eye on the weather radar!
Other nearby attractions:
If you're heading up the mountains, don't miss out on some of the awesome fall festivals and events they have going on throughout the High Country and Asheville. Beer, music, and apple festivals, fairs, and Halloween celebrations are all happening throughout the month of October. Check out our guide on things to do with your family in Asheville.
Visited 2,336 times, 1 visit(s) today