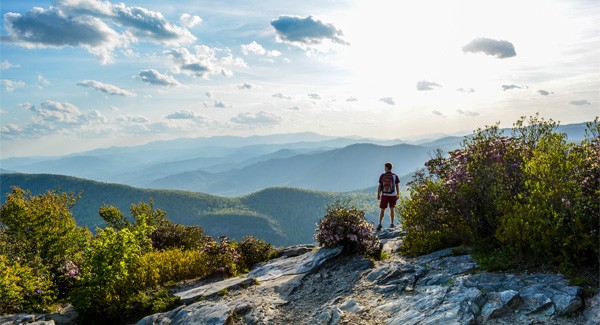 Last Updated on August 15, 2023
Situated in one of the most biodiverse regions on the continent, abundant with fascinating history, and known for its buzzy arts scene, Asheville offers endless possibilities for families visiting in the fall.
Whatever you're looking for during your stay, you are sure to find it in this one-of-a-kind destination known as the Paris of the South.
Things to do in Asheville
Take a scenic drive on the Blue Ridge Parkway
If you find yourself in Asheville in the fall, congratulations! You're in the perfect spot at the perfect time to enjoy unparalleled views of the changing leaves.
Explore Asheville offers self-guided scenic tours and a weekly fall color report to equip you with everything you need to know.
Explore Downtown Asheville
A visit to Asheville is not complete without experiencing the sights and sounds of this vibrant and eclectic city center. The self-guided Urban Trail is a fun way for all ages to learn about the history of Asheville.
The Grove Arcade is one of hundreds of Asheville buildings on the National Registry of Historic Places, with architectural details and a fun mix of shops and restaurants to entertain and delight visitors. Don't miss the Asheville Pinball Museum with machines dating back to 1960 (and yes, you can play on them). Finally, a stop at the French Broad Chocolate Lounge is a must. This is more than a chocolate shop—it's a full experience that does not disappoint.
Visit America's largest home
The Biltmore is the best-known attraction in Asheville and is definitely worth a visit. The estate opened on Christmas Eve, 1895 after six years of construction. The largest privately owned house in America has more than 35 bedrooms, 43 bathrooms, 3 kitchens, and an indoor pool. George Vanderbilt chose a spot for his estate with gorgeous vistas, which remain stunning to this day. Biltmore is more than just a house—check out the dining, hiking, and biking options. The carriage ride and Pisgah Playground are favorites among Biltmore's younger visitors.
Roll through Asheville on an electric bike
An e-bike tour is the perfect way to get off the beaten path and learn about Asheville up close. The Flying Bike leads visitors through several guided tours on electric-assist bicycles that make transportation a breeze—literally! If you can operate a regular bike, you can handle these bikes. If you want to bring children, call ahead to arrange accommodations.
Stay or dine at the Grove Park Inn
The famous red-roofed resort located in Asheville, North Carolina, is a spectacle that simply can't be missed. Dine, drink, or stay while you take in the views of the Blue Ridge Parkway. Reservations are recommended if you opt to dine here, but you are able to order drinks and snacks from the beautifully rustic main lobby.
Stroll the North Carolina Arboretum
Get a feel for the renowned biodiversity of Western North Carolina by visiting this beloved spot featuring cultivated gardens and well-maintained trails. Don't miss the bonsai exhibit, and if you have young visitors in tow, check to see if the garden train is running.
Take a studio crawl through the River Arts District
Hundreds of painters, potters, craftsmen, and more have studio space in this area along the French Broad River. Join a Second Saturday Gallery Walk or a Fall Studio Stroll to enjoy demonstrations, workshops, live music, wine tastings, and more. Check the River Arts District website for details and upcoming events.
Treat yourself to the WNC Farmers Market
This is your chance to take some of the bounty of Western North Carolina home with you. The popular market features mountain crafts, locally made pickles and canned items, and much more.
Stop and smell the flowers at the Botanical Gardens at Asheville. This 10-acre non-profit botanical garden contains 600 species of Appalachian wildflowers, flowering shrubs, and flowering trees. Located near the University of North Carolina–Asheville and just ten minutes from downtown, the Botanical Garden is a great spot to let young children spend some time outdoors without committing to an extensive hike. The half-mile loop is doable for all age groups and there are plenty of spots to take breaks and relax.
Discover the Asheville Museum of Science
The extensive mineral collection of engineer and bank president Burnham Standish Colburn is the origin of the Asheville Museum of Science, or AMOS. Colburn retired to Biltmore Forest near Asheville, having chosen the spot for its proximity to the rich mineral fields of western North Carolina.
Colburn and his brother helped found the Southern Appalachian Mineral Society in 1931, and their specimens were eventually displayed to the public at the Burnham S. Colburn Memorial Museum.
Having grown and changed locations several times, Colburn's dedication to mineral collection has become the AMOS of today. Visitors are invited to explore the connections between astronomy, geology, weather, climate, ecology, and paleontology.
Cool off on sliding rock
Located in Pisgah National Forest near Asheville, Sliding Rock is a 60-foot natural water slide. This large sliding rock has been providing families with fun for decades. Lifeguards are on staff during the summer months. This is a very popular destination, so make sure you come early.
Get a bird's-eye view on a zipline
What better way to see the beauty of Asheville than a zipline? The Adventure Center of Asheville is open all year and has options for visitors ages four and over. The center is minutes from Downtown Asheville and features the Asheville Canopy Ziplines (ages 8+), KidZip (ages 4-10), and Treetops Adventure Park (Ages 4+).
Reservations are highly recommended; check online for special events like Twilight in the Treetops Night Climbs.
Float the French Broad River
The third-oldest river in America winds through Asheville on its way to Tennessee and is an integral part of the city's history. Make a splash with a sunrise paddle , a tube float by the River Arts District, a canoe, raft, or kayak ride through the woodlands of Biltmore Estate, or a paddleboard yoga class.
Play with the animals at the WNC Nature Center
This family-friendly attraction is home to 60 species of wild and domestic animals and hundreds of plant species. The Trillium Nature Trail along the Swannanoa River provides a space for young visitors to get out their energy, while the red pandas and river otters are some of the most popular creatures in the park. Their website has all the visitor information and upcoming events you need to make the most of your visit.
Check out the Asheville Art Museum
Since 1948, the Asheville Art Museum has been dedicated to preserving American art through the eyes of western North Carolina and the Southeast in the 20th and 21st centuries. Located in the heart of Downtown Asheville, the museum holds more than 7,000 works in its permanent collection and offers a variety of special exhibits throughout the year.
Gem mining is one of those family activities with something for everyone. Two spots in Asheville—Asheville's Best Gem Mine and the Asheville Gem Mine—invite families to find treasures and learn about the different specimens they find.
Play the day away at Retrocade
This popular spot in West Asheville has more than 5,000 video games, pinball, skeeball, and foosball. Pay $10 and play as long as you want while enjoying the retro music and a selection of local craft beers, wine, and soda.
About Allen Tate Realtors
Allen Tate Realtors has been helping our clients achieve their real estate goals since 1957 and is the #1 real estate company in the Carolinas. With local roots and global connections, thanks to our partnership with Leading Real Estate Companies of the World, our real estate agents can provide their customers with superior service, unparalleled connections, and vast market knowledge. Allen Tate provides real estate, mortgage, insurance, and relocation services throughout the entire homeownership lifecycle.
Allen Tate is a proud partner with many football organizations throughout the Carolinas, like Carolina Athletics, App State Athletics, Clemson Athletics, and the Carolina Panthers.
Allen Tate Companies is a proud partner of Howard Hanna Real Estate Services, the largest independent, family-owned real estate company in the country. With more than 13,000 sales associates and staff members across the combined companies, our agents are the best of the best.
Visited 3,607 times, 1 visit(s) today