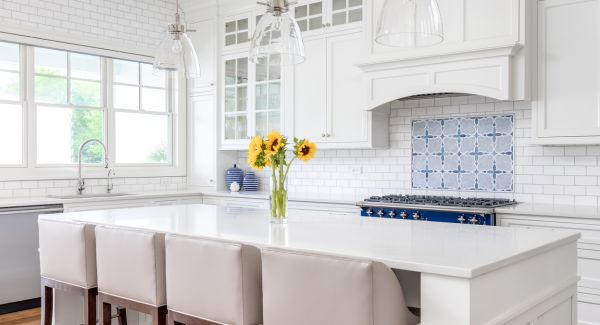 Last Updated on August 17, 2023
Beige is back, wood is in, and color is king. If you're thinking about remodeling your home, planning a new build or simply want to change up your paint colors, make sure you read this first.
Elegant farmhouse in the kitchen
The classic farmhouse trend that took over HGTV and, subsequently, homes and kitchens across America is now being replaced with a new, more refined look that designers are calling "elegant farmhouse." While the classic shaker-style cabinet doors, apron-front sinks, and large islands aren't going anywhere with this new design aesthetic, all white cabinets are being traded for bold color choices, and slab stone backsplashes and oversized range hoods are quickly rising in popularity.
Soft neutrals
Gray walls, couches, floors, rugs, and everything in between have dominated the color palette for nearly a decade, and as a result, homeowners are now seeking warmer neutrals. Think cognac-colored couches, soft browns, taupes, and warm whites.
In terms of paint colors, taupe is rising in popularity, as it's warmer than gray but cooler than beige. Popular taupe colors include Benjamin Moore's Pale Oak and Fossil. Lighter beige paint colors are also becoming popular, with more and more homeowners selecting Benjamin Moore's Maritime White, Muslin or Feather Down. Increasingly, homeowners are looking to warm up sterile white walls with off-white colors like Benjamin Moore's White Dove or Simply White. Brown is even making some headway in the home decor world, with homeowners warming up spaces through the use of brown paint colors and/or decor and accessories.
Color
If you're tired of the all-white-everything look so many embraced right after gray seemed to fade, you'll be happy that color is starting to creep in everywhere. Jewel tones like blue, plum, and raisin are showing up in furniture, on walls, in cabinetry, and in decor more and more as homeowners seek to inject more personality into their spaces.
And before anyone asks, no, gray as a color isn't out; it's the overuse of the color that is.
Timeless choices
As more homeowners look to remodel rather than sell, designers are noting a shift from trendy to timeless in terms of what clients are selecting for their hard finishes, furnishings, and cabinetry selection. In general, transitional and traditional design styles seem to be taking over, as modern design styles are now taking a backseat. Natural stone is making a comeback, with many opting to use granite, marble, and quartzite in their kitchens and bathrooms.
Instead of trendy or busy tile, more homeowners are thinking of longevity when they select a backsplash or bathroom tile, and as a result, subway tile continues to rise in popularity. In terms of hardware selection, the ultra-popular matte black faucets, pulls, and knobs, and lighting are being replaced with more classic options like polished nickel and unlacquered brass.
Butler's pantries
Butler's pantries are essentially secondary kitchen spaces that allow for food prep and also serve as a space to store countertop appliances, leaving your main kitchen clean and clutter-free. Coming in handy while entertaining, butler's pantries, also known as sculleries or pantries, are requested more and more during large-scale kitchen renovations and seem to come standard nowadays in luxury new home construction.
Wood cabinets
While many undergoing a kitchen renovation today are desperate to get rid of their wood cabinets from yesteryear, updated and more neutral warm wooden tones are increasingly being requested during remodels and in new construction. Quite a departure from cherry-stained, espresso-colored, or even orange-toned wooden cabinets that dominated the 80s, 90s, and early 2000s, today's homeowners are opting for a softer, more classic wood stain. Walnut and white oak cabinets in both the bathroom and kitchen are heavily desired and will only continue to climb in popularity as the shift towards embracing warmth through materials, paint colors, and finishes continues.
About Allen Tate Realtors
Allen Tate Realtors has been helping our clients achieve their real estate goals since 1957 and is the #1 real estate company in the Carolinas. With local roots and global connections, thanks to our partnership with Leading Real Estate Companies of the World, our real estate agents can provide their customers with superior service, unparalleled connections, and vast market knowledge. Allen Tate provides real estate, mortgage, insurance, and relocation services throughout the entire homeownership lifecycle.
Allen Tate Companies is a proud partner of Howard Hanna Real Estate Services, the largest independent, family-owned real estate company in the country. With more than 13,000 sales associates and staff members across the combined companies, our agents are the best of the best.
Visited 4,775 times, 1 visit(s) today