Last Updated on May 1, 2023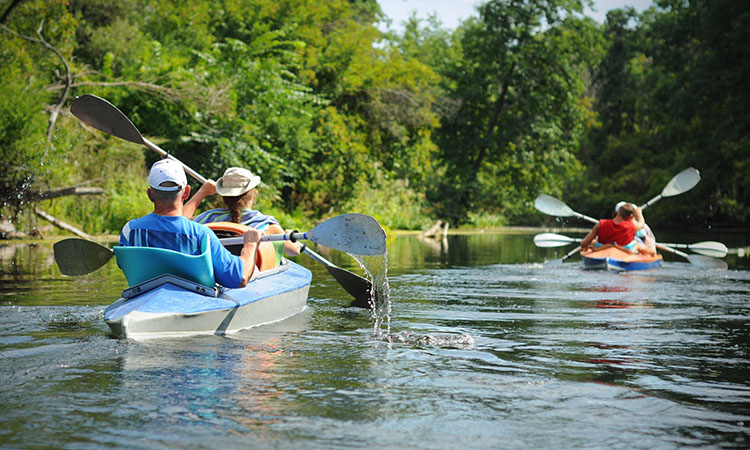 High mountain peaks surround the vibrant and friendly town of Waynesville. Once billed as the Gateway to the Smokies, the town provides a great entrance to a memorable mountain vacation. There are myriad ways to enjoy the outdoors, from romantic picnics to hiking and biking with the family. 
One of the best ways to enjoy the outdoors is to get onto one of the many rivers that flow through these hills. Kayaking (as well as canoeing, tubing, paddle boarding, and more) is a popular pastime here. But do you know where to launch your next water adventure?

Here are five easy river and lake access points for kayakers near Waynesville, NC.
---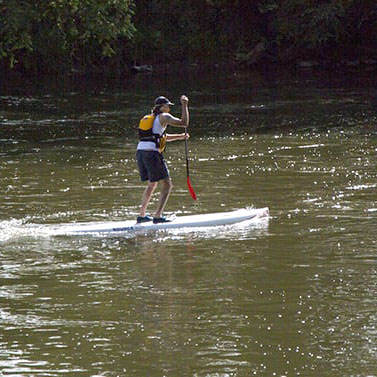 ---
BearWaters Brewing
Located along the Pigeon River, BearWaters Brewing's Canton location is the perfect place to get on or off the river. The brewery built a river access point for kayakers and tubers looking to stop by for a beverage. The brewery offers more than 40 different craft beers, as well as a full menu of Southern-influenced food. Their Stiff Paddle IPA is a great choice to loosen your muscles after a long day of paddling. The American IPA features a showcase of four hops with notes of grapefruit, pine, and passionfruit. While you're there, hang out on the patio overlooking the water, and stay for trivia, live music, or other events.
Dillsboro Launch Park
Looking for good parking and restrooms at your kayak launch point? Dillsboro Launch Park, located in Sylva, is a public park complete with a small playground and the amenities you need. The park is located along the Tuckasegee River, beloved for its quick-moving Class I and II rapids and alternating smooth areas. The warm river is perfect for an inflatable kayak or tubing with the whole family. And if you want a guide for your adventure, you have only to look across the river from the park to Dillsboro River Company. In addition to fully guided rafting trips, they also offer rentals of self-bailing rafts, inflatable kayaks, sit-on-top kayaks, and new tubes.
Lake Junaluska
The Lake Junaluska community is centered around a beautiful 200-acre namesake lake ten minutes north of Waynesville. Surrounded by 1,200 acres of rolling hills and valleys, nature's beauty abounds at Lake Junaluska. Birding aficionados will enjoy the variety of waterbirds visible along more than 2.5 miles of public walking and biking trails, as well as from the water. And during the summer, kayaking, canoeing, and paddle boarding are popular activities. Bring your own, or rent canoes, kayaks, or stand-up paddle boards at the Lake Junaluska Recreation Hut next to the Kern Center. Each rental includes a paddle and Personal Floatation Device (PFD).
Nantahala Rafting Outpost
The area west of Waynesville is well known for its Class II and III rapids—and above. The Nantahala River is an especially popular, family friendly, and nationally recognized river of recreation. In fact, it's the most popular in the Southeast! Its flow is dam-controlled; a scheduled daily release of water, pulled from the bottom of Nantahala Lake, means the water stays cool year round. And 20 named rapids punctuated by several calm water opportunities mean there is ample opportunity for enjoying all the adventures of nature. Nantahala Rafting with Fast Rivers has been offering guided trips, self-guided trips, and rentals since 1979. Visit their Topton, NC outpost to begin your river adventure today.
Waterville Boat Ramp
According to Google Maps, Waterville Lake is located a few miles north of Waynesville, just off of Interstate 40. Others may call it Blackwater Lake. And the Progress Energy signage at the parking area calls it Walters Lake. Whatever its name, there's a great public access point to the lake and Pigeon River—specifically for kayaks, canoes, and other portable boats. You'll find a public boat ramp behind White Oak Church on the south side of the lake. Kayak to the north end for a view of Mount Sterling. At 5,842 feet in elevation, the summit is topped by an abandoned fire tower that overlooks other nearby peaks.
Live Abundantly in Waynesville, NC!
It's easy to discover new outdoor adventures in Waynesville every day. High peaks surround the town, once billed as the Gateway to the Smokies and now the seat of Haywood County. But Waynesville's proximity to Asheville offers residents the best amenities of a larger city while still holding on to its small-town atmosphere. For instance, the recently restored Frog Level Historic District is now home to a collection of small galleries, a coffee roastery, and a microbrewery. From outdoor adventures to cozy spots downtown, Waynesville, NC welcomes people from many different backgrounds to visit and stay for life.
Does that sound like the perfect lifestyle for you? Find a great home in Waynesville now!
Visited 393 times, 1 visit(s) today