Last Updated on June 2, 2023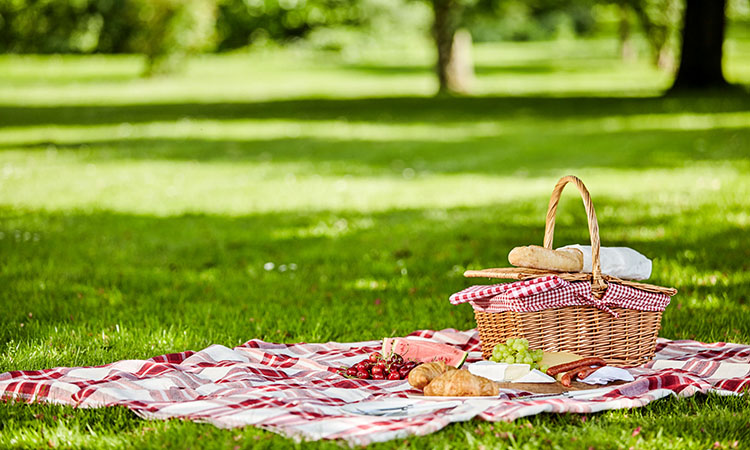 One of the greatest ways to Live Abundantly in WNC is to take advantage of the many amazing outdoor recreation opportunities in the area. From fishing to hiking to zip lining to outdoor yoga, you'd be hard pressed to find someone who has zero interest in outdoor activities.

Especially now, it's important to get outside regularly for exercise and to soak in the rays. But getting outside in the height of summer doesn't have to mean strenuous adventures. Even a little bit of nature can do wonders for your mood, as well as your family.

Today, we're celebrating a few perfect places to enjoy a picnic in and around Waynesville, NC.

Editor's note: Have fun, but stay safe! Maintain social distancing guidelines while scouting out your perfect picnic spot.

Lake Junaluska
A 3.8-mile walking trail encircles Lake Junaluska, just northeast of Waynesville. Enjoy a leisurely stroll on the fully paved, mostly flat path. The trail has a number of gazebos and benches where you can rest, picnic, and enjoy the stunning mountain vistas that surround the lake on all sides. Cut across the Turbeville Footbridge at Junaluska Dam to shorten your walk to 2.3 miles. Another point of interest along the trail is the Rose Walk. When in season, you can enjoy more than 200 hybrid tea, grandiflora, and floribunda roses!

Parham Memorial Park
The Town of Maggie Valley manages nine parks that make great picnic locations. Parham Memorial Park is located along the town's main highway at the western intersection of Moody Farm Road and Soco Road. At Parham Park, you can picnic either under the shelter on site, or by Jonathans Creek. This park also has a fishing pier, walking trail, and creekside benches. Parking is readily available, and other great amenities of Maggie Valley are just a short drive away.

Richland Balsam Overlook
Head down the Blue Ridge Parkway, and you'll find a prime picnic spot at milepost 431.0—in fact, the highest picnic table on the Parkway! The Haywood-Jackson Overlook is located along the ridgeline that forms the natural border between Haywood County on the far side and Jackson County on the near side. The self-guided trail from this overlook leads to the peak of Richland Balsam.

The nearby Richland Balsam Overlook (milepost 431.4, elevation 6,053 feet) is the highest point along the Parkway. This stopping point overlooks the southern Appalachian Mountains, with views of the Cowees, Nantahalas, and Plott Balsams. From the overlook, a self-guided trail walks you through the remains of a spruce-fir forest.

Vance Street Park
The Town of Waynesville has four picnic shelters for rent. However, when not in use, they make great spots to enjoy a meal outdoors without worrying about the elements. Vance Street Park is easy to access from any side of town. It contains the 64,000-square-foot Waynesville Recreation Center, a softball field, soccer field, two sand volleyball courts, a disc golf course, skate park, tennis courts, baseball field, dog park, green space, and a walking trail beside Richland Creek. It also contains a handicapped fishing pier and restrooms. Make it a whole day of fun at Vance Street Park!

Waterrock Knob
Located on the Blue Ridge Parkway at milepost 451.2, Waterrock Knob is a must-stop picnic location! The outpost features the Parkway's highest visitor center, located at 5,712 feet in elevation. A nearby trail leads you to the summit of Waterrock Knob. With 50-mile views of surrounding mountains (on a clear day), the summit is an ideal spot for watching sunrises and sunsets. The first 1/4 mile of the trail is paved, ending at a nice overlook that offers several vantage points for distant views. There are also picnic tables (and restrooms!) accessible from the parking area at the visitor center.

BONUS: Picnic at your perfect home in Waynesville, NC!
In WNC, even a back yard is a magical picnic spot! Waynesville's proximity to Asheville offers residents the best amenities of a larger city while still holding on to its small-town atmosphere. From outdoor adventures to cozy spots downtown, Waynesville welcomes people from many different backgrounds to visit and stay for life.

Does that sound like the perfect lifestyle for you? Find a great home in Waynesville now!

Visited 253 times, 1 visit(s) today