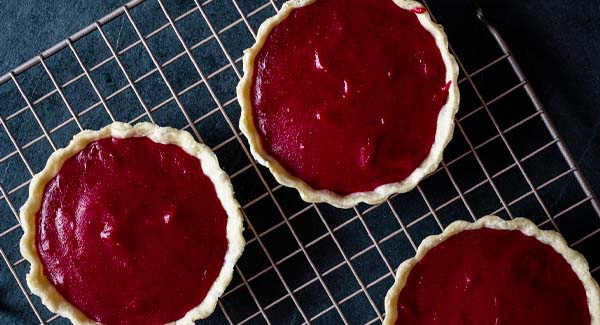 Last Updated on October 11, 2022
If you're in the mood to try something new, we've got you covered. From tableside grilling experiences to craft tacos, here are the top new restaurants in Charlotte.
33 of the best new restaurants in Charlotte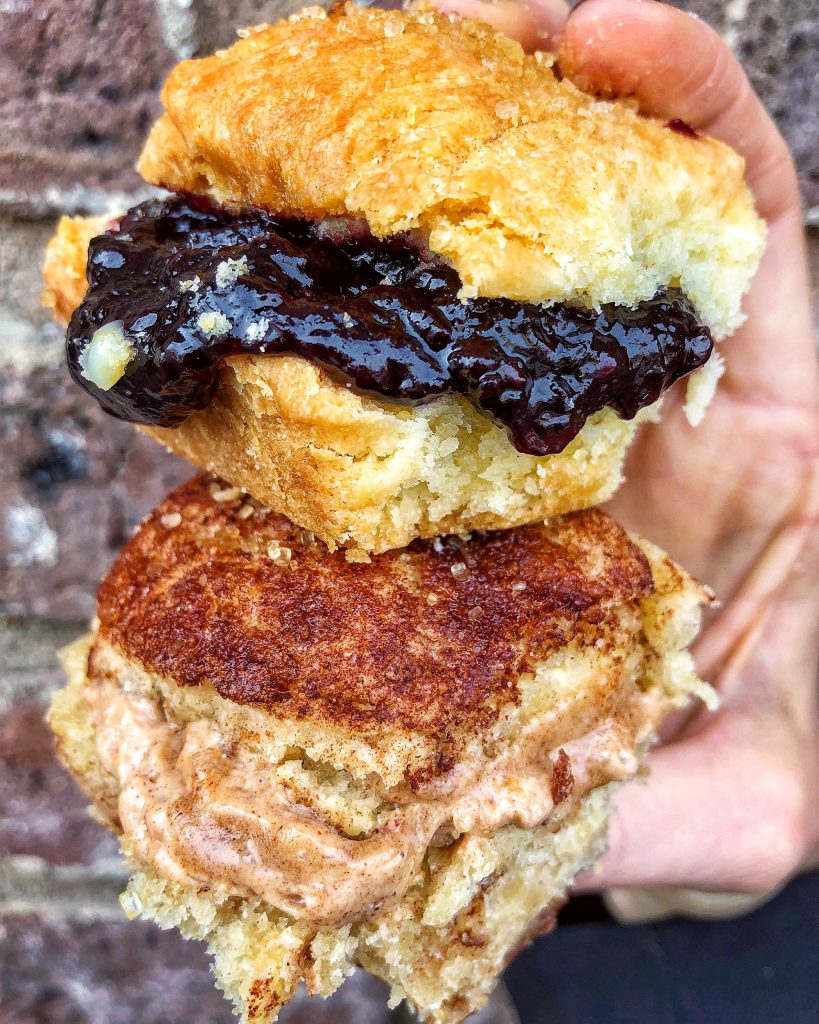 This beloved, Charleston-based biscuit shop has made it's way to the Queen City! In addition to the delicious craft biscuits, the Charlotte location also features a full coffee and espresso bar and a menu with salad, sandwich, and soup options. Pro-tips: Download the Callie's Hot Little Biscuit app to order ahead and skip the line. Go on your birthday and get a free birthday biscuit with house-made icing, sprinkles, and a candle!
Located in South End's Atherton Mill, Indaco serves wood-fired pizzas, handmade pastas, housemade salami and cured sausages with ingredients sourced from local farms and community vendors. Enjoy family-style or a la carte and pair your meal with a drink from their affordable Italian varietals wine list.
Opened in late November 2019 by the owners of Soul Gastrolounge, KiKi is a restaurant and cocktail lounge in Plaza Midwood. The restaurant is divided into three different sections: the dining room and bar, a rooftop terrace that looks out onto Central Avenue, and a cocktail lounge. Enjoy small plates from their diverse menu that includes a variety of plant-based options, caviar service and craft desserts.
Located on the lightrail in South End, Link & Pin is "an inviting gastropub with an elegant yet rustic environment". A new venture by Restaurateur Rob Duckworth, the restaurant will offer lunch, dinner, cocktails and weekend brunch. Explore their alcohol selection on an iPad and choose from 24 beers, 6 cocktails, 2 sangrias and 4 wines on tap.
From the restaurant group behind Flower Child and Cheesecake Factory, North Italia opened it's first North Carolina location in late November in South End's Railyard development. Check out their Happy Hour small plates Monday – Friday from 3-6pm, weekend brunch menu, and of course the assortment of pastas, pizzas, charcuterie, salads, desserts and adult beverages.
Located in the heart of Myers Park, experience authentic Italian cuisine paired with complementary wines coordinated by their chef and in-house sommelier. They offer land, sea, or garden three course tasting menus called "Flights" ranging from $30-$35 along with classic wine flights for $18.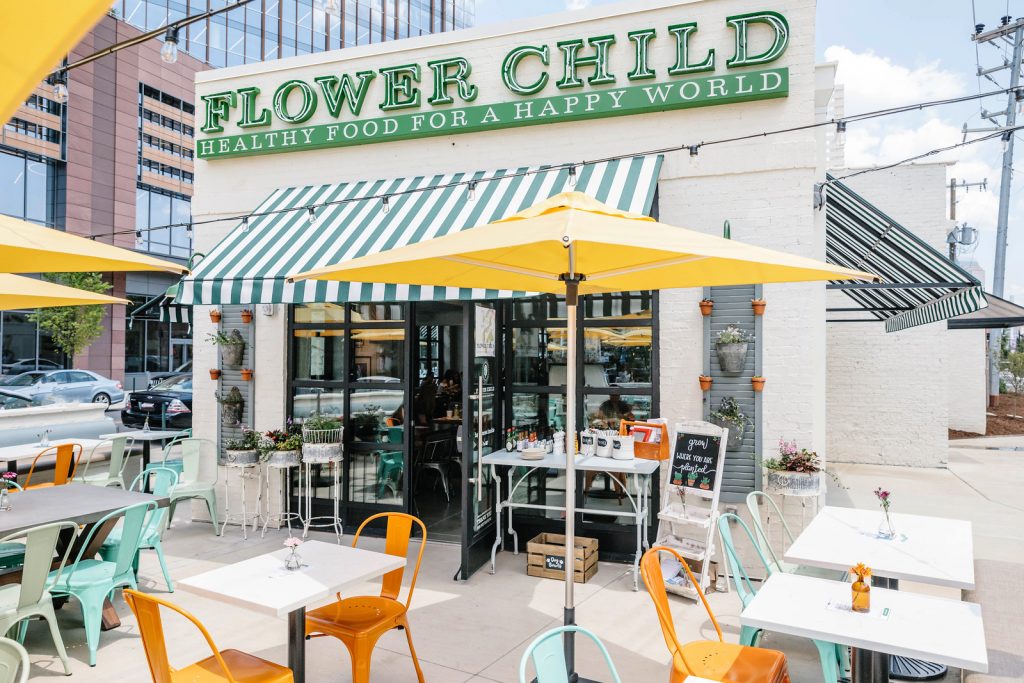 Located in South End on the light rail, this popular health-food restaurant has a vibrant menu with farm fresh ingredients and plenty of vegan, gluten-free, and dairy-free options. Come for a delicious and healthy meal and stay for a craft beer, Kombucha, or cold-pressed juice on the large, sun filled patio.
Lost & Found is a new cocktail lounge located across the street from Unknown Brewing in South End. With 23 specialty cocktails, live music, sectional couches surrounding fire pits, and VIP table reservations; Lost & Found is aiming to bring classy nightlife to South End.
Related: The best getaways in NC
Started on the idea that South End needed something in between a restaurant and a place to drink in the evening, QC Pour House is "The Neighborhood Spot" for food, drinks, sports, conversation, and more! Located near South End's Design Center, it's not hard to see why QC Pour House is quickly becoming everyone's favorite new restaurant in Charlotte.
Located on the Light Rail, this new restaurant was crafted by the people behind Charlotte favorites, Not Just Coffee and Inizio Pizza. Eight & Sand is a made-from-scratch bakery offering artisan toasts, sandwiches, fresh salads, pizzas and more. Order a signature cocktail, kombucha, cold brew, or latte to pair with your meal.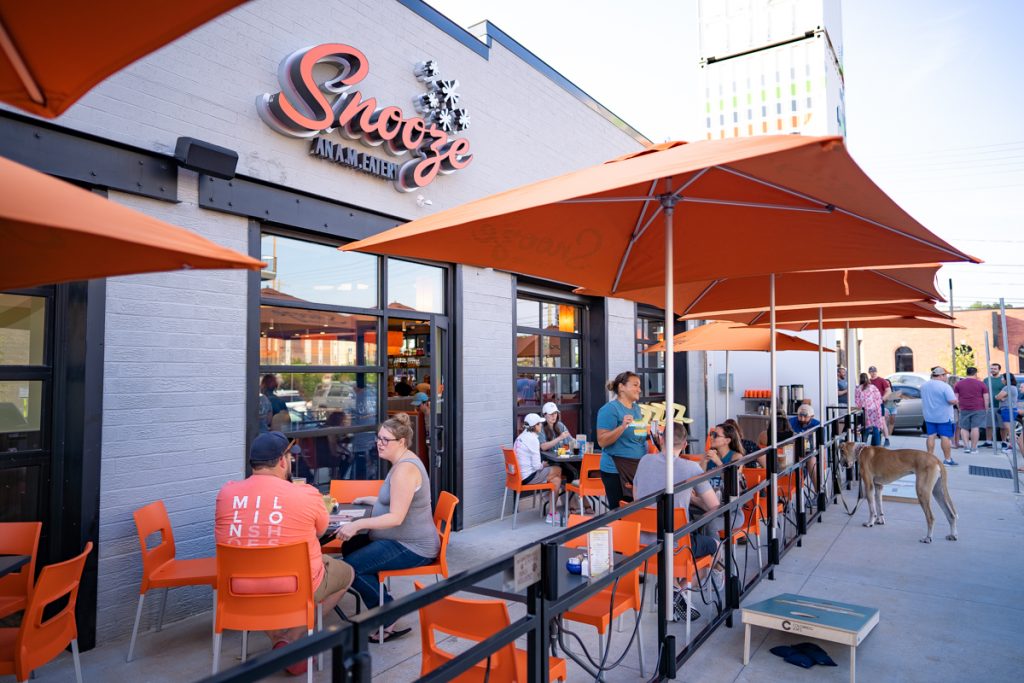 Your classic breakfast foods with a creative twist. Located in the heart of Plaza Midwood, enjoy your morning cup of coffee and a stack of Pineapple Upside Down Pancakes surrounded by the colorful mid-century interior or out on the sun-filled patio.
This brand new opening has it all: A restaurant, bar and rooftop patio with views of the Charlotte skyline. Located in South End, you can expect a menu with American fusion small plates, craft cocktails, and hand-crafted desserts.
This Japanese BBQ restaurant opened in late October and is located in the heart of Uptown. A table side grilling experience, each table has its own smokeless roaster so guests can cook their meat and veggies at their own pace.
Reid's Fine Foods opened its fourth Charlotte location on the first floor of The Duke Energy Center on Tryon Street. With the store's signature wine bar, butcher shop, deli, fresh foods section, dine-in restaurant, and on-the-go meals, this new opening reflects the goal of Reid's perfectly, which is to offer quality food and wine to the Charlotte area.
A wine lovers paradise! Join the Venetian Wine club and enjoy 12 bottles of wine for $120. Visit the wine shop and purchase a bottle or even try their same day curbside pick-up. Or if you're looking for a dine-in experience, sit down and check out their unique menu filled with Spanish-style tapas, a bruschetta bar, custom chocolates, and much more!
Middle C Jazz is a 200-seat live music venue, serving you drinks from a full bar and a light food menu while you enjoy music from both regional and national artists. Expect a wide range of genres: Mainstream, smooth, contemporary/emerging, world, R&B/funk and legend.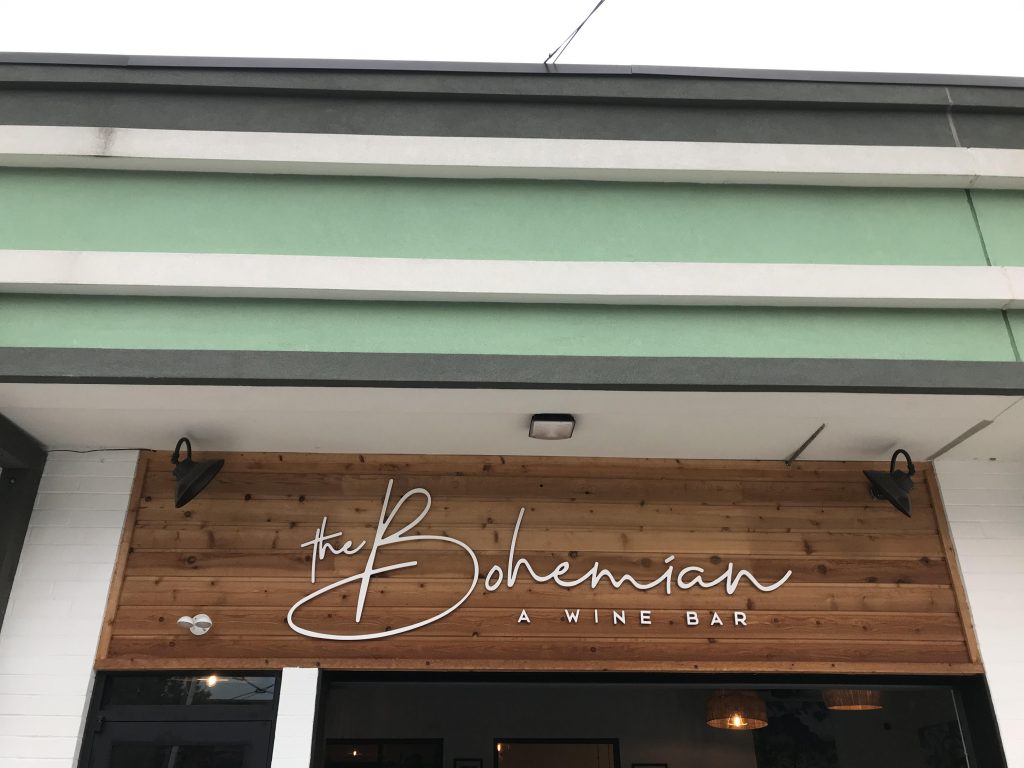 The Bohemian is a warm and inviting wine bar in Plaza Midwood. They offer wine by the glass or by the bottle, cheese and charcuterie boards, craft beer and flatbreads. The unique space is also available to renting out for parties or private events.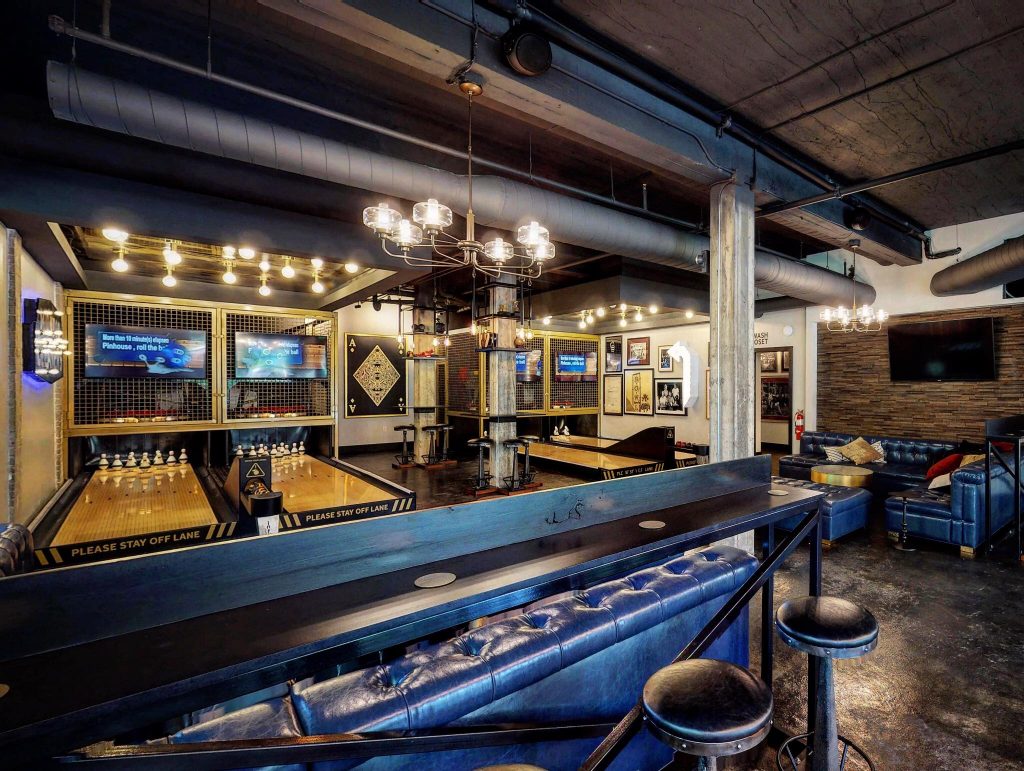 Pinhouse is a new self-serve bar with bowling lanes located in Plaza Midwood created by the masterminds behind Hoppin'. With duck-pin bowling lanes and 72 taps throughout the two-story space, guests are invited to join in on trivia and music bingo on Tuesdays and Thursdays. Not into bingo? Pop in anytime for a craft beer and a good time.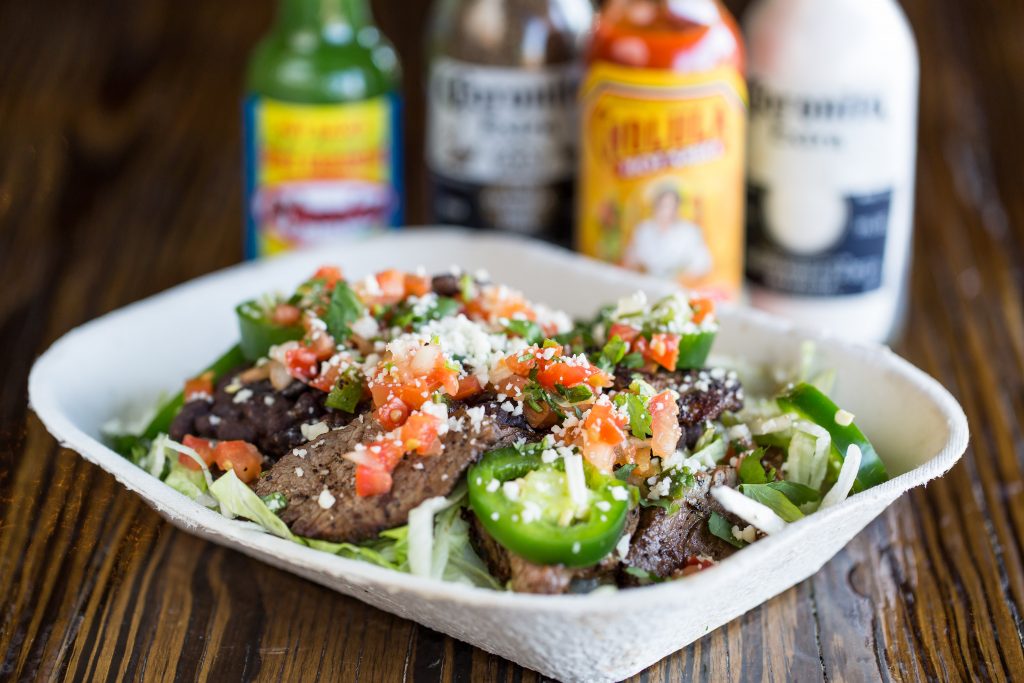 If you're looking for fresh craft tacos, burritos, quesadillas, nachos, and hand-shaken margaritas, Taco Mama is the place to go. Head to Dilworth and experience this fun new taqueria joint.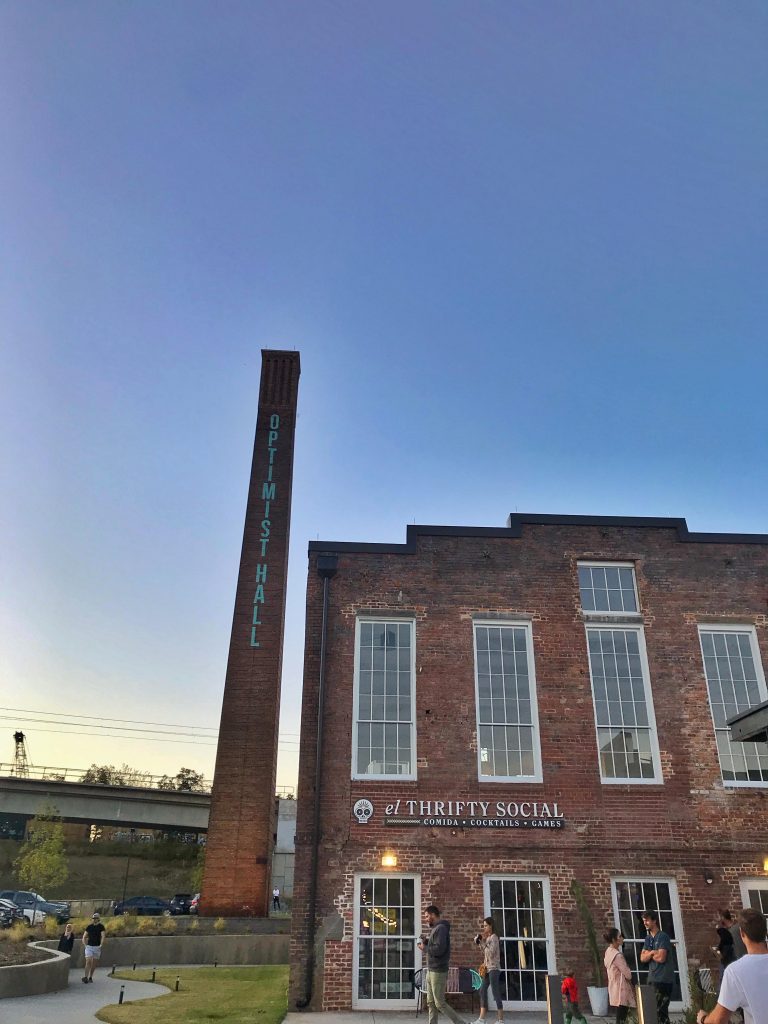 Optimist Hall is Charlotte's first food hall, and easily one of the best new restaurants in Charlotte. The 147,000 sqft space is a recovered textile mill. The heritage of the mill is reminiscent in the mint color throughout the walls of the hall, which was the original color found in the mill before it was renovated, as well as through other features such as recovered light fixtures found in the basement. All current food vendors are listed below.
El thrifty is a Mexican-inspired cantina, bar and gaming venue in the new Optimist Hall. Reid Olsen and Joe Lariscy– the partners who opened Queen Park Social– decided to bring el thrifty to Charlotte (first location is in Greenville, SC). The social club is divided into different sections, where guests can bowl and play arcade games, be seated for a dine-in experience and then stay for drinks at the bar.
You may have heard of Papi Queso's famous grilled cheese served out of a food truck on Diners, Drive-Ins, and Dives. After seven years in the food truck business, this cheesy fan-fav opened shop in Optimist Hall.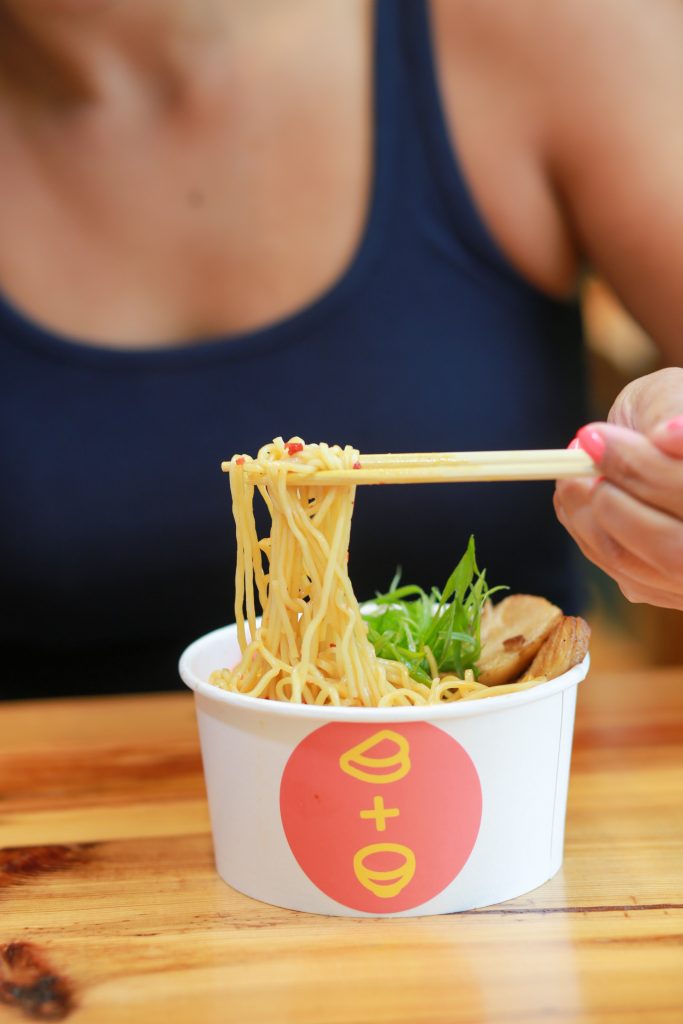 The name says it all. Head to Bao and Broth for delicious steamed buns and ramen bowls. The menu allows you to mix and match your bao flavors and enjoy authentic Asiain street food in the bustling setting of Optimist Hall.
Village Juice Company's menu is filled with pressed, squeezed, ground, pureed, mixed, chopped ingredients that are crafted in-house. With delicious salads, juices, smoothies, and toasts, Village Juice Company aims for their superfoods to make you feel superhuman.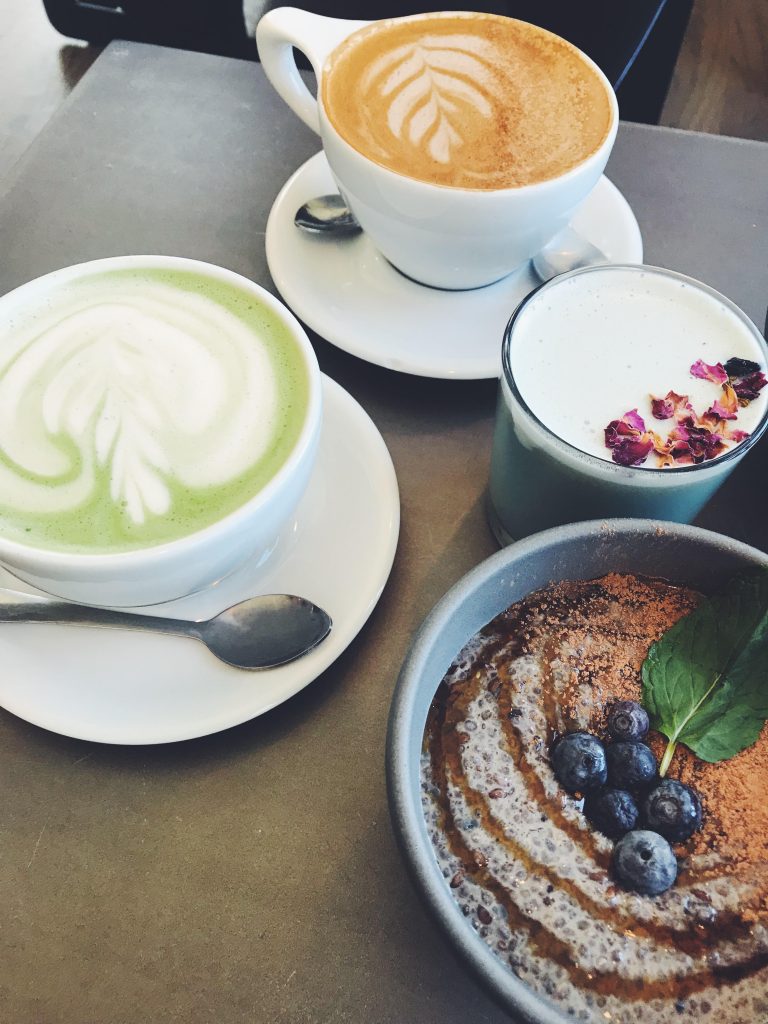 Calling all coffee lovers! Born out of Charlotte's Plaza Midwood neighborhood, Undercurrent is a full service coffee bar that embraces humanely sourced ingredients, community, and really good coffee. Head to this location and grab a latte to sustain you through your Optimist Hall adventure.
Hand-crafted gelato with a great mission. Whether you prefer your gelato in sandwich, milkshake, scoop, or float form, Honeysuckle has it all. Taste the flavors of the deep south when you order Bourbon Pecan Praline or Brown Butter Crunch!
Two words: sushi burrito. At Zukku, you can choose from three different bases to build your own sushi burrito or bowl. Add meat or vegetarian protein options, "embellishments" such as grilled pineapple and seaweed salad, and top it with delicious seasonings and crunch. Zukku Sushi is quickly becoming everyone's favorite new restaurant in Charlotte!
Thanks to a special liquor license, this 18-seat cocktail bar invites you to order a drink and stay a while or grab and go with any cocktail, beer, or wine and travel around Optimist Hall while enjoying your beverage.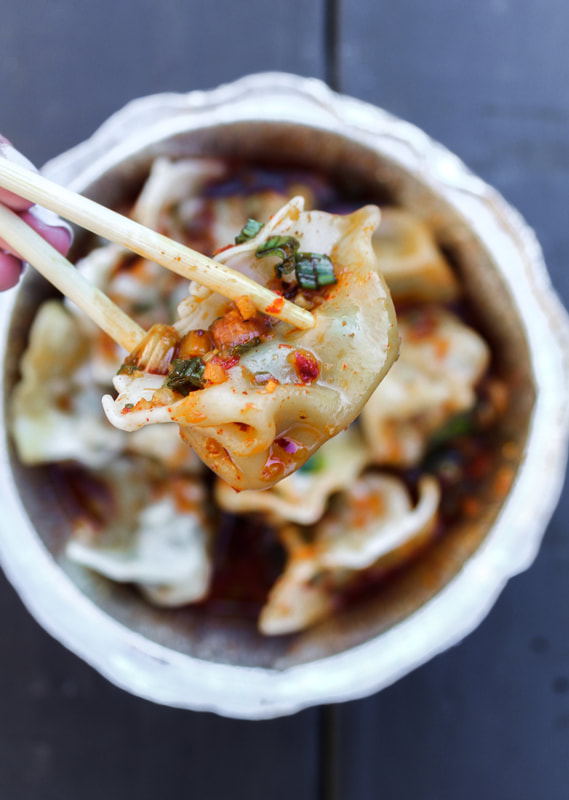 You may know these dumplings from their famous food truck that can be found parked at breweries around Charlotte. Well, you no longer have to track the Dumpling Lady down! Head to Optimist Hall to taste the most delicious Sichuan street food you've ever had.
One of the newest tenants at Optimist Hall, Ava is an authentic Italian eatery serving traditionally prepared Neapolitan pizza, cooked in an Italian-made Acunto pizza oven. Their menu is filled with fresh, seasonal and local ingredients.
Thriving under the motto: "anything goes meets the art of the possible", Velvet Taco's menu is out of the box and their atmosphere is funky fast-casual. With flavorful creations such as fish n' chips, chicken and waffles, and red curry coconut queso, their tacos are sure to blow your mind and fill your stomach.
This new Louisiana-style seafood restaurant located in the University area is promising to offer some of the best seafood in Charlotte. With plenty of finger foods and eight different kinds of cooked shellfish seasoned with your choice of flavor combinations and spice level, you are sure to leave feeling full and satisfied.
Rockin' Rolls serves 50 different kinds of sushi rolls and Japanese cuisine off of a conveyor belt that circulates throughout the restaurant. When you see something delicious approaching your table, simply open the window to the moving conveyor belt and grab the plate! This type of all-you-can-eat, conveyor belt dining experience is common in Japan but new to Charlotte.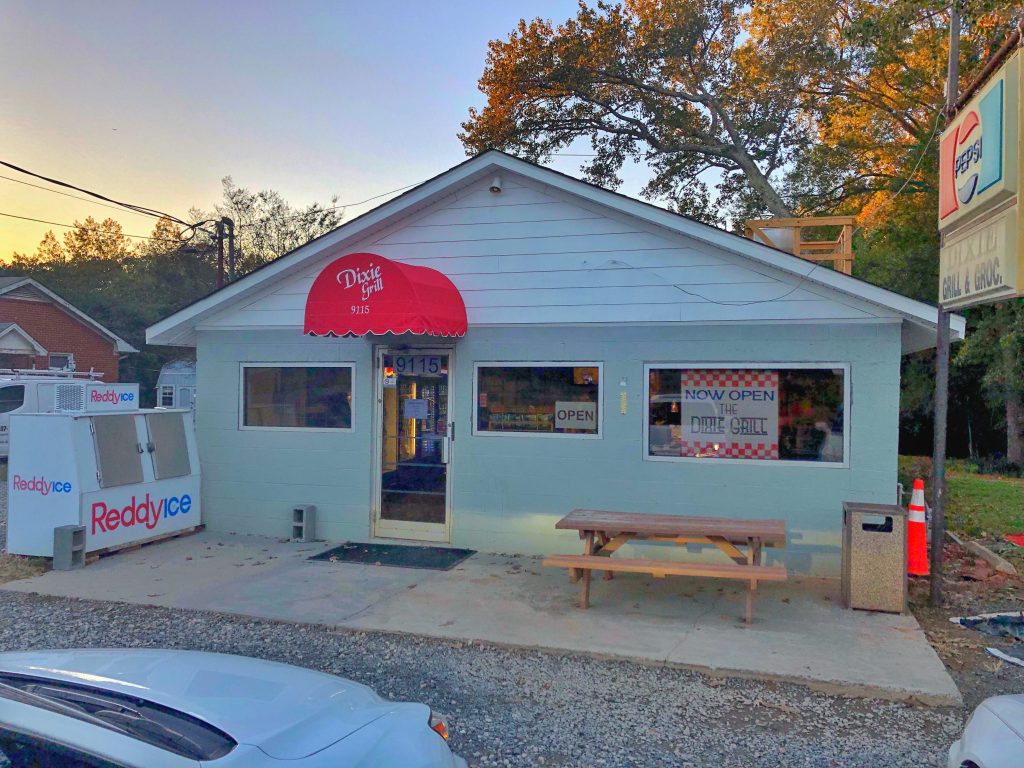 After Hurricane Florence caused a tree to fall on the building, this local Mom-and-Pop dive burger joint had to close for repairs for over a year. Now that renovations are finally complete, Dixie Grill is open for business and ready to serve you their specialities: The double cheeseburger with chili and slaw, potato wedges and sweet tea.
More things happening in and around Charlotte
Weekend getaways close to Charlotte
Best coffee shops in Charlotte
8 things you can thank Charlotte, NC for
Visited 341 times, 1 visit(s) today