Last Updated on June 22, 2022
Regardless of what you're craving — seafood, tapas, burgers or barbecue — you can likely find an excellent version at a nearby restaurant in Raleigh-Durham. Our area boasts a rapidly growing culinary scene, with new and exciting eateries popping up every month!
Since we are lucky to have such a lengthy patio season in North Carolina, we try to seek out great restaurants with outdoor seating areas whenever we can. After all, what's better than enjoying an excellent meal and soaking in the sunshine at the same time?
Next time you're looking to enjoy a meal al fresco, make sure to check out one of these incredible local patios. Featuring lush greenery, great views and sun-splashed settings, they should all be at the top of your list for summer!
Top patio restaurants in Raleigh
Facebook | Instagram | 201 South Boylan Avenue, Raleigh
Boasting an excellent selection of craft beer and spectacular views of the Raleigh skyline,  Wye Hill is a popular destination for happy hour on summer afternoons. The restaurant recently reopened after a flood caused the building to collapse, but it returned stronger than ever with a new menu, new beer and new artwork. Don't worry — it still features the same great values and great attitude its customers know and love.
Facebook | Instagram | 317 S Harrington Street, Raleigh
The patio at Humble Pie is reason enough to visit this popular restaurant. The beautiful, covered space offers plenty of shade on hot summer days and the tiki bar is a fun addition. But it's the menu that will keep you coming back time and time again! You can expect chef-inspired shareables like blue crab succotash, cornmeal fried oysters and cauliflower mac-n-cheese.
Facebook | Instagram | 309 North Dawson Street, Raleigh
For traditional Italian food and a romantic atmosphere, you can't do better than Mulino Italian Kitchen and Bar. Traverse the Italian culinary landscape with simple yet mouthwatering courses and an extensive wine list. The space is situated in the heart of downtown Raleigh and features a reflecting pool and outdoor bar on the patio. It's an ideal spot for date night, but make sure you have a reservation on the weekends.
Facebook | Instagram | 614 Glenwood Avenue, Raleigh
With more than 380 beers on tap, Raleigh Beer Garden has the world's largest beer selection. And that's not just a claim — representatives from Guinness World Records made it official when they visited back in 2015! Make a selection and venture to the rooftop beer garden, which offers views of Glenwood South, flowers and twinkle lights.
Facebook | Instagram | 701 North Person Street, Raleigh
The friendly, quirky atmosphere at the Station at Person Street is irresistible — even more so when you factor in the farm-fresh menu and craft cocktails! It's the perfect place for a meal on warm summer nights. The outdoor space features several wood-burning fire pits and is finished with reclaimed wood and metal to create a rustic feel.
Facebook | Instagram | 201 West Martin Street, Raleigh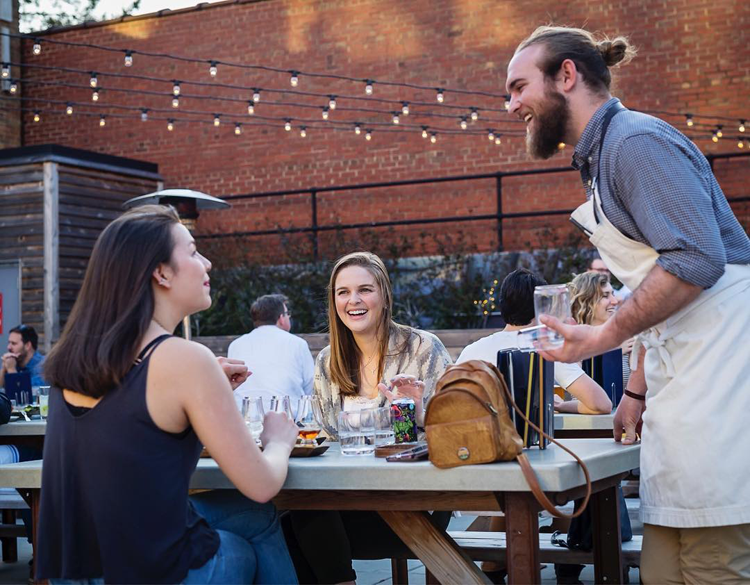 Photo courtesy of Whiskey Kitchen
One part whiskey bar, one part Southern kitchen, Whiskey Kitchen is a hip destination for a world-class meal and craft cocktails. The menu is filled with inventive shareables and entrées, and there are hundreds of whiskey options to choose from. We recommend ordering a whiskey flight and enjoying it on the patio — a modern space with twinkle lights, umbrellas and satisfied patrons.  
Top patio restaurants in Durham
Facebook | 644 Foster Street, Durham
This friendly neighborhood bar and restaurant is located in the former Fletcher's Gulf Station in the heart of downtown Durham. The venue serves simple yet tasty food and drinks in a relaxed atmosphere and boasts a large patio for dining outside. Grab one of the picnic tables and enjoy a craft brew or a locally-produced burger with friends and family!
Facebook | Instagram | 2705 Durham-Chapel Hill Boulevard, Durham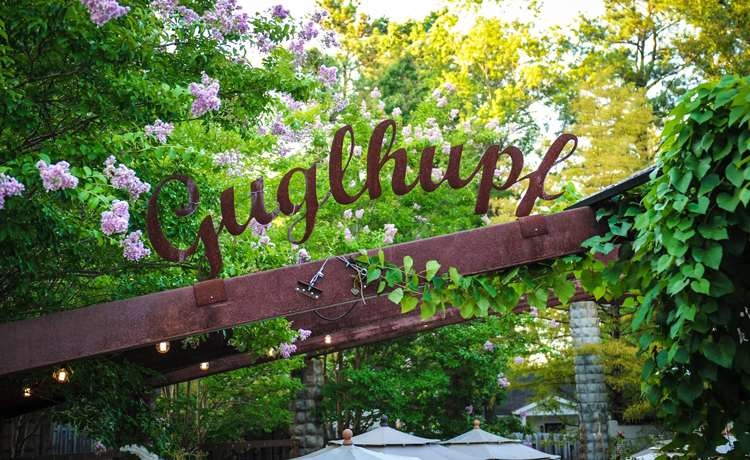 Photo courtesy of Pascal Monmoine via Guglhupf Bakery, Café and Restaurant
This vibrant cafe serves up seasonal German fare, baked goods and craft beverages in an open, airy venue. It has been a fan favorite since it first opened its doors in 1998 — most likely due to its warm and welcoming atmosphere and high-quality bites. Everything here is made with local, seasonal ingredients! The spacious patio boasts lush foliage, twinkle lights and shaded areas that make sitting outside an absolute delight.
Facebook | Instagram | 321 West Geer Street, Durham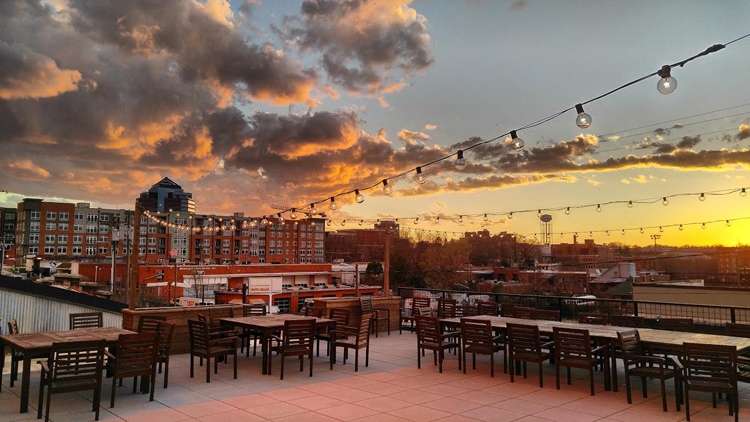 Photo courtesy of The Pit
North Carolina is known for its legendary barbecue joints, and The Pit has secured a spot in the local hall of fame! Located in Durham's Central Park district, The Pit serves up authentic, whole-hog, pit-cooked barbecue that is more than just a meal — it's an experience. The restaurant also boasts a gigantic rooftop patio for enjoying your fried green tomatoes and smoked Carolina-style ribs al fresco.
Facebook | Instagram | 280 South Mangum Street, Durham
Tobacco Road Sports Café is the best place to catch the game on one of the HD flat-screen televisions scattered throughout the bar, but the real action happens out back on the patio! The outdoor dining space actually overlooks the Durham Bulls outfield and is very occasionally the destination of a stray home run ball — so make sure you're paying attention! We love that you can enjoy a delicious, locally sourced meal and keep track of the game at the same time.
Note: If you're in Chapel Hill or Raleigh, check out the two other locations at 1118 Environ Way, Chapel Hill or 505 West Jones Street, Raleigh.  
Visited 424 times, 1 visit(s) today