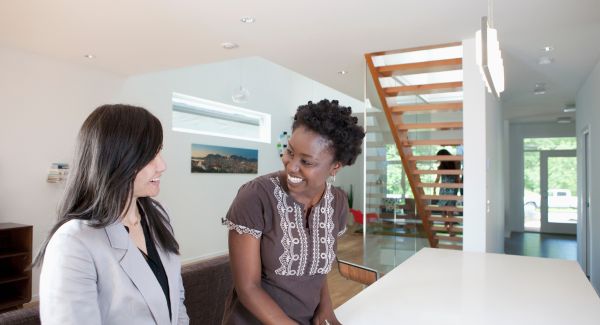 Last Updated on March 30, 2023
Regardless of market conditions, If you're seriously considering purchasing a home, one of your first steps is to get pre-approved for a mortgage.
The process is relatively painless and when you're finished you can shop for homes with confidence.
Don't know the first thing about getting pre-approved and what's needed to move forward with a home loan? Here's everything you wanted to know about the process.
How does a pre-approval differ from a pre-qualification?
We're so glad you asked! These terms are often confused, and you'll want to make sure you understand the difference.
A pre-qualification approximates how much you'll be able to borrow from the bank to finance your home. It's based on info you provide, such as income, that has not been verified, but it's a good starting point for you to shop for homes you can afford with your Realtor.
Approximates is the keyword. It is not a guarantee; there is a much more involved process that still needs to happen – pre-approval – to determine exactly what amount you are qualified to borrow under a specific loan program.
A pre-approval is a full mortgage loan commitment, subject to a fully executed purchase contract and the completion of an appraisal. It scrutinizes every aspect of your credit worthiness and is reviewed by an underwriter. A pre-approval allows you to be ultra-competitive in a low-inventory market.
That said, today's initial pre-qualification is commonly called a pre-approval, and the more involved pre-approval is often referred to as the full loan application. So be sure to ask your agent which level of approval you are receiving.
Ready to move forward with a pre-approval?
How to get pre-approved, a step-by step process:
Following these steps before you shop for homes makes purchasing your dream home that much easier.
Take a look at your credit report
Avoid any surprises and take the time to review and clean up your credit report before you sit down with your lender. Haven't checked your credit report in a while? This site gives you access to an in-depth credit report and explanation.
Don't skimp on this step by just looking at the credit score your credit card company might provide to you as an added bonus— truly looking over your actual credit report is best.
Meet with your mortgage lender
Sitting down or phoning your mortgage lender is the next step in the pre-approval process. They'll need to talk with you in order to obtain the information necessary to carry out the pre-approval.
In order to be fully prepared for the conversation have the following items handy:
Income info: If you're a W2 employee go ahead and gather your last two pay stubs. You'll also need to dig up your last two years of tax returns and W2s.

Asset verification: Buying a home is a big financial decision and lenders want to make sure you've got the assets to cover your down payment and monthly mortgage payments. You'll need to provide at least two months worth of statements for any account used in sourcing your down payment. Paying part of the down payment with a gift? You'll need to source that, too.

Driver's license and social security card: You'll need these so that your lender can verify who you are and run a credit check.
Wait
After you've met with your mortgage lender, provided the necessary documentation and verified all information it will likely take 3 to 4 days to have your pre-approval in hand. Once you receive the pre-approval, you can feel good about shopping for homes well within your budget.
Ready to make your move? Talk with a Mortgage Consultant today.
Keep reading:
4 tips to help you win a bidding war and be a competitive buyer
Visited 846 times, 1 visit(s) today