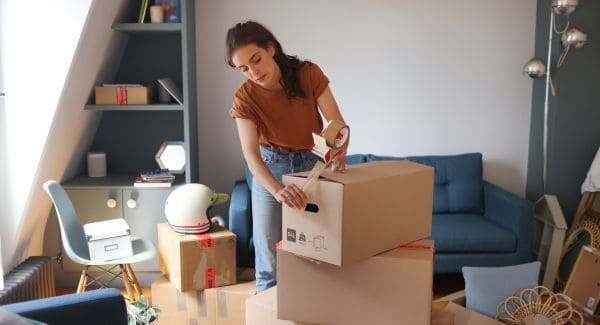 Last Updated on April 20, 2023
A 20% down payment is often thought of as the gold standard when it comes to putting money down towards the purchase of a home, after all this is the threshold for not having to pay private mortgage insurance (PMI). 
Many first-time home buyers are quickly discouraged when they realize that purchasing a home requires a fifth of the home's total purchase price up front. But what they don't realize is that a 20% down payment isn't their only option.
Dispelling the 20% down payment myth
First time home buyers struggling to come up with a sizable down payment need not worry— loan options for every buyer and budget exist, with down payment options ranging from 0 to 20%.
Common loan programs available to first time home buyers
Conventional loans: 3 percent down
Available through Fannie Mae and Freddie Mac, these government-backed loans offer borrowers some pretty appealing mortgage options. Qualified buyers can purchase a home with as little as 3 percent down thanks to the good folks at Fannie and Freddie.
FHA loans: 3.5% down
FHA loans are often the best option for first-time buyers. Less than stellar credit and not a lot of cash up front? FHA loans are your saving grace. Home buyers that go through FHA to finance their home are able to do so with as little as 3.5 percent down.
VA loans: 0 down
For members of the military, veterans, reservists and National Guard, loans backed by Veterans Affairs can be obtained without any down payment. PMI or private mortgage insurance that is typically required for loans obtained without a minimum down payment of 20 percent is not required with VA loans— another huge plus.
USDA loans: 0 down
Backed by the United States Department of Agriculture, eligible rural and suburban home buyers can qualify for zero down payment loans with low interest rates. If the hustle and bustle of big city living has never been your scene, sit down with a lender to check and see if the home you're interested in meets USDA criteria.
Howard Hanna Mortgage Services: 15 down with no PMI
Howard Hanna Mortgage Services is excited to offer financing with 15 percent down – and no PMI. On a $400,000 home, that's a $20,000 savings that you can put into upgrades or moving costs. Additionally, you'll save the cost of PMI, which would increase your monthly mortgage payment by more than $200.
Our exclusive No Private Mortgage Insurance program is available to qualified buyers on purchase loans in North Carolina, Pennsylvania, and Ohio only. Contact your Howard Hanna Mortgage loan officer for more details about this innovative and market-changing program!
Factors to consider when determining how much to put down on a home
Typically, buyers aim to put down 20% to avoid PMI, or Private Mortgage Insurance. PMI is required for buyers that put less than 20% down and is added to your monthly mortgage payment. You can expect to pay about .3 to 1.5% of the total loan value in PMI. 
If you'd like to avoid PMI, make sure to check out Howard Hanna Mortgage Services'  financing with 15 percent down – and no PMI!
For many first time buyers it can take years to save for a 20% down payment and during that time, especially in a fast-growing real estate market, buyers can miss out on building equity on their new home.
Once you have a loan to value ratio of 80%, you can request your PMI be taken off before it automatically falls off with a loan to value ratio of 78%. 
In markets where homes are quickly appreciating, coupled with low interest rates, buyers that go ahead and put down a down payment they can afford might be quickly surprised at how fast their home appreciates, thus getting rid of their PMI sooner, rather than later. 
Bottom line: First time home buyers can build equity faster by going ahead and buying a home with a down payment that fits their budget
Rather than delaying home ownership for years, many first time buyers can capitalize on today's low interest rates and a quickly appreciating real estate market when they find a loan program that fits their budget.  
Keep reading
Visited 1,541 times, 1 visit(s) today