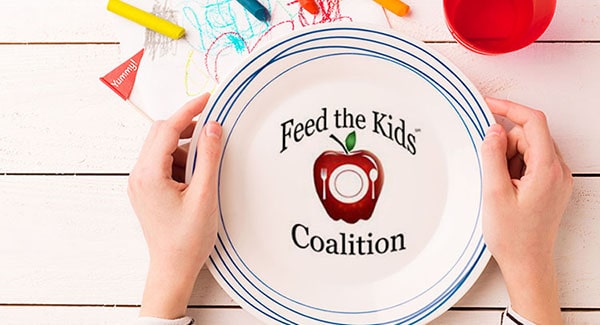 Last Updated on April 20, 2023
Did you know that more than one out of five children in the U.S. lives in a home where they do not always know where to find their next meal?
Food insecurity is a national issue, but it plays out on a local level. Local nonprofits like Feed the Kids Coalition work hard to alleviate food insecurity at the grassroots level. We invite you to learn more about the work they do in Henderson County, NC, and how you can help them meet their mission.
What is Feed the Kids Coalition?
In early 2009, teams from many faith-based and civic organizations in Henderson County came together to provide a hot, nutritious meal for 120 children at the Boys & Girls Club of Henderson County. Today, Feed the Kids Coalition is an independent, volunteer-led nonprofit that feeds approximately 300 kids every Friday afternoon. The group also provides about ten days of lunches for students during the school year.
Why is their work important?
Upwards of 92% of Boys & Girls Club members in Henderson County are eligible for the National School Lunch Program, which determines eligibility based on family household income. (This is up significantly from 55% a decade ago.) Many of these young people do not have a hot meal from Friday lunch until Monday morning breakfast.
According to the nonprofit, the immature immune systems of young children make them especially vulnerable to nutritional deprivation. And insufficient nutrition puts children at risk for illness and weakens their immune system. So, children who are food insecure are at greater risk of struggling to learn, grow, and fight infections.
How can you help feed the kids of Henderson County?
Feed the Kids is a volunteer-led initiative. Volunteers handle everything from preparing and serving meals to handling fundraising for the organization.
If you would like to support Feed the Kids Coalition's efforts to boost the health and welfare of our local children—and see the results of your work firsthand—there are many things you can do to help. The nonprofit is always looking for volunteers, supporters, and donations. Consider becoming a short-term or ongoing volunteer to help prepare and serve meals through the Boys & Girls Club.
Feed the Kids is also regularly in need of event sponsors. The organization's public events offer great opportunities for businesses or individuals to get their name out into the community and associate it with a great cause.
Get more by giving back
Every day, our Allen Tate/Beverly-Hanks agents and staff impress us through their involvement in strengthening community efforts through service and financial support. We encourage you to get involved, too.
Help support our local children now and in the future! Consider donating time and money to an organization that means something to you. Reach out to Feed the Kids Coalition or contact your Allen Tate/Beverly-Hanks agent to learn about local efforts to make a difference in the lives of local children.
Feed the Kids Coalition
P.O. Box 1572, Hendersonville | feedthekidscoalition.org
Visited 59 times, 1 visit(s) today