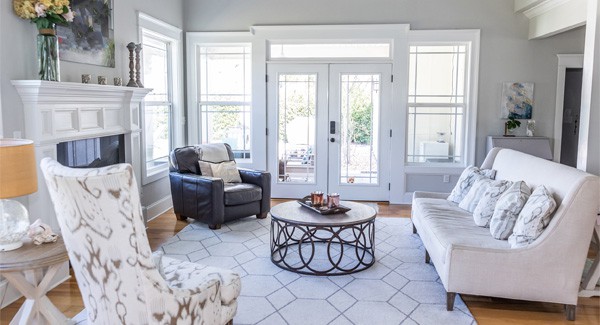 Last Updated on May 2, 2023
Even in a low inventory market that favors sellers, staging your home to sell quickly and for as much as possible is always a good idea.
More than just fluffing the pillows and wiping down the countertops, a well-staged home is outfitted in a way that's designed to pique a buyer's appetite and draw on the emotional aspects of a home.
The latest data from the National Association of Realtors indicates that 48% of sellers reported staging their home reduced their time on market. What's more, 20% of both buyers and sellers said home staging increased the value offered between 1% and 5%, compared to similar homes on the market not staged. If you're planning to list your home soon, here are 10 tricks of the trade when it comes to staging homes to sell.
#1 Start outside
A welcome exterior that greets the buyer from the moment they step out of their car is always a good idea. You want a freshly manicured lawn, new mulch and bright flowers or shrubs to greet them upon arrival.
At the door, there should be no visible paint chip or signs of wood rot. Sweep the front walkway and/or porch and make sure to clean dirt and pollen off of things like your lights, house numbers, door, etc.
Do not skip a pressure wash if your home has visible signs of dirt and make sure your driveways and pathways are clean, too.
#2 Rethink your entryway
Put your buyer hat on for a minute and walk through your front door. What greets you as you enter? Is it a coat rack filled with coats making the foyer look cluttered? Store shoes, coats and any other clutter in the closet and actually stage your home's entryway.
Add an inexpensive bench, one or two pretty throw pillows and a plant. Likewise, you could choose to add a console table with lamps, decorative objects and a vase with flowers.
#3 Turn on every light
Turn on every light and lamp in your whole home to create a cozy ambiance. Make sure all bulbs are working and invest in the same wattage and color, i.e., don't mix warm and cool bulbs!
#4 Focus on your living room, kitchen and primary bathroom
The latest report from NAR points out that staging your living room yields the highest return, followed by the primary bedroom and kitchen.
Think about small updates to maximize your return–things like updating your cabinet hardware, painting cabinets a neutral color or even replacing your backsplash can go a long way.
#5 Declutter furniture
Beyond clearing surfaces, it's a good idea to pare down your furniture, too. Too much furniture can make your home look crowded, leaving buyers feeling like your home is too small.
#6 Have music playing
Have you ever stepped into a party without music playing? It's just kind of flat, right? Create a welcoming environment when you have music playing during showings. Choose something neutral and pleasing to a wide variety of tastes.
You can even play up certain areas of your home with different types of music, too. Why not play something a little more fun to show off your backyard's entertaining possibilities?
#7 Clean your closets
Don't declutter your home and stuff it all in your closets, as buyers will open those as they tour your home and be pretty disappointed with what they find. A good rule of thumb is to leave your closets about 30% empty, this way buyers will feel like the home has ample storage.
#8 Clear your flat surfaces
Think coffee tables, kitchen countertops, the side of your fridge, shelves in the bathroom–where there's a flat surface make sure it's clutter free and staged. Move things like toaster oven, blender, or any unnecessary appliance off of countertops.
#9 Let the light in
Let natural light work in your favor when you keep blinds, shades and drapes open during all showings.
#10 Depersonalize
It's hard for buyers to think about their family enjoying the home they're touring if your family photos are staring back at them from every corner. Replace family images with tasteful art pieces.
Bonus points:
Set up a home office area– this can be in a well-appointed corner of a room.
Keep reading:
Is it worth it to professionally stage your home?
5 home selling updates you can learn from the new Discovery + series One Week to Sell
Visited 3,886 times, 1 visit(s) today