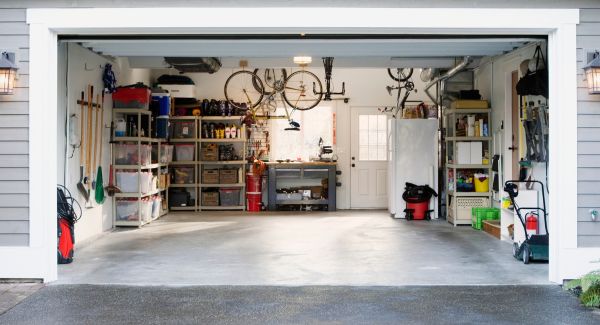 Last Updated on June 28, 2023
If you're getting your home ready to sell, don't forget to stage your garage, too. More than just a place to park your cars– the latest report on the subject found that a whopping 32% of all buyers said that garage storage was essential.
Ready to make potential buyers swoon when they see your garage? Don't ignore these awesome tips for staging your garage.
Declutter
A lot of sellers just think they can declutter their home and store it all in their garage, but this is actually all wrong. Decluttering the garage is almost just as important as decluttering your home, as it's very hard for buyers to see storage potential in a garage that's overflowing with stuff.
Rather than renting a storage unit to store stuff in your garage when it comes time to sell, get creative about how keep items in your garage; here's how:
Install overhead storage racks
Keep the clutter off the floor by installing overhead storage racks. Pick up some gallon storage containers to make the most of the overhead space when storing items you don't need at the moment. 
Hang bikes vertically
Another thing you can do to keep the clutter at bay is to vertically hang your bikes.
 Install a pegboard
A fairly cheap option to make storing belongings easier is to use a peg board. A nice bonus with this option is that it's versatile depending upon what you want to store on it. You can add, remove, and move around things as you need. This is great for handyman tools so you can easily access any one at any time, but this also works for sports equipment or gardening tools.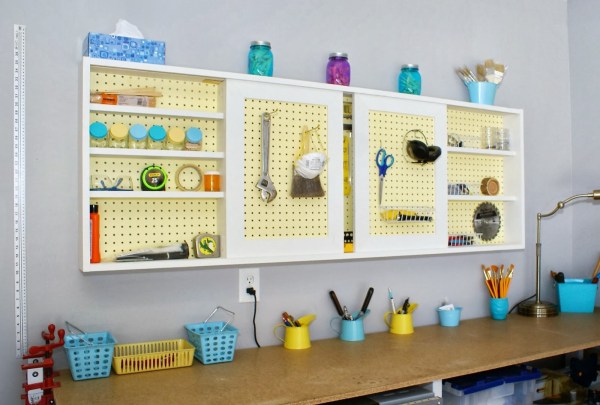 Create a mud room
Most buyers love mud rooms, but unfortunately a lot of homes don't have the space for these highly requested rooms. Make buyers happy when you create a mudroom right in your garage. 
Creating a mudroom can be as simple as adding a bench with storage, coat hooks and shelving, or you can invest in built in cabinetry to create a drop zone with tons of extra storage. Either way, you can't go wrong— 80% of buyers are looking for garages with ample storage. 
Check on the lighting
No one wants to spend any time in a dimly-lit space, the garage included. Make sure to check for burnt out bulbs before showings and take the time now to upgrade your lighting to make the space brighter and more appealing.
Create a workspace
Many DIYers like to spend their free time improving their home and desperately need a space to work and store their tools. Carve out a small section in your garage to form a makeshift workspace. 
Additional garage storage hacks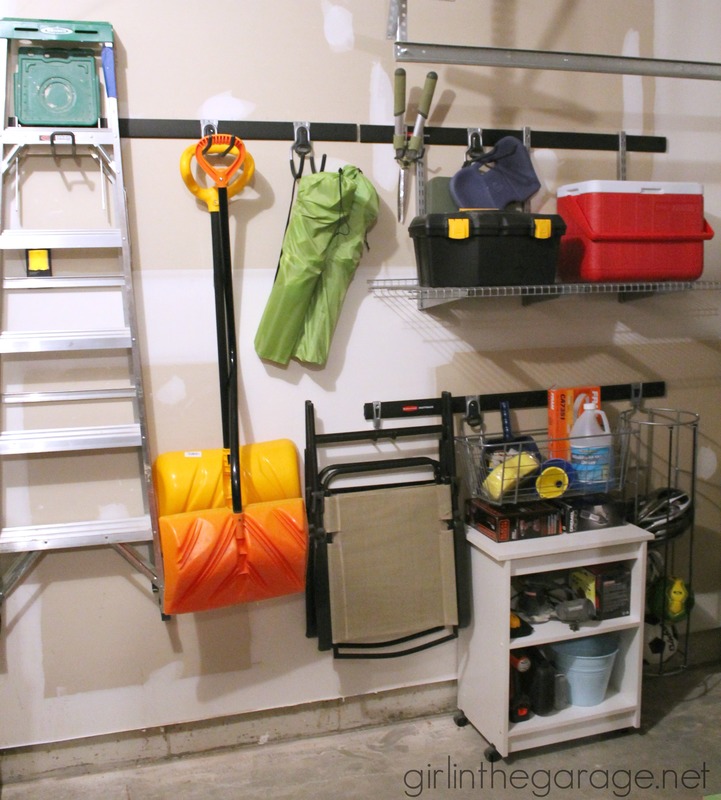 Put magnets on items to stick onto metal shelves and make the most of those spaces

Use window planters for organization

Use a coat hook rack for leashes, hats, gardening gloves etc.

Cut a slit in the lid of an empty coffee can and fill will twine or rope and pull through slit for easy to manage twine and rope

Use built in cabinets for storage; help conceal unsightly items or messes

Include multipurpose storage

Use corner shelves
Enhancements you can make to your garage to improve your home's value
Increase your home's overall value with these two improvements that bring a massive return on investment when it comes time to sell.
Install new garage doors
If your garage doors are dated or in serious need of repair consider replacing them altogether. Did you know that when adding upscale garage doors, you can expect to recoup about 97% of your investment? Not only will you add value to your home, you'll also drastically increase your curb appeal, too.
Paint your floors
Buyers love an easy to clean floor, so if you really want to go the extra mile, consider painting the floor with an epoxy finish. The best news? You can easily pull off this little weekend DIY project fairly easily.
Visited 1,197 times, 1 visit(s) today