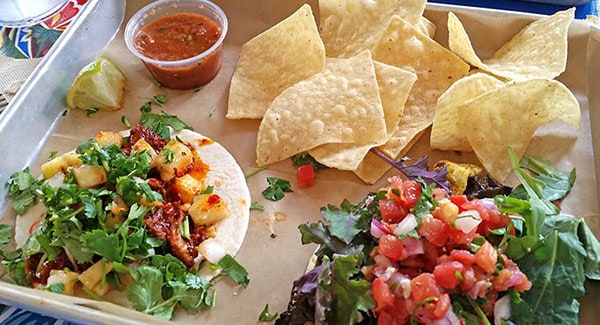 Last Updated on May 4, 2023
Every day could be Cinco de Mayo in Asheville! Even though we're in the heart of Appalachia, Western North Carolina is no stranger to deliciously innovative independent Mexican, Tex-Mex, and Latin American cuisine.
But our taco joints are different from full-service, sit-down restaurants with inexhaustible menus. Instead, these spots focus on a smaller menu, often with rotating specials. Most require you to order at the bar or walk through the build-your-own options from their service line. And handheld fare far outnumbers fork-and-knife options.
There's something to be said about the simplicity of a warm tortilla overloaded with delicious fillings. Taco 'bout heaven! Here's a list of some of the best taco restaurants in Asheville, NC where you can celebrate Cinco de Mayo this year.
AVL Taco
Items from the AVL Taco food truck are fresh, earth-friendly, and flavorful. Your madre would be proud! Enjoy a menu of simple, clean ingredients that you and your kids will want to eat. When the weather is nice, stay to eat at the Rabbit Rabbit venue. Or grab a taco just before an exciting show.
75 Coxe Avenue, Asheville
Grey Eagle Taqueria
The Grey Eagle Music Hall is one of Asheville's most popular concert venues in addition to one of our favorite taco restaurants. Their taqueria, on the other hand, may be one of the River Arts District's best kept secrets. These traditional-style tacos feature fresh ingredients and gluten-free, vegetarian, and vegan options. Stop in on your lunch break or for dinner before a show.
185 Clingman Avenue, Asheville | (828) 271-7987
Big Pillow Brewing, 25 Andrews Avenue S, Hot Springs | (828) 539-1939
Mamacita's Taqueria
From the Grey Eagle to the Orange Peel, you'll be well fed no matter what band is in town! Just a few doors down from the world-famous Orange Peel event venue, Mamacita's Mexican Grill serves up fresh, made-from-scratch Mexican cuisine. Stop in for a quick taco or a full meal—Mama won't let you go hungry!
77 Biltmore Avenue, Suite 101, Asheville | (828) 255-8080
Mamacita's Taco Temple
Mamacita's has so many culinary secrets, they couldn't be contained under one roof or one brand! The Taco Temple in the Grove Park neighborhood allows taco aficionados to pay homage to their favorite meal. Come to get your taco fix at breakfast! Stay for the Mexican rotisserie chicken, the heirloom corn tortillas ground fresh and prepared onsite daily, and more.
132 Charlotte Street, Asheville | (828) 255-8098
Neo Burrito
Neo Burrito aims to be at the forefront of what it means to be a positive influence on Asheville. In addition to serving great food, the locally owned, fast-casual restaurant has become a well-known beacon for green and sustainable businesses. Their motto has always been, Making the world a better place, one burrito at a time.
1341 Parkwood Road, Asheville | (828) 772-9602
Tacobilly
First opened in West Asheville, TacoBilly has become a haven for culinary treats and social interaction. Owner Hunter Berry brings his experiences in Texas and Mexico to our mountains in the form of breakfast tacos. They use local produce and meats as much as possible in their cleverly named taco menu.
201 Haywood Road, Asheville | (828) 505-0088
117 Cherry Street, Black Mountain | (828) 419-6336
White Duck Taco Shop
When White Duck Taco Shop opened in Asheville's River Arts District, it offered an artistic twist on tacos to resident artists and visitors. Today, White Duck's success can be tasted at ten locations across North and South Carolina and Tennessee. Save room for the Mexican Chocolate Pot du Creme dessert—if you can!
RAD: 388 Riverside Drive, Asheville | (828) 254-1398
Downtown: 12 Biltmore Avenue, Asheville | (828) 232-9191
South: 16 Miami Circle, Arden | (828) 676-1859
500 7th Avenue E, Hendersonville | (828) 595-9871
Celebrate every day living in Asheville, NC
With a population of 90,000+, Asheville is the largest city in both Buncombe County and Western North Carolina. Asheville serves as the area's economic and cultural nerve center in many ways. It's a hub for education, healthcare, local arts and crafts, entertainment, night life, and innovative food and drink. Throughout the city, Asheville's neighborhoods are interconnected, not just by our mountains and rivers, but also by our local community centers—those intentionally created and those that have grown organically.
Does that sound like the perfect lifestyle for you? Find your dream home in Asheville now!
What are your favorite taco restaurants in Asheville? Share them with us in the comments!
Visited 269 times, 1 visit(s) today