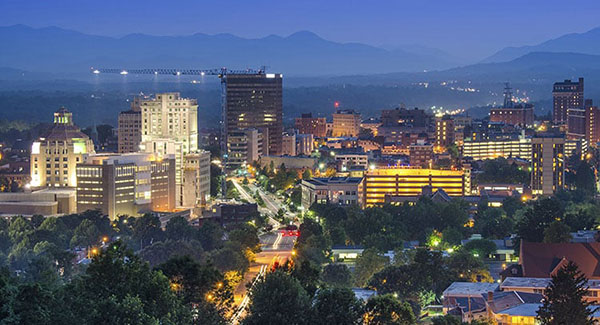 Last Updated on April 27, 2023
Billed as a place where "altitude affects attitude," Asheville, NC is a small city by national standards. However, with a population of more than 92,000, Asheville is also the largest city in Western North Carolina. As such, it serves as the area's economic and cultural center in many ways—making a big impact for a city its size.

Learn more about the many facets of Asheville below. And discover for yourself everything that makes Asheville, NC a great place to live.

---
---
Asheville, NC is an outdoor destination
Located in the French Broad River Valley and surrounded by the beautiful Blue Ridge Mountains, Asheville serves as the central hub of the whole region. Those who work in Asheville travel from up to 10 surrounding counties into the city each day.

What's more, those who live in Asheville's city limits enjoy surrounding areas with equal enthusiasm. Everyone knows that the best part of living here is the thrill that hits you whenever you remember there's a mountain outside your window. The city is just a short drive to more than a dozen state and national parks and forests.

Outdoors enthusiasts have ready access to some of the nation's best hiking, biking, and climbing in nearby mountains. You can also enjoy paddling and fishing on the French Broad River and local lakes, careening through the trees on a zip line, or golfing at one of the area's renowned courses. And of course, no survey of Asheville's outdoor offerings would be complete without a mention of the area's stunning leaf season. With our proximity to the Blue Ridge Parkway (which runs through parts of the city), great mountain views are only minutes away.

Read more about outdoor activities in Asheville.

Picture yourself in the Asheville arts scene
For well over a century, the local topography has also influenced everything from city development to local arts and crafts. Western North Carolina has a storied history of fine arts and handmade crafts, ranging from weaving to woodworking, pottery to jewelry. All in all, there is an overwhelming amount of art to experience. And that experience begins in Downtown Asheville, home to more than a dozen art galleries and museums.

The Asheville Art Museum, which has helped anchor the arts scene for decades, has recently completed major expansions. The Black Mountain College Museum + Arts Center, also downtown, celebrates the legacy of the college. BMC was a noted avant-garde institution that operated from 1933-1957. Just down the hill, the River Arts District is an ever-expanding complex of studios and galleries near the French Broad River. The district is also becoming one of Asheville's culinary and entertainment hotspots.

Read more about local arts in Asheville.

Asheville has a food scene for all tastes
In recent years, Asheville has firmed up its reputation as a culinary center with a sizable and rapidly evolving food scene. The city has some 250+ independent restaurants and food trucks, including several James Beard Award winners. Asheville has also emerged as a center of local, specialized food production, thanks in part to Asheville-Buncombe Technical Community College (A-B Tech), which is home to a renowned culinary education program.

If all that eating makes you thirsty, Asheville has the solution for that as well: our unparalleled craft beverage scene. Today, the city boasts 26 beer and cider breweries, with 50+ scattered across WNC. Asheville's reputation among beer lovers and our clean mountain waters brought national craft brew giants New Belgium Brewing Company (River Arts District), Sierra Nevada Brewing Co. (Mills River), and Oskar Blues Brewery (Brevard) to the area for east coast expansions.

Read more about restaurants in Asheville.
Asheville is an A-list city
Stories about Asheville's quality of life have become a staple of national media outlets. Among its many recognitions in 2022 alone, Asheville was named among: 12 of the Best Spots for a Family Mountain Vacation in the US (The Family Vacation Guide), The 10 Best U.S. Cities to Visit for Art Lovers (Yahoo), 40 of the Prettiest American Towns to Visit During the Winter (Town & Country), and The 50 Best Places to Travel in 2023 (Travel + Leisure). This national attention has attracted people from all walks of life to live, work, and play in the area.

Read more about what makes Asheville great!

Make Asheville your home today!
The real estate options across the greater Asheville area are as diverse as its people. Within a short drive of the city center, it is entirely possible to consider a downtown condo, rural farm, suburban home in a gated community, or an older home in one of the historic neighborhoods surrounding Downtown Asheville.

Does that sound like the perfect lifestyle for you? Find houses for sale in Asheville, NC!
Visited 1,995 times, 3 visit(s) today